STEPHEN Curry had a spring in his step during the opener of the 2017 NBA Finals between his Golden State Warriors and the reigning champion Cleveland Cavaliers on Thursday (Friday, Manila time) at the Oracle Arena.
One reason could be that Curry was wearing new kicks.
The reigning back-to-back MVP unveiled his latest signature shoe with Under Armour, the Curry 4, just as the Warriors drubbed the Cavs, 113-91. Curry scored 28 points, hitting six triples, to go with 10 assists in the debut of his new sneakers as Golden State took a 1-0 lead in the best-of-seven championship series.
In a report by ESPN's Darren Rovell, Under Armour pushed the timelines to get the Curry 4 ready for the Finals opener upon the insistence of the Golden State star. Fewer than five pairs have been made as of Thursday but Under Armour executives are already pleased with the good reception the Curry 4, with a knit upper and some leather and suede on a crisp all-white colorway, got on social media.
"It's really the first shoe that Steph was involved in every step in the process from the ideation all the way through to the finished product," said vice president and Under Armour global basketball business general manager Ryan Drew, who referred to Curry's hands-on approach on the latest shoe after the poor performance of the criticized Curry 3.
"We met him everywhere he was to make sure he was part of everything we did."
Drew did not reveal when the exact release date of the Curry 4 and how much each pair will cost, but it's slated for global release by October.
""It's going to be a lot more market-friendly. It will be a better value at a more competitive price," he said.
He was also anxious on how Curry performed with his new sneaker, but was relieved soon as they got initial reactions online, particularly about the shoe's looks.
"He wanted the knit part of the shoe at the top to have a seamless intersection between the foot and the ankle especially when he wears the braces. We've been taking shots as a basketball team and as a company, so this is a nice breath of fresh air," he said.
"Kevin [Plank, Under Armour CEO] has been saying that we're reacting to the trend in marketing to moving to a more fashionable look while retaining performance. This shoe bridges the gap between both," Drew added.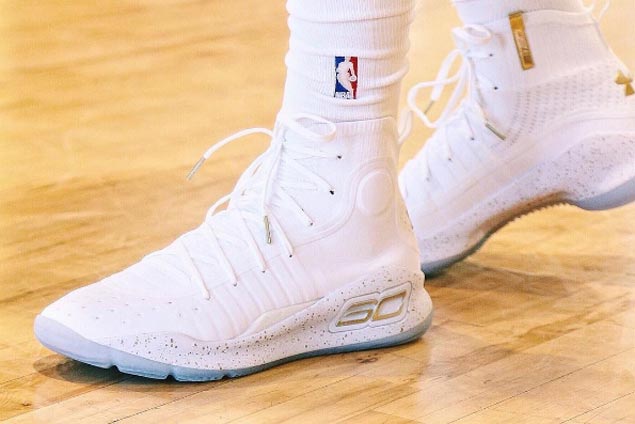 Photo from Bleacher Report Kicks