STA. Lucia Realty and Caida Tiles pulled off similar hard-earned wins to move on the verge of a finals showdown in the PCBL Founders Cup.
Mac Montilla made clutch baskets in the endgame as Sta. Lucia nipped Jumbo Plastic Linoleum, 72-68, while Caida Tiles outlasted Euro-Med, 87-81, at the JCSGO Gym on Thursday night to move a win away from wrapping up their respective best-of-three semifinal series.
The Realtors and the Tile Masters can seal a title showdown in this tournament supported by Accel, Ambucore, Spalding and Aquabest with a win on Saturday, also at the JCSGO Gym.
Montilla hit a triple with 53 seconds left to shatter the game's last deadlock and give the Realtors a 70-67 lead. The Linoleum Giants tried to retaliate by setting up Macky Acosta for a three-pointer, but his shot failed to hit the mark.
Jumbo Plastic, however, got a second chance to clean up their unproductive thrust and Jeff Viernes was fouled in the process by Sta. Lucia guard Kent Salado. Viernes could only split his charities to shove the Linoluem Giants to within a basket, 70-68, with still 34 seconds remaining.
But a breakdown on defense allowed the Realtors to set up 6-foot-6 center Jun Gabriel for an easy short stab and James Martinez's desperation trey at the other end misfired as Sta. Lucia celebrated the win.
Continue reading below ↓
Recommended Videos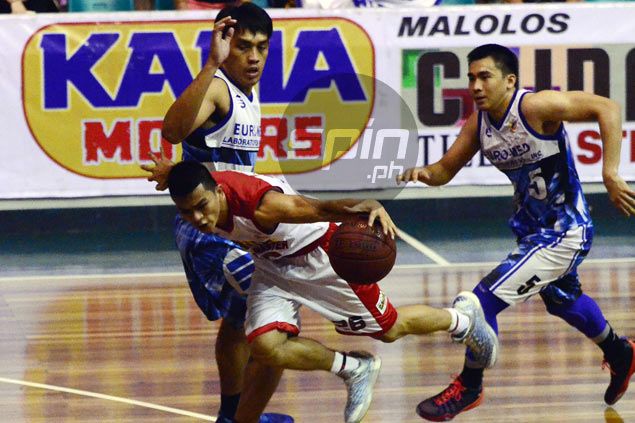 In the first game, Jiovani Jalalon had a breakout game, finishing with 20 points, six assists, four rebounds and two steals in an all-around performance that inspired Caida Tiles.
The scores:
First Game
CAIDA TILES (87) – Jalalon 20, Maiquez 16, Terso 8, Lozada 7, Ruaya 7, Hayes 6, Robles 6, Corpuz 5, Gabawan 5, Leynes 3, Rios 2, Almario 2.
EURO-MED (81) – Custodio 18, Villahermosa 17, Llagas 15, de Leon 10, Cortes 8, Galanza 6, Jeruta 4, Abundo 3, Zamar 0, Celso 0, Cruz 0.
Quarterscores: 18-14, 35-38, 60-59, 87-81.
Second Game
SANTA LUCIA (72) – Ilagan 12, Bautista 11, Gabriel 11, Vidal 10, Montilla 9, Escosio 8, Salado 6, Wetherell 3, Onwubere 2, Camasura 0, Celiz 0.
JUMBO PLASTIC (68) – J. Lopez 14, Acosta 13, M. Lopez 12, Eguilos 10, Viernes 8, Arellano 7, Mandani 2, Martinez 2, Padilla 0, Taganas 0, Perez 0, Tayongtong 0.
Quarterscores: 13-12, 28-30, 43-49, 72-68.