Former Chicago Bulls superstar and Hall of Famer Dennis Rodman acknowledged his father Philander in public for the first time during a break in play late in an exhibition match on Wednesday night at the SM Mall of Asia Arena, moving his father with whom he had been long estranged to tears.
Before a huge crowd that witnessed the one-off event featuring ex-NBA greats against their PBA counterparts, the 51-year-old Rodman, who won five championships with the Detroit Pistons and Chicago Bulls, recognized the presence of his father in the stands during a television timeout with 16 seconds left in the match.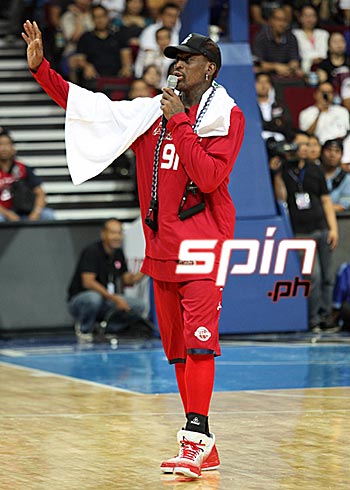 Continue reading below ↓
Recommended Videos
"For 42 years, I haven't seen him. There he is," the retired seven-time NBA rebounding champion told the crowd over the public address system while pointing to his father, who was seated in the patron side of the venue.
Philander, who has been based in Angeles City for a long time after abandoning Dennis since he was three, was naturally touched by the gesture.
"I wanted to cry," said the elder Rodman, who was a can't-miss presence in the stands with a bright red baseball cap with the words 'Yes, Dennis Rodman Is My Son,' written on it.
"He accepted me as his father, that's the first time he called me his father," said Philander, a Vietnam war veteran who now runs a burger outlet business in Pampanga.
"I'm very proud I am his father," he added as he broke down in tears.
Father and son later met for a few minutes after the game and talked for a while.
Although their moment together was brief, it was more than enough for Philander.
"I can't explain what I feel," Philander said with obvious joy in his voice.