BUILT on a strong legacy, the Nike Hyperdunk 2014 takes performance footwear to a whole new level.
The Nike Hyperdunk continues to evolve its innovative legacy established in 2008. It was an introduction that transformed basketball shoe design as we know it. Debuting in the Philippines, the Nike Hyperdunk 2014 is defined by its lightweight feel and superior cushioning.
The Nike Basketball design team was dedicated to progressing the shoe's performance, with valuable insight that came from a full year wear-testing and obsessing in the details. Its dynamic fit has a great step-in feel, enhancing natural motion while featuring the following key performance benefits:
1. Lunarlon cushioning midsole provides a soft, responsive ride
2. Hyperfuse construction creates a breathable, flexible upper
3. Flywire technology delivers dynamic lockdown through the midfoot
With summer basketball in the US, on-court versatility and breathability was essential. The design focus was to provide a great shoe for both indoor and outdoor use that could stand the heat and breathability needs of summer hoops.
Hyperdunk 2014 product details include:
UPPER
Hyperfuse construction creates a nearly seamless, one-piece upper that is lightweight, breathable, durable and supportive
The upper has fewer layers, making it ultra-breathable and flexible
Flywire technology is dynamic and lightweight, providing lockdown through the midfoot. Its strong cables loosen and tighten with the natural motion of the foot
Dynamic foam collar provides a comfortable fit
MIDSOLE
Lunarlon midsole provides ultra-soft, lightweight cushioning that delivers excellent response.
OUTSOLE
Solid-rubber outsole with herringbone pattern provides durability and traction on a variety of surfaces.
The Hyperdunk 2014 is available beginning July 16 at Nike.com and retail stores worldwide.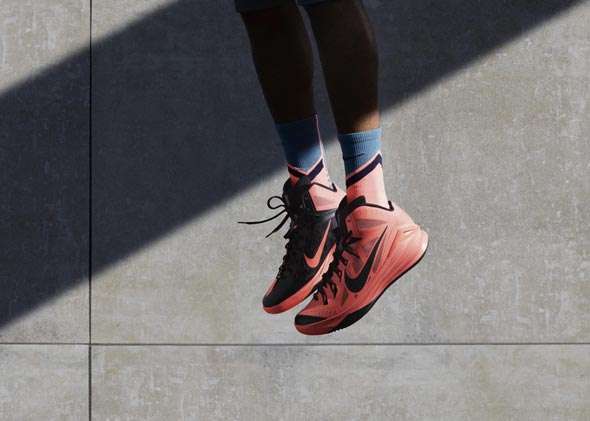 Recommended Videos