AN array of former NBA stars led by Hall of Famers Scottie Pippen and Dennis Rodman, together with the legendary Oscar Robertson, are set to come over for a one-game exhibition match at the Mall of Asia Arena on July 18, according to the mall's official Twitter account.
News of the one-off match was first tweeted on Sunday by the MOA account with a link to the mall's official website, which also released a poster of the event (pictured) on Thursday. However no official confirmation has been made so far by the management of the mall.
Pippen and Rodman, who teamed up with Michael Jordan during the Chicago Bulls' long reign in the nineties, will be joined in the touring team by another former teammate, Horace Grant,  as well as former Laker Mitch Richmond, Jason Williams, Cliff Robinson, and Bryon Russel, according to MOA.
Robertson, the so-called `Big O' and regarded as one of the best playmakers ever in NBA history, will be calling the shots for the All-Star team, it added.
Others in the lineup include Chris Campbell, Charoy Bentley, Jeff Trepagnier, and Alexis Foyle.
The set-up for the one-night event dubbed `All-Star Basketball Challenge' remains sketchy, with no mention of which team the former NBA stars will play.
So far, no MOA official has gotten in touch with the PBA for a possible role in the one-off match, according to the pro league's media bureau chief Willie Marcial.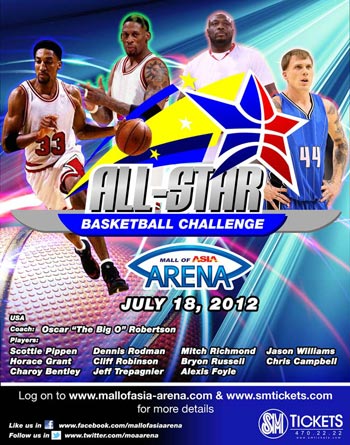 THE MOA Arena announced on Facebook and Twitter that tickets will be sold starting on Friday. Tickets are priced from P5000 for VIP seats plus a meet and greet with the players, to P300 in the general admission.
A year ago a selection of PBA players, together with the Smart Gilas-Pilipinas, played a group of current NBA superstars in a blockbuster, two-day cage extravaganza organized by the Smart Sports Foundation and held at the Araneta Coliseum.
Junel Baculi, athletic director of Sy-owned National University, believes the match was first broached during a chance meeting between SM Prime Holdings president Hans Sy and NBA commissioner David Stern at the last NBA All-Star game in Orlando.
Sy, whose family now has the majority stake at NU, was invited by Stern to watch the All-Stars, Baculi said.
"From what I know, they could have talked about it during the last All-Star game," Baculi said. "Yung MOA Arena kasi halos similar din compared sa mga ibang playing venues sa NBA. So maaari, baka gustong tingnan ng NBA ito."
The newly constructed arena will be the main venue of this year's UAAP men's basketball tournament hosted by NU, which opens on July 14 -- four days before the scheduled exhibition match.