IF and when it wins the lottery for the No. 1 pick overall in the coming PBA rookie draft, Barangay Ginebra has already narrowed down its choices to Gregory Slaughter and Ian Sangalang.
That's according to Ginebra governor Robert Non, who told Spin.ph that the Kings have long yearned to have a dominant big man since the glory days of Marlou Aquino and Eric Menk.
"It's been awhile na walang sentro ang Ginebra, not like in the past when we had Eric Menk and Marlou Aquino," Non, who is also the pro league's chairman, said.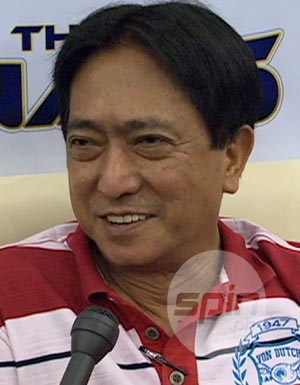 "Mapapansin mo, Willy Wilson ang sentro namin, masyadong undersized 'yun," added the cordial team boss. "Hopefully we can land somebody big from the draft."
Non also stressed that the two best talents in the pool are undoubtedly Slaughter and Sangalang, both players possessing height and good basketball skills.
"For me, 'yun lang talagang dalawa na 'yun ang top choices mo. You can never go wrong with them. Either of the two talaga yan," said Non.
Non, however, declared that he will leave it to the coaches to make the decision.
"Sila (coaches) ang magde-decide dun. Sila naman ang gagamit. Sila ang nakakaalam ng kailangan," added San Miguel Corp.'s longtime head of basketball operations.
The seven-foot Slaughter has already submitted his draft application while Sangalang, 6-7, is expected to present his documents to the PBA office next week.
Non also bared that he will give his coaching staff ample time to assess their rookie draft choices, the reason why Ginebra already started practice last Monday.
"Mas maaga ang preparations ng Ginebra ngayon," said Non. "Inagahan na namin para mas mahaba ang time na makapag-assess ang team coaches kung ano ang dapat i-address!"
Ginebra coaches expected to map out final decision on who will be top rookie choice, although Spin.ph has learned last week that the staff is unanimous in picking Sangalang over Slaughter.
[For full story, see Ginebra plans to pick Sangalang over Slaughter - unless Parks changes its plans]
Asked if a trade should be expected from Ginebra in the short offseason, Non was non-committal.
"Trade sa Ginebra? Wala pa eh. The coaching staff will meet next week. Changes, if there will be, will be known next week," he said.