THROUGHOUT the ongoing playoffs in the 2012-13 PBA Philippine Cup, Rain or Shine head coach Yeng Guiao has oftentimes sounded like a broken record talking about his team's rebounding problems.
"I'm just happy the thing I feared most about our team getting outrebounded did not happen tonight," Guiao said after the Painters gained a 55-53 edge in rebounding on the way to an 82-65 rout of Barangay Ginebra in Game One of their best-of-three quarterfinal last December 12.
"We need to fix some things like our rebounding and our zone offense but we will be okay on Sunday," was also one of the things Guiao said when they lost Game Two to the Kings 79-77 two days later after the Elasto Painters lost the battle of the boards 59-47.
Rain or Shine went on to win Game Three of their quarterfinal series 102-89 to advance to the semis despite being beaten off the boards anew by the Kings 57-46 last December 16.
It was probably for this reason that Guiao was apprehensive going into their best-of-seven semifinal against San Mig Coffee, which boasts of a deep and tall frontline led by 6-9 Yancy de Ocampo, 6-8 Rafi Reavis, 6-8 Joe Devance and 6-4 rebounding demon Marc Pingris.
Continue reading below ↓
Recommended Videos
The Elasto Painters did alright against the Mixers in Game One, winning the rebounding battle 48-46 en route to a 91-83 headstart in the series.
"Our biggest concern coming into this game was the rebounding. I think we've done well in that department," Guiao revealed in his post-Game One interview. "The bigger frontline of San Mig Coffee was a big concern. We just needed to work harder than they did to at least equalize off the boards."
After the Elasto Painters won Game Three on Christmas Day to take a 2-1 series lead, Guiao revealed they weren't just trying to win the rebounds to match up with the Mixers. They were also using it to gain an advantage over San Mig Coffee in the series.
"Our game plan fell into place. We were able to get the rebounds. As long as we get the rebounds, we (can) get into the open court. We like a fast game. We like an up-tempo game. That's out objective. Everytime we're able to run, we'll run. We feel that as as the series goes longer, we should be able to take advantage of our longer rotation," he had revealed.
With its 49.1 rebounds per game, Rain or Shine is actually the third-best rebounding team in the conference based on averages alone, behind the 53.0 of Barangay Gineba and 50.5 of Barako Bull.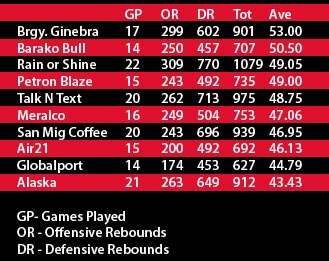 But when you look at the average number of rebounds each team allows its opponents, the numbers take a different complexion as Rain or Shine is dead-last in this department, with the Elasto Painters giving up an average of 52.3 per game to opponents.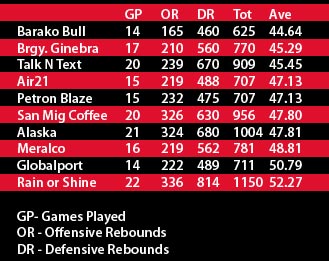 Tabulating the rebounding differentials, Rain or Shine is third-worst actually, getting outrebounded by an average margin of 3.2 per game.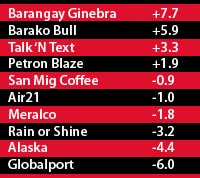 But here's the most intriguing rebounding fact about Rain or Shine this conference, something which Guiao believes is the reason why the Elasto Painters should hold their ground in the battle of the boards every game especially here in the playoffs: RAIN OR SHINE ACTUALLY HAS A 7-0 WIN-LOSS RECORD THIS CONFERENCE WHEN OUTREBOUNDING AN OPPONENT AND IS 7-8 WHEN IT DOESN'T.
And that includes 3-0 and 0-2 records, respectively, in the semifinal series against the Mixers.
Rebounding has actually been the barometer of this best-of-seven semifinal between Rain or Shine and San Mig Coffee – whichever team won the rebounds has ended up winning the game.

Let's see if this holds up for the rest of the series.