YENG Guiao has always had a keen eye for talent - that uncanny ability to spot diamonds in the rough and turn them into gems.
That gift has been one of Guiao's biggest legacies in over three decades as a head coach, helping launch to stardom a long line of players that include Lordy Tugade, Beau Belga, Junthy Valenzuela, Jimwell Torion and Larry Fonacier, just to name a few.
Just as impressive are the imports who had played for him, a list that includes 'The Hurricane' Tony Harris, the rock-solid Ronnie Thompkins, Duke alum Tony Lang, and Scott Burrell - a teammate of the great Michael Jordan in the mult-titled Chicago Bulls teams of the nineties.
His ability to spot good imports has served Guiao well: All his six PBA championships came in import-laden conferences.
Asked about his unique gift, Guiao, a longtime race horse owner, spoke in equine terms, saying one look at an import's conformation (which in horse racing refers to ' the degree of correctness of a horse's bone structure, musculature, and its body proportions in relation to each other) and he has a fairly good idea how good he is.
"Sa conformation pa lang, alam mo na," Guiao told SPIN.ph, recalling how he grew excited upon seeing Harris emerge from the airport tunnel in oversized jeans and the confident gait of a Kentucky Derby winner.
Continue reading below ↓
Recommended Videos
Curious, we asked the unconventional coach to list down the five best imports to ever play for him and Guiao, predictably, proved unpredictable with his choices, leaving out both Lang and Burrell and putting in a former Rain or Shine import who has since turned into a mortal enemy.
He also listed down among his 'honorable mentions' someone named Derrick Canada, an import most people in the league will find hard to remember. It turned out he played under Guiao during his brief spell as coach of the defunct Pepsi Mega team.
But leaving out Lang and Burrell?
"He was good. I think he led us (at Red Bull) to an 11-game win streak when he was here," Guiao said of Burrell, "but he disappeared in the playoffs, in the games that mattered."
Asked about Lang, Guiao hinted the two-time NCAA champion with the Blue Devils was 'a little soft' for his liking.
That should give you a fairly good idea on the barometer Guiao used to pick his Mythical Five: It's the tough, fearless, physical players who hold a special place in this fiery coach's heart.
Here's his list:
1) LEWIS LLOYD
The seven-year NBA veteran had a forgettable stint with Pop Cola in the PBA, but he apparently made quite an impression on Guiao who fondly remembered how smooth, intelligent and skilled Lloyd was.
"Ma-abilidad at magaling talaga," was how Guiao described the 6-6 swingman, a teammate of Hakeem Olajuwon with the Houston Rockets for three seasons before he and ex-Ginebra import Michelle Wiggins were banned by the NBA after testing positive for cocaine.
Just as memorable was Lloyd's strange behavior, said Guiao who would rather keep his mouth shut on this one.
"Interesting guy," he said.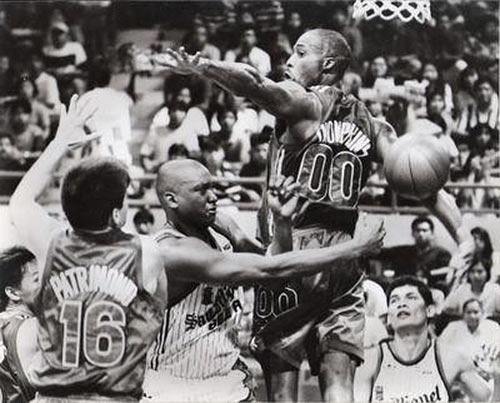 2) RONNIE THOMPKINS
Certainly one of the toughest imports to play in the PBA, Thompkins is remembered for chasing Ricky Relosa all the way to the Shell bench during a 1993 fracas as much for leading Swift to the championship in the first-ever Commissioner's Cup that season.
The 6-6 journeyman is blessed with the unique combination of strength and a feathery touch from the perimer, not to mention a wide wingspan. A two-way player, but you can by now guess what quality endeared him to Guiao.
"Palaban," Guiao said. "He didn't back down from anybody."
Thompkins was banned from the PBA in 1996 after testing positive for marijuana while playing for Purefoods. He died seven years later at the age of 36, reportedly of a heart attack in a New York hotel room.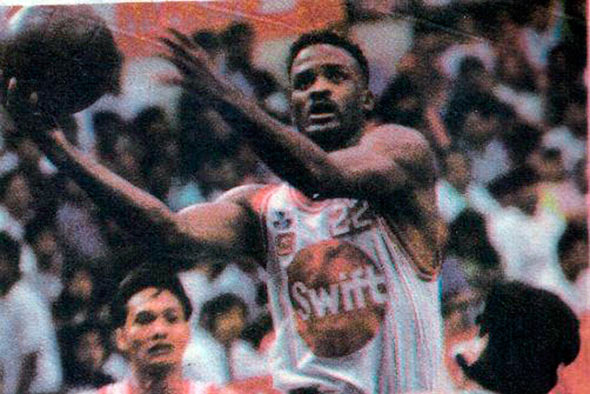 3) TONY HARRIS
'The Hurricane' Harris put his name on the PBA record books with a 105-point game in Swift's 151-147 win over Ginebra in a road game in Iloilo City on October 10, 1992 - a feat that may never be broken in the pro league for generations to come.
Guiao said he hasn't seen a scorer in the PBA that was better than the flamboyant Harris, who led Swift to the 1992 Third Conference championship while thrilling Filipino fans with his three-point bombs and aerial artistry.
"There were a lot of good imports over the years, like Bobby Parks," Guiao said, "but Tony was the best scorer I've ever seen."
4) WAYNE CHISM
When Guiao left out Lang from this mythical team, the outspoken coach said he is more impressed with Chism, who, unlike Lang, has yet to bring a championship to the multi-titled coach.
"Wayne is the more complete player, I think," said Guiao. Letting out a smile, the multi-titled coach also pointed out that Wayne should've won a championship for Rain or Shine in last year's (Commissioner's Cup) finals if not for 'that Game Seven' against Talk 'N Text.
"He's also a fighter," Guiao added.
5) AZ REID
Yes, Reid made Guiao's Top Five, notwithstanding that verbal spat and elbowing incident in last year's Governors Cup that turned the import and his former coach into enemies. And notwithstanding the fact that the two-time Best Import awardee led San Miguel to the championship at Rain or Shine's expense.
Asked why the import made his elite list, Guiao responded, 'Okay naman si AZ,' perhaps thinking that putting him on his all-time list is enough compliment for a player who he expects to cross swords again late this season.