YENG Guiao's juggling act between coaching and campaigning as a reelectionist congressman just got tougher with Rain or Shine making the PBA Commissioner's Cup Finals and the campaign period hitting the homestretch.
The ROS coach and concurrent Pampanga First District representative admitted he already has plenty on his plate even in the last few weeks.
"I really have a lot on my mind," he admitted after the E-Painters, 124-99 close-out win over San Miguel Beer in their semifinal series. "I'm not able to practice that much with the team because of my busy schedule in the campaign."
Guiao has also missed the E-Painters' Game Two win in the semifinals due to the campaign, with top deputy Caloy Garcia taking over and fellow assistants Mike Buendia and Ricky Umayam standing by.
"That's why I rely a lot on the coaching staff – coach Caloy, coach Mike, coach Ricky – they prepare this team really well," Guiao said. "We just talk to each other over the phone. We meet after the game and then I tell them what to do in practice and from there, they take over."
"I'm really dividing my time," said the 57-year-old coach, who comes to and from Pampanga before and after a game. "I'm prioritizing my daytime with my campaign, but during the game, I try to be here."
Continue reading below ↓
Recommended Videos
[See Beau Belga says he's fed up with runner-up finishes]
In Pampanga's first district which covers Angeles City, Mabalacat, and his hometown of Magalang, Guiao faces a fight against a scion of the Lazatin clan, actually the son and namesake of long-serving congressman Carmelo 'Tarzan' Lazatin.
Guiao is confident of a win - and is hoping his team can bear a bit more of his absences as the campaign season hits its final stretch.
"Ito naman (election period), nangyayari once in three years lang naman and there's only one week left, so sana mapagtiyagaan nila ako," he said with a smile.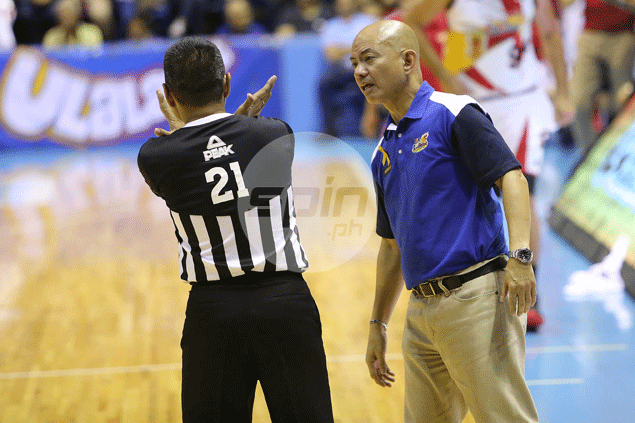 Garcia said it's not that hard to adjust whenever Guiao is not around.
"Hindi naman (mahirap mag-adjust), kasi alam naman namin kung ano ang dapat gawin eh," he said. "We've been doing it for how many years already, so yung adjustment lang minsan ay tinatawagan ko lang si coach Yeng minsan and ask kung, 'Okay ba kung ganito gagawin namin,' and he'll just say, 'Bahala kayo.'"
"The nice thing is he trusts the coaching staff," he added.
But do the players have the same trust and, well, fear in them as they have in Guiao?
"Yan ang maganda sa team na 'to: they respect the coaching staff and we respect the players," Garcia said. "We have fun in practice, we enjoy being with each other."