HIS entire career, Yeng Guiao is never known to hold on to a player who doesn't want to be in his team.
The same goes for Asi Taulava.
"You know that every time I have a player who wants to be traded, I respect it and find a way to make them happy," said Guiao on Monday as he confirmed a SPIN.ph report that Taulava has asked to be traded amid his diminishing role and shrinking playing time at NLEX.
[See Asi Taulava asks to be traded amid dwindling playing time at NLEX]
But before making any move, the outspoken coach said he needs to talk to his disgruntled big man who, after averaging in double figures in scoring and rebounding last season, has seen his numbers decline to less than two points and three rebounds a game in Guiao's run-and-gun offense.
Guiao bared the 6-9 slotman attended NLEX's first practice of the year on Monday, but the two didn't have the chance to talk.
They will definitely sit down for a serious talk, if not on Tuesday then in the next few days, Guiao added.
"I still have to talk to him personally, just to make sure that what we read from the media is accurate with what he feels," said Guiao. "We have to get it directly from Asi. Then I'll talk to management based on the result of the meeting with Asi."
Continue reading below ↓
Recommended Videos
Guiao wants to clear up the situation the soonest, saying it's not healthy for the team to let the impass drag on.
"I think it will be unhealthy for Asi and the team if one or the other is not happy with the situation," he said. "If it's only the status of anybody being a superstar or a role player, I do not base my decision on that. Nobody's indispensable. We can always find people willing to step up.
"Of course, it will be difficult and it will take a longer time, but we would rather do that than keep someone who's unhappy."
[See Guiao not trading Asi, but insists big man must adapt to be relevant in NLEX system]
Taulava became the oldest player to make the PBA Mythical Teams last season under former coach Boyet Fernandez, but he has struggled to find his place in a Guiao system that pushes the ball at every opportunity and aggressively defends the pick and roll.
His playing time has consequently shrunk from 31.83 minutes a game under Fernandez last season to under 15 minutes under Guiao.
Asked if Taulava can still play a significant role at NLEX under his system, Guiao said, "It is not me who can answer that. It is Asi. He will know."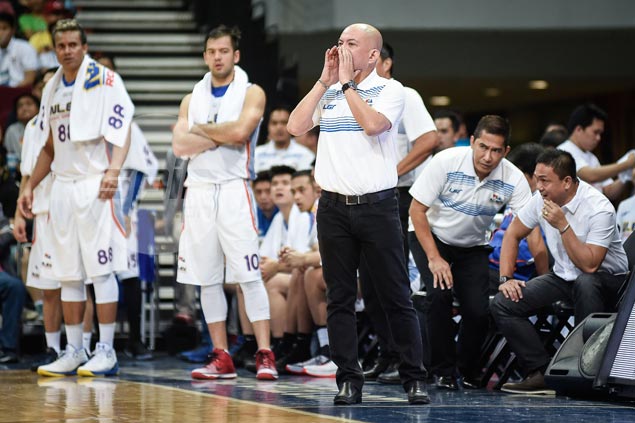 The multi-titled coach also stood his ground on his desire to make players fit into his system rather than adjusting his system based on the players that he has.
"Not one person is bigger than the system. As a coach, you bring a system and philosophy to where you go. I'd like to think I was brought in by NLEX so I can implement my system here. If they wanted to stay with the old system, they wouldn't have made the change."
"If there are 12 players that can't fit into your system and only player who can, then it is the system that is the problem," Guiao continued. "But if you have one or two players who can't fit in, then I don't think it's the system that's the problem."
Still, Guiao hinted that he is open to compromise.
"There are things you can make adjustments on, but you can't change system. We can compromise on a few things, that's something we can talk about. But you can't change the system."