ONE of the most colorful coaches in the PBA, Joseller "Yeng" Guiao earned a reputation as a vocal mentor who turns teams of blue-collar players into champions.
With seven PBA titles under his belt, only Tim Cone, Baby Dalupan, Norman Black, Jong Uichico, Chot Reyes, and Leo Austria have more titles than Guiao, whose resume also includes being a national team coach, a commissioner in the defunct Philippine Basketball League, and a public servant.
Guiao celebrates his 61st birthday on Thursday and SPIN.ph looks back at the PBA titles Guiao won over the course of his decorated career.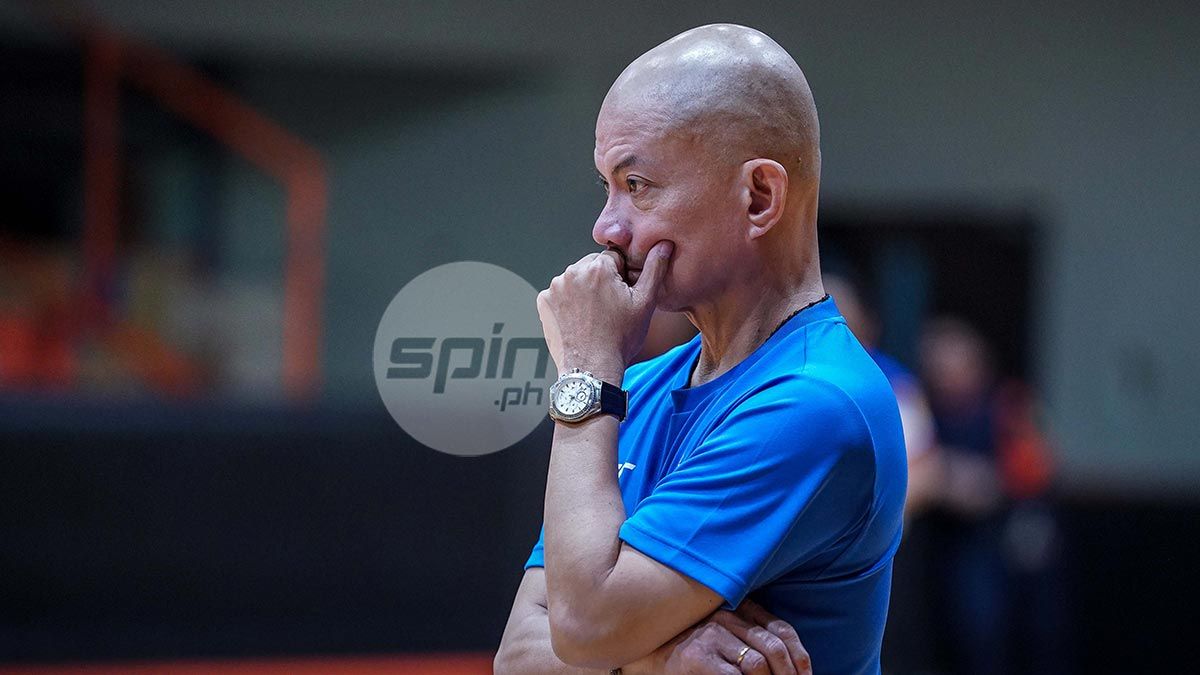 Continue reading below ↓
Recommended Videos
1992 Third Conference
Guiao's first PBA title came as Swift swept 7-Up in the best-of-seven championship series. The Mighty Meaty Hotdogs took Game Four, 119-106, to win the title in only the second year of the RFM franchise after joining the league in 1990.
The win also came after Guiao announced following the All-Filipino Conference that he will quit his post if Swift didn't win a championship that season.
Tony Harris completed his spectacular conference by scoring 58 points in the title clincher, against Dell Demps' 42. Harris had previously scored a league-record 105 points in an out-of-town game against Ginebra in Iloilo City.
Nelson Asaytono, who finished second to Ato Agustin in the MVP race that year, led the locals with 17 points in Game Four.
1993 Commissioner's Cup
With Ronnie Thompkins at the helm, Guiao steered Swift to a 108-99 win over Purefoods Oodles in Game Six of the series. The Mighty Meaty Hotdogs took a 3-1 series lead before putting the Oodles away. Thompkins proved he was the Best Import of the conference by contributing 42 points in the victory.
Vergel Meneses tallied 16 points, and Rudy Distrito fired 14 including crucial shots in the end game to seal the title that proved to be the last for Guiao with the RFM franchise.
2001 Commissioner's Cup
Guiao's next crown wouldn't come until eight years later. After moving to the Pepsi and Mobiline franchises as coach as well as a stint as commissioner of the Philippine Basketball League (PBL), Guiao returned to coaching by way of Batang Red Bull which he turned into a champion team in less than two years.
The Thunder beat San Miguel, 75-69, in Game Six to claim the title with Best Import Tony Lang finishing with 26 points. Mick Pennisi and Lordy Tugade added 13 and 12 points, respectively, to help Batang Red Bull's cause.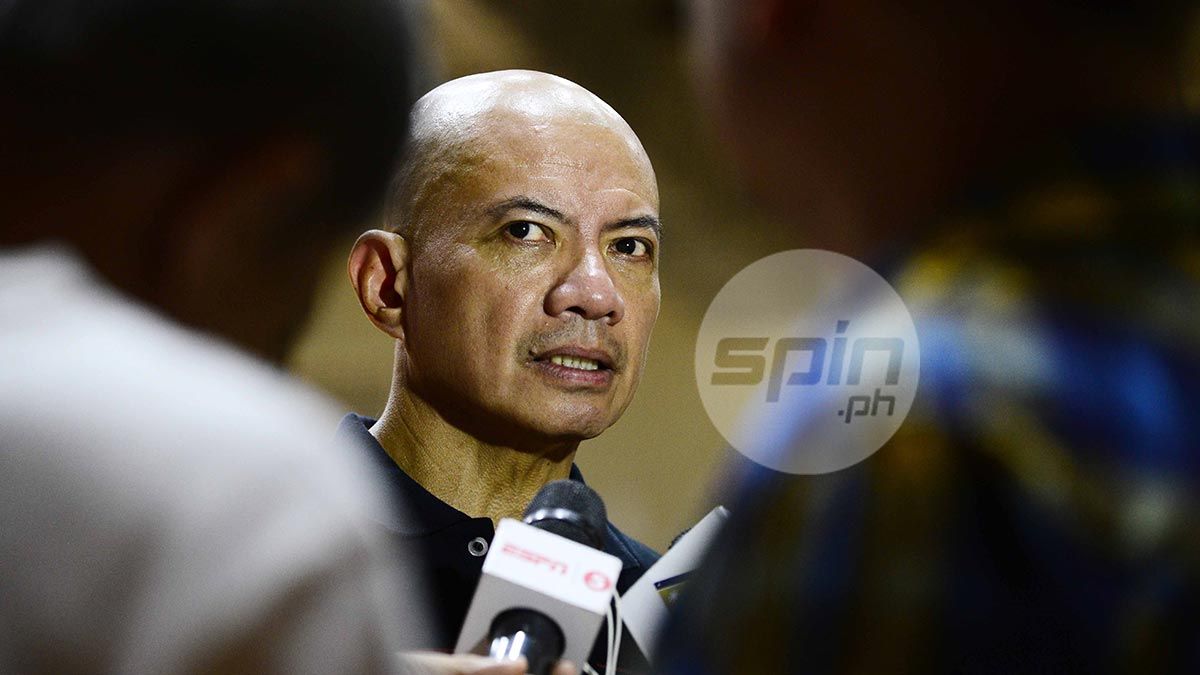 2002 Commissioner's Cup
Guiao's first Game Seven in the finals was in this conference with Batang Red Bull edging Talk 'N Text, 67-60. Guiao had to win the last two games of the series after trailing, 3-2. Sean Lampley and Julius Nwosu combined for 34 points, while Davonn Harp and Jimwell Torion shared the Finals MVP honors after their splendid play in the rubber match as the Thunder successfully defended the Commissioner's Cup crown.
2006 Fiesta Conference
Red Bull made it back to the top four years after its 2002 crown when the Barako defeated Purefoods, 83-73, in Game Six. It was Guiao's fifth PBA crown but not after trying times for the franchise, losing key players during the four-year span.
James Penny had 21 points in the series clincher, as Cyrus Baguio and Mick Pennisi each had 13. Lordy Tugade won the Finals MVP.
2012 Governors' Cup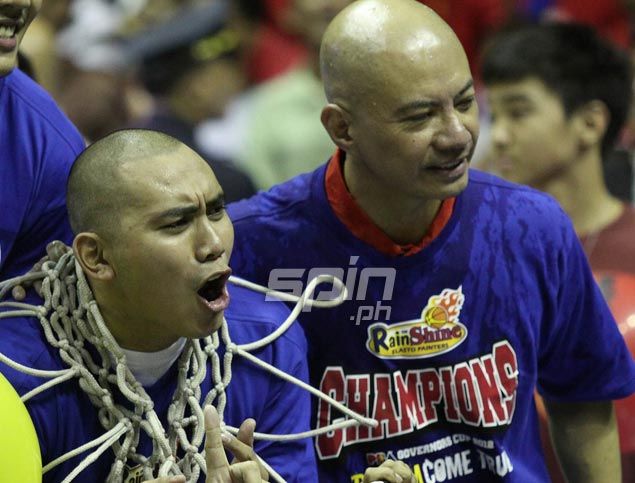 Guiao won his sixth title in the season-ending conference of 2012 after Rain or Shine beat B-Meg in the finals series, but not after enduring some anxious moments. In his first finals appearance as a coach of the Elastopainters, Guiao's team held a 3-1 lead only for the Llamados to force a Game Seven. In the end, Rain or Shine defeated B-Meg in the rubber, 83-76, with Jamelle Cornley leading the way with 20 points and 14 rebounds.
Jeff Chan scored 16 points to win the Finals MVP award as Guiao immediately turned Rain or Shine into a champion team in just one year at the helm.
2016 Commissioner's Cup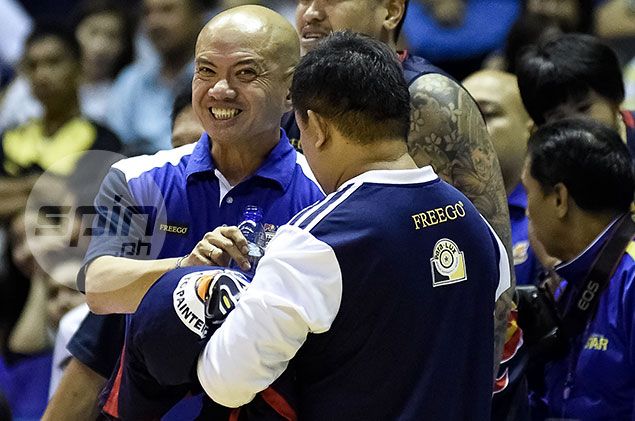 Guiao notched his seventh championship during Rain or Shine's conquest of Alaska in this conference's finals. The Elastopainters zoomed ahead to a 3-0 lead in the series before finishing off the Aces, 109-92, in Game Six.
Jericho Cruz topscored with 21 points, while Paul Lee was named Finals MVP after pouring 20 in the clincher. The title also came after Rain or Shine made three import changes finding their man in Perre Henderson-Niles, who was more known for doing the dirty work instead of scoring.