RAIN or Shine coach Yeng Guiao was at it again, denouncing the officiating in the PBA Governors Cup that led to his latest ejection Saturday night.
Guiao was tossed out of the Smart Araneta Coliseum playing court after receiving a second technical foul late in the third quarter of the Elasto Painters game against the Alaska Aces and the score knotted at 74-all.
Fans and those within earshot heard Guaio yelling to the refs, 'wala ng nanonood sa atin,' just before he left the Smart Araneta Coliseum floor on the way to the Rain or Shine dugout.
A more subdued Guiao later voiced out his comment about how officiating had been going on this season inside the team dressing room.
"It's not only me pero marami ng hindi nakakaintindi kung ano yung foul at hindi foul," said the ever vocal mentor inside the team dugout where he watched the remainder of the match won by the Elasto Painters, 117-114.
"It's been frustrating especially since I thought we're playing good 'D.' But you can't get any momentum, you get frustrated by the calls."
Guiao received his first technical with 9:44 to go in the second quarter and Rain or Shine leading, 30-22, after he stormed in the middle of the court to resent a call whistled on big man Raymond Almazan.
The Rain or Shine coach admitted the Elasto Painters are not playing with the same cohesion and chemistry they displayed earlier this season, one which saw them won the mid-season Commissioner's Cup title.
Still, officiating didn't escape his brunt during the post-game interview.
"I just felt it's not just calls going against us, although there were some, it's just that the confusion of not knowing what a foul is and what not a foul is, that's where the confusion lies," he stressed.
"Ok lang yung may masamang tawag alam mong masama, pero ang mas mahirap, yung hindi mo alam kung masama o tama yung tawag. Yun ang mas mahirap."
Guiao believes it is not only him but the other coaches and teams as well are confused with the way officiating are being implemented at the moment.
"We will just have to be clarified on those things, not just me but most other teams. Hindi lang naman ako ang medyo nalilito, marami rin ang nalilito sa mga tawagan," he added.
The ejection was only the second time for Guiao this seasoin since the Commissioner's Cup when he was tossed out in the team's game against Mahindra also after incurring two technical fouls for excessive complaing to the referees.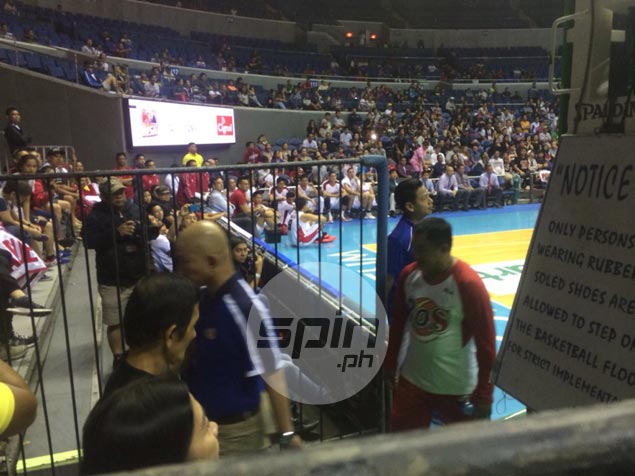 PBA Updates