A ONCE comfortable 11-point lead was down to four in the face of a late TnT Katropa run, but head coach Yeng Guiao hardly budged from where he stood infront of the Rain or Shine bench - hands folded across his chest and a grim, defiant look in his face.
Rain or Shine's lead was soon down to two, and before you know it the score was tied, yet Guiao made no move to call a timeout (he had three timeouts to spare) as the game went down to its final seconds, when Jayson Castro hit the three-pointer that came like a dagger into the heart of the E-Painters. 
No wonder the online criticism grew louder and louder over Guiao's adamant stand not to call a timeout during that fateful stretch, among a number of the coach's odd decisions, in a late meltdown that enabled TnT to wrest a 98-101 victory from Rain or Shine's grasp on Wednesday night.
Curiously, the man in the middle of the storm found no need to explain himself.
"Sometimes I call a timeout, sometimes I don't," Guiao told SPIN.ph the morning after the loss, playfully brushing off questions on why he didn't press the timeout button, as conventional coaching wisdom dictated, during that crucial stretch when Rain or Shine lost composure and momentum - and eventually the game.
But to understand his late-game decisions, you have to know the man who, in the 25 years of a colorful and successful coaching career, has been anything but a conventional guy.
Guiao has never been one to follow rules, adhere to a norm, or do the expected in a controversial career that saw him win seven PBA championships. Guiao was that way from the time he started his coaching career with RFM Swift in the old PABL, and he wasn't about to change now.
"I just don't want to fall into a pattern," Guiao said. "And I don't want to be predictable."
One relatively younger coach handling a problematic team with a meddling team owner once said he would be as tough on his players as Guiao, and a lot bolder to take risks during games, if he had the same resume as the Pampanga-born coach.
"Kung (former) congressman ako at may anim na championships, aba pagmumurahin ko rin ang mga players ko kagaya ni Coach Yeng," he said.
Guiao agreed that his long years in the coaching business, and his considerable success, give him leverage to make risky decisions that other coaches won't dare do. But the former Pampanga representative was also quick to point out that he was already a risk-taker long before the success came.
"Even before I was in that position, I was always this way," said Guiao, chuckling. "But I guess my (former team) bosses just had more tolerance for me."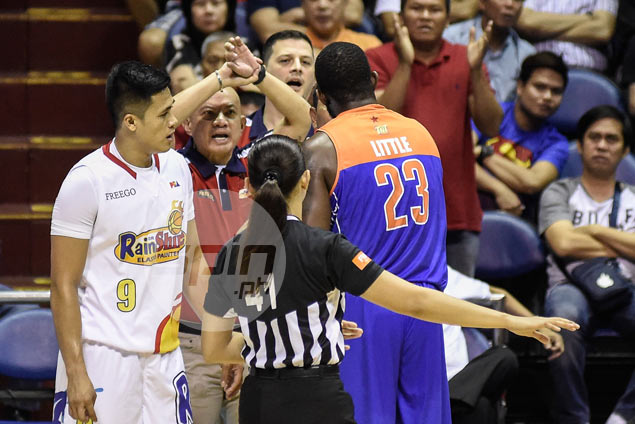 Take the TnT game as an example. Most other league coaches might be without a job right now after a loss in a game where he benched his import (Dior Lowhorn) and his best big man (Raymond Almazan) and didn't call a single timeout in the final minutes while letting an 11-point lead disappear into thin air.
Guiao broke into a grin when told that he's perhaps the only coach who can pull off such a stunt and get away with it. "Other coaches may not have the same luxury," he smiled. But he was also quick to hint that at this point in the PBA Governors Cup campaign, the lessons from that late collapse may be far greater than any win can offer.
"It's our first game (of the conference) and we're coming off a championship, so that gives you some leeway," said Guiao. "Of course, I'm bothered by the loss. Any loss is a painful loss, but sometimes you have to take the losses so that you can win more afterwards."
"I'd like to believe that over the long term, the lessons you learned will be more valuable than one win," he added.
[See Yeng Guiao fumes over 'uncharacteristic' Rain or Shine meltdown]
Foremost among those lessons, Guiao said, was players learning to think on their own and not rely on the coach to do the thinking for them, when push comes to shove in the endgame.
While Guiao stood silently on the bench refusing to call a timeout, the message from the coach rung loud and clear: 'Don't expect me to bail you out with a timeout each time the situation got tricky.'
"I'm very clear to the team that, 'Don't expect a timeout and expect me to bail you out.' That's part of the psychology. But it's really up to them. They have to exercise their own leadership and their own better judgment to find a way to extricate themselves from the situation."
Asked how he decides when to call a timeout and when not to, Guiao said, "Instinct na lang. I don't want to fall into a pattern or be predictable. The important thing is they should know that on their own, they have to find a way to exercise their own leadership and judgment." 
The maverick coach said he still willing to be judged both by the team owners and the fans - not by the result of this one game or any particular game, but by the result at the end of the conference.
"You have to prove that at the end of the conference, all these decisions you've made earlier are justified," Guiao said. "It's the end result that will matter."