AFTER Rain or Shine blew a 24-point lead and allowed San Miguel Beer to steal a 101-95 win in the opener of their PBA Governors Cup semifinal playoff, the scene inside the Painters' dugout was definitely not for the faint of heart.
Yeng Guiao, a veteran coach known for his short fuse as much for his unconventional ways and patterns, admitted to Spin.ph he gave his players a tongue lashing but insisted it was nothing out of the ordinary.
"It's my normal routine, expecially after a loss. Kung ano ang naiisip ng tao na nangyari sa loob, yun na yun," Guiao said in between laughs after emerging from the gloomy dugout an hour after the loss.
His players begged to disagree.
One player who spoke on condition that he not be named revealed how Guiao spent the first 15 minutes of their post-game meeting shouting at the top of his voice, even threatening to trade some of its players.
"Galit na galit si coach, hindi niya talaga nagustuhan yung napabayaan namin yung lead. Ang laki nga naman tapos napabayaan namin. Knowing coach Yeng, hahayaan niya lang kami na bumawi sa game, kaso hindi na kami naka-recover. Kaya masama loob niya," said the player.
Continue reading below ↓
Recommended Videos
"Labas na nga halos ugat niya sa leeg sa sobrang galit kaya kami lahat sa loob tahimik," he added.
[See SMB battles back from 24-points down to snatch Game One away from Rain or Shine]
Spin.ph even observed a pattern in the exit of the players from the locker room, with the seldomly used players coming out first, a good thirty minutes after the game, and the subject of Guiao's scorn emerging last.
Ryan Arana, JR Quinahan, Jonathan Uyloan and Jericho Cruz bore the brunt of Guiao's 'homily' owing to their failure to defend well the shooters of San Miguel like Marcio Lassiter and, later on in the game, Alex Cabagnot.
"Depensa kasi namin ang na-pinpoint niya kaya kami napagalitan ng husto. May mga depensa kasi kami na di nasunod," admitted Arana.
"Pero sabi nga namin, babawi kami next game. Kasi nasaktan rin kami sa talo namin. Nakakahiya kay coach Yeng saka sa management ng team at fans," said the former Dela Salle Green Archer.
Asked to describe how a 'mad Yeng Guiao' faces the team after a loss, especially after a particularly frustrating defeat like this one against the Beermen, assistant coach Caloy Garcia gave a more detailed description.
"Yung nakikita niyo sa kanya 'pag nanagalit siya sa mga referees o sa mga players during the game - pero mas grabe pa nga. He was just showing how he really wants to win the game," he said.
"Galit siya, just the usual coach Yeng Guiao. He wants to win and he is a winner, you have to give him that."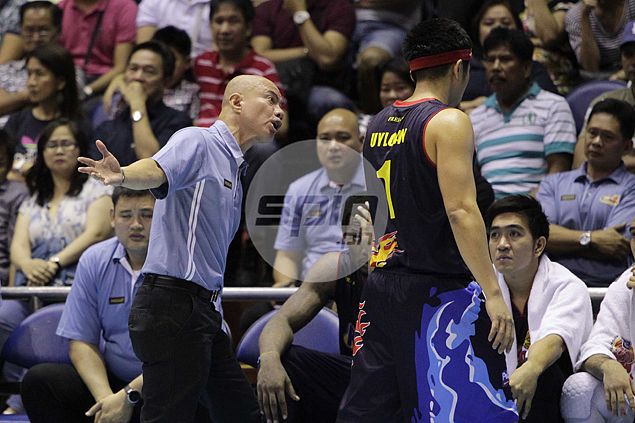 Guiao later broke down some of the team's lapses, something that he wants the coaching staff to review in their practice on Friday afternoon ahead of Game Two of the best-of-five series.
"There were too many defensive breakdowns. I felt that in a close match against a good team, you cannot afford too many defensive breakdowns. We need to play a lot smarter next time and put in extra effort defensively," said Guiao.
"Offensively, it's just a matter of us making two or three more three-point shots, kasi sinona kami. We got our good looks with the three-point shots, the problem was our usual percentage, yung mga three-point shooters namin, we're not able to make those treys," he added.
"When we got zoned, we weren't able to break down the zone!"
[See Jervy Cruz didn't know what was more terrifying: breaking a toe or breaking the bad news to Guiao]
Rain or Shine forward Beau Belga bared the players accept the tongue-lashing from Guiao with a grain of salt.
"Sanay na rin kami sa kanya. Kasi pina-iintindi lang naman niya sa 'yo pagkakamali mo. Galit talaga siya kasi malaki nga ang lamang namin, tapos nalusaw," said the burly forward, who injured his foot during the second quarter.
"Ganun naman si coach Yeng, sinasabi nga niya sa amin na pag kayo hindi ko na pinansin o pinagalitan, matakot na kayo, kasi baka i-trade ko na kayo," said Belga.
See video of interview with Guiao and his team: