WITH James Yap's custody case against estranged wife Kris Aquino over their son James Junior finally settled, no one is happier than the San Mig superstar's girlfriend, Michela Cazzola.
The Asian Development Bank employee from Italy told Spin.ph she is both happy and relieved that one of the lingering problems in Yap's life has finally been settled.
"I am so happy for James. You can see how much he loves his son. His life really changed when he was temporarily separated from him," said Cazzola.
Yap, coming off a championship with San Mig in the PBA Philippine Cup, and Aquino reached an agreement on Wednesday on the terms of custody and visitation of their six-year old son, Baby James or Bimby.
The two-time league MVP has been given the permission by Makati Regional Trial Court presiding judge Cristina Sulit to visit Bimby once a week starting on March 7.
Yap in fact wasted no time as he brought his son to his place in Serendra at the Fort where they spent time together on Thursday - Baby James' first visit to the place since his father's birthday last February 15.
The development came almost a year after Aquino filed for a Temporary Protection Order against Yap.
Being a product of a broken family herself, Cazzola bared she fully understands how hard it is for a child to cope with such a situation.
"I know the feeling. I know the pain. So with every positive solution like this, I know how it somehow lightens up the situation," said Cazzola in a chat with Spin.ph during the thanksgiving party of Yap's Mototechnik company, a local distributing arm of Italian motorcycle brand Vespa.
ADVERTISEMENT - CONTINUE READING BELOW ↓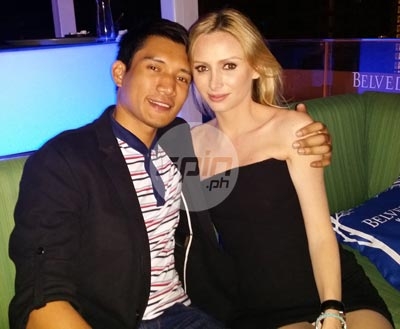 Asked if the time James is eager to spend with his son may pose a problem to their relationship, the drop-dead gorgeous native of Florence, Italy shook her head.
"No, why will I get hurt or mad? I always believe that if people around you are happy, you can never be hurt. Baby James is his son, so why should I get hurt?" said the blonde University of Siena graduate.
"Whenever James shares a moment with his son, I step aside. And I am happy!"
Cazzola continued: "The message I want to tell everyone (on this matter) is loving means giving somebody you love the happiness. It's not a sacrifice, making James happy is part of my commitment to make him happy."
And is she hoping that the time will come when she, too, will get to spend time with Yap's son, Cazzola said: "Yes, I would want to have that time with him also one day.
"But, not now. I am still giving James the privacy to spend time with his baby again."
Meantime, Ai-ai Delas Alas, the estranged couple's friend who was also present during the affair, expressed relief that the differences between James and Kris have finally been settled.
"I am happy for them most especially para kay Bimby. Usually naman kasi everytime there's a problem between husbands and wife, yung bata ang apektado," said Delas Alas.
"Maganda ito para sa inaanak ko kasi okay na parents niya!"