HE wasn't as popular as, say, Bal David or Noli Locsin or Vince Hizon. But to die-hard Ginebra fans, Wilmer Ong best represents the Ginebra players of the Robert Jaworski era because, like the team's charismatic leader, he never once backed down from battle.
Ong was also the quintessential Ginebra bruiser - the last in a long line of Ginebra tough guys that also included Rudy Distrito, Dante Gonzalgo, Sonny Cabatu, Chito Loyzaga, Terry Saldana, the late Rey Cuenco, and, of course, Jaworski himself.
It's his kind that, most Ginebra fans feel, this modern-day Kings obviously lack – Dave Marcelo comes to mind, but he doesn't really come close. Although if you ask these bruisers, they'll tell you they played tough but not rough, physical but not dirty.
The recent PBA Philippine Cup Finals further reflected the team's need for such a player as no less than coach Tim Cone admitted not having any answer against the core of the Beermen's starting unit, especially three-time league MVP June Mar Fajardo.
[See Cone: 'They simply overwhelmed us']
So we asked Wilmer: In your prime, how would you have fared against a massive, 6-foot-10 giant like Fajardo?
"Mahirap din. Hindi mo rin masabi," admitted Ong when SPIN.ph recently caught up with the now-retired big man, who stood no taller than 6-4 but looked intimidating with his massive frame.
"Talagang magaling naman si June Mar," added the product of University of St. La Salle in Bacolod, even comparing Fajardo to his one-time mentor, Danny Ildefonso. "Parang si Danny I na malaki at may konting bilis."
ADVERTISEMENT - CONTINUE READING BELOW ↓
But Ong believed Ginebra's kind of team – not to mention its type of play under the Big J – would be good enough to neutralize, if not hold down the 27-year-old San Miguel center.
"Yung mga teammates ko kasi dati under Coach Jaworski, sanggang-dikit kami lahat," he said, mentioning the likes of Marlou Aquino, EJ Feihl, Benny Cheng, and Locsin among those who manned the frontcourt with him. "Para kaming magkakapatid, kung kalaban ka ng isa, kalaban ka naming lahat.
"At yun ang gusto ko sa Ginebra."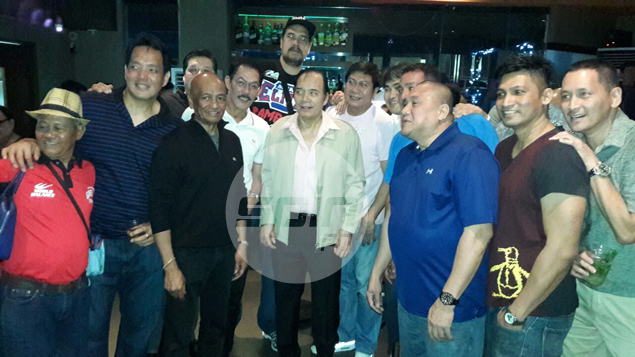 Of course, his statement was not a hit on the style of play Cone has brought to Ginebra. Ong said he has nothing but respect for the most successful coach ever in the 42-year history of the PBA.
"Saludo tayo kay Coach Tim. Siyempre different coaches, different styles, and yan ang style niya," said Ong, who played 11 seasons in the league from 1994 to 2005. "Respect natin yung style niya, hindi puwedeng sabihin na dapat ganito, o dapat ganyan."
[See True to form, former Ginebra player Benny Cheng remains low key in life after basketball]
So how has he been since his PBA days?
Retired for more than a decade now, Ong tends to his own business as distributor of no other than beer and liquor. And it helped that he played for about 10 years with the San Miguel-owned franchise despite ending his career as a Sta. Lucia player.
"Very grateful ako sa San Miguel management, especially kay Boss RSA (Ramon S. Ang). After ng retirement ko, sinubukan ko lang. Tinulungan naman nila ako, family rin naman natin yung SMC," he recalled.
He's been distributing beers in the Quezon City area for almost a decade now, a business which he said takes up most of his time.
"Matrabaho din kaya hindi puwedeng pabayaan," said Ong, born in the country to pure Chinese parents.
He has four kids, with the eldest of his three boys currently a member of Team B of Ateneo. In as much as he wants them to also become basketball players like him, Wilmer never fail to remind them not to disregard their studies.
A holder of a Commerce degree, Ong said he finished his college course before focusing full-time on his playing career.
"Advice kasi ng parents ko, tapusin ko 'yung pag-aaral ko," Ong said, recalling his days as a varsity player and member of the national youth team when he had to bring his books and other school papers to practices.
"Lagi kong dala-dala yung books ko para mag-aral and mag-review during break sa practice," he said. Among his teammates in the 1990 youth team were Jun Limpot, Aquino, Boyet Fernandez, Giovanni Pineda, and John Cardel while the coach was Francis Rodriguez.
ADVERTISEMENT - CONTINUE READING BELOW ↓
"That time, ang practice nung (youth) team dito sa Manila. E sa Bacolod pa ako nag-aaral. Kaya lahat ng gamit ko nun dala-dala ko lagi sa practice," he added.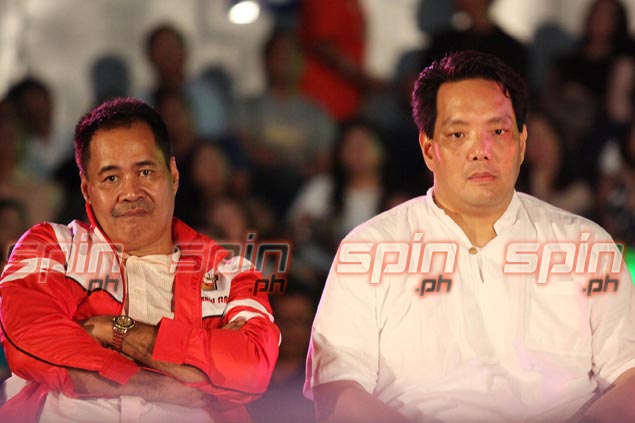 When he finally graduated, he played for A&W and later with Burger Machine under coach Chot Reyes and later, Perry Ronquillo, with whom he won a Philippine Basketball League (PBL) championship.
In 1994, he was selected in the second round (9th overall) by Ginebra (then carrying the brand Tondena 65 Rhum). He won a PBA championship with the team in the 1997 Commissioner's Cup before he was left out in the free agent market by the franchise at the end of the 2002 season.
Sta. Lucia picked him up as free agent in 2003 and he hang up his sneakers two seasons after.
"Alam mo rin naman end na ng career mo, kaya tanggap naman natin na yun," he said.
[See Bal David pays tribute to coach who designed iconic Ginebra play]
Wilmer still played occasionally upon retirement and would have loved to join former teammates Locsin, Aquino, Hizon, and David as part of the Legends teams that continue to tour around the country and overseas. But one accident kept him from doing so.
"Tumigil na ako after two years kasi na-ACL (anterior cruciate ligament tear) yung left knee ko," he admitted, adding he suffered the injury while playing with his so-called Sunday group.
He decided against undergoing surgery.
"Hindi ko na pinagalaw. Parang na-trauma ako." said Ong. "Minsan kasi akala natin kakayanin pa natin. Yun pala hindi na."
Guess even the toughest men do become vulnerable at some point.