THERE has been a long-running debate on SPIN.ph's social media platforms on which between the UAAP and the NCAA is the better league - and which has the better players.
Although we know that no tangible metric can be used to settle this debate once and for all, we decided to crunch up the numbers after the PBA released the 15-man rosters of its 12 teams to determine which college league has the produced the most number of players in the pro ranks.
Again, it will take more than these numbers to settle this issue, which, if we go down to the nitty-gritty, should also consider the quality of the players produced by both leagues, the quality of play, following from fans, and prestige.
But the numbers can still be revealing, as shown by the results.
Based on the current official lineups released by the PBA (15 men for each of the 12 teams counting the reserves), 74 came from the UAAP and 47 from the NCAA.
Top Cebu collegiate league Cesafi has five while 12 were not classified - either because they came out of college leagues outside the UAAP and NCAA, like Alaska's Vic Manuel (PSBA), or didn't go to college at all, like Mahindra playing-coach Manny Pacquiao (come to think of it, Pacquiao is the only active PBA player right now to technically come out of high school].
Continue reading below ↓
Recommended Videos
Here is the complete breakdown:
UAAP (74)
Noy Baclao, LA Tenorio, Japeth Aguilar, Greg Slaughter, Von Pessumal, Chris Newsome, Justin Chua, Enrico Villanueva, Emman Monfort, Fonso Gotladera, JC Intal, Rabeh Al-Hussaini, Doug Kramer, Chris Tiu, Larry Fonacier, Frank Golla, JP Erram, Russel Escoto, Jonas Villanueva, Mac Baracael, Mark Barroca, Aldrech Ramos, Mike Tolomia, Jeff Chan, RR Garcia, Arwind Santos, Roger Pogoy, Ping Exciminiano, Carl Bryan Cruz, Mac Belo, Denok Miranda, Reil Cervantes, Terrence Romeo, Arnold Van Opstal, JVee Casio, Mike Cortez, Papot Paredes, Rico Maierhofer, LA Revilla, Ryan Arana, Joseph Yeo, Norbert Torres, Willy Wilson, Jewel Ponferada, Troy Rosario, Marion Magat, Tristan Perez, Raymond Aguilar, Denice Villamor, Reden Celda, Glenn Khobuntin, Gelo Alolino, Jeff Javillonar, Paul Lee, Chris Javier, James Yap, Ronald Tubid, Roi Sumang, Pedrito Gonzaga, Mark Borboran, Ken Bono, Eric Camson, Jansen Rios, Rodney Brondial, Jericho Cruz, Don Trollano, Jervy Cruz, Aljon Mariano, Kevin Ferrer, Cyrus Baguio, Allein Maliksi, Raoul Soyud, Jay R Reyes, Jireh Ibanes
NCAA (47)
Jake Pascual, David Semerad, Rome Dela Rosa, Jaypee Mendoza, Dave Marcelo, Art Dela Cruz, Kyle Pascual, Riego Gamalinda, Anthony Semerad, Baser Amer, Anjo Caram, Garvo Lanete, Raymond Almazan, Aaron Aban, RJ Jazul, Kevin Racal, Rey Guevarra, Bryan Faundo, Kevin Alas, Ian Sangalang, Calvin Abueva, Jason Ballesteros, Bradwyn Guinto, Michael Miranda, Jio Jalalon, Keith Agovida, James Forrester, Nard Pinto, Prince Caperal, James Sena, Jeckster Apinan, Philip Paniamogan, John Wilson, Marvin Hayes, Paolo Taha, Jericho De Guzman, Jonathan Grey, Carlo Lastimosa, Beau Belga, Gabby Espinas, Jayson Castro, Jessie Saitanan, Josan Nimes, Joseph Eriobu, Scottie Thompson, Ronjay Buenafe, Chico Lanete
CESAFI (6):
June Mar Fajardo, Brian Heruela, JR Quinahan, John Ferriols, Dondon Hontiveros, Greg Slaughter
Others (12):
Vic Manuel, Jammer Jamito, Jason Melano, Mark Yee, Manny Pacquiao, Reynel Hugnatan, PJ Simon, Marc Pingris, Samboy De Leon, Ronnie Matias, Yancy De Ocampo, Ranidel De Ocampo
[Note: Slaughter was counted for both the UAAP and the Cesafi since he played for both UV and Ateneo in college]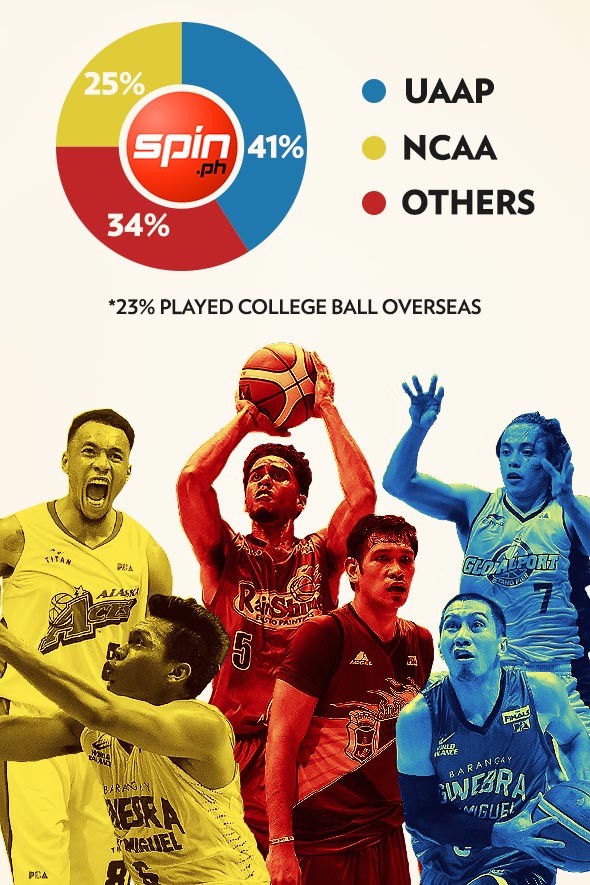 But in doing the math, we've also come across an interesting statistic: no less than 42 players from the current PBA roll were schooled overseas before taking their act to Asia's first pro league.
It's important to note that the PBA has a rule in place limiting the number of Fil-foreigners in each team's active roster to five - a cap which top player agent Matthew Manotoc rued as 'discriminatory' against Fil-foreigners.
[See Top agent calls for changes to 'outdated, discriminatory' PBA rule on Fil-foreign players]
Still, that rule, apparently, hasn't made much of a dent on the number of Fil-foreigners in the league which, at 42, has grown so much since the PBA's early days when only Willie Pearson and Ricardo Brown were the only Fil-foreigners in the pro league.
[Note: By Fil-foreigners, we go by the definition that a player is such if he is born or raised in the US, even if he was born from Filipino parents]
Fil-foreigners from international colleges (42):
Chris Banchero, Sonny Thoss, Abel Galliguez, Tony Dela Cruz, Sol Mercado, Jayjay Helterbrand, Chris Ellis, Joe DeVance, Mark Caguioa, Ael Banal, Billy Mamaril, Stanley Pringle, Karl Dehesa, Mick Pennisi, Michael DiGregorio, Alex Mallari, Jason Deutchmann, Cliff Hodge, Jonathan Uyloan, Jared Dillinger, Kelly Nabong, Asi Taulava, Sean Anthony, Simon Enciso, Matthew Wright, Justin Melton, Rafi Reavis, Gabe Norwood, Maverick Ahanmisi, Jay Washington, Alex Cabagnot, Chris Ross, Rashawn McCarthy, Marcio Lassiter, Chris Lutz, Kris Rosales, Harvey Carey, Mo Tautuaa, Ryan Reyes, Kelly Williams, Matt Ganuelas-Rosser, Danny Seigle
And that do not include players who have foreign blood but grew up in the Philippines (i.e. Calvin Abueva, Ping Exciminiano, Marc Pingris) and players classified as Fil-foreigners who made their way to the PBA through the local college leagues. They are 20 in all.
Ping Exciminiano, Calvin Abueva, Greg Slaughter, James Forrester, Mike Cortez, Anthony Semerad, Rico Maierhofer, Marc Pingris, Arnold Van Opstal, Gabby Espinas, David Semerad, Brian Heruela, Jayson Castro, Joseph Eriobu, Chris Newsome, Rabeh Al-Hussaini, Marvin Hayes, Norbert Torres, Willy Wilson, Doug Kramer.
Now, you can draw up your own conclusions.