(Editor's note: Advanced numbers are courtesy of 'Stats by Ryan' on DribbleMedia.com — a collection of advanced stats for the PBA that uses up-to-date totals and formulas from both NBA.com/Stats and Basketball Reference, as well as other independent hoops websites.)
THIS might seem ridiculous to say about a team that bannered eight All-Stars in its roster in the recent 2021 PBA Philippine Cup, but an off-conference trade was actually the right move to make for San Miguel.
Swinging a deal, however, often comes with the intent of trying to patch up weaknesses and shoring up a team's floor and ceiling instead of raising more questions about whether the new pieces fit or not — questions the Beermen will have to answer sooner or later after dealing longtime franchise star Arwind Santos to NorthPort for Vic Manuel.
Talent = depth?
Talent does not always equate to depth. There was little doubt that SMB's lineup possessed overwhelming firepower last conference, but that team needed to be complete and healthy in order to divert the attention from some of the lingering issues that didn't seem present at first glance.
Game 7 of their your-turn-my-turn semifinals matchup between eventual champion TNT exposed some of those flaws. While the Tropang Giga certainly get all the credit for carving out that hard-earned series win on their way to the title, it might have also helped their case that ill-timed injuries in the climax to Mo Tautuaa and Terrence Romeo uncovered gaps in offensive creation and frontcourt versatility that eventually became SMB's undoing.
Continue reading below ↓
Recommended Videos
The latter problem felt more pronounced in the final three games of that semis series. When the Tropang Giga went small and/or targeted Arwind Santos in the pick-and-roll in significant stretches starting Game 5, one of SMB's counters was to throw a June Mar Fajardo/Tautuaa pairing to punish TNT; when Tautuaa went down in the second half of Game 7, the Beermen frontcourt of Fajardo and Santos held their ground for just a bit before eventually losing steam down the stretch. (Here's a breakdown from Dribble Media's Ryan Alba of that underappreciated chess match between Leo Austria and Chot Reyes.)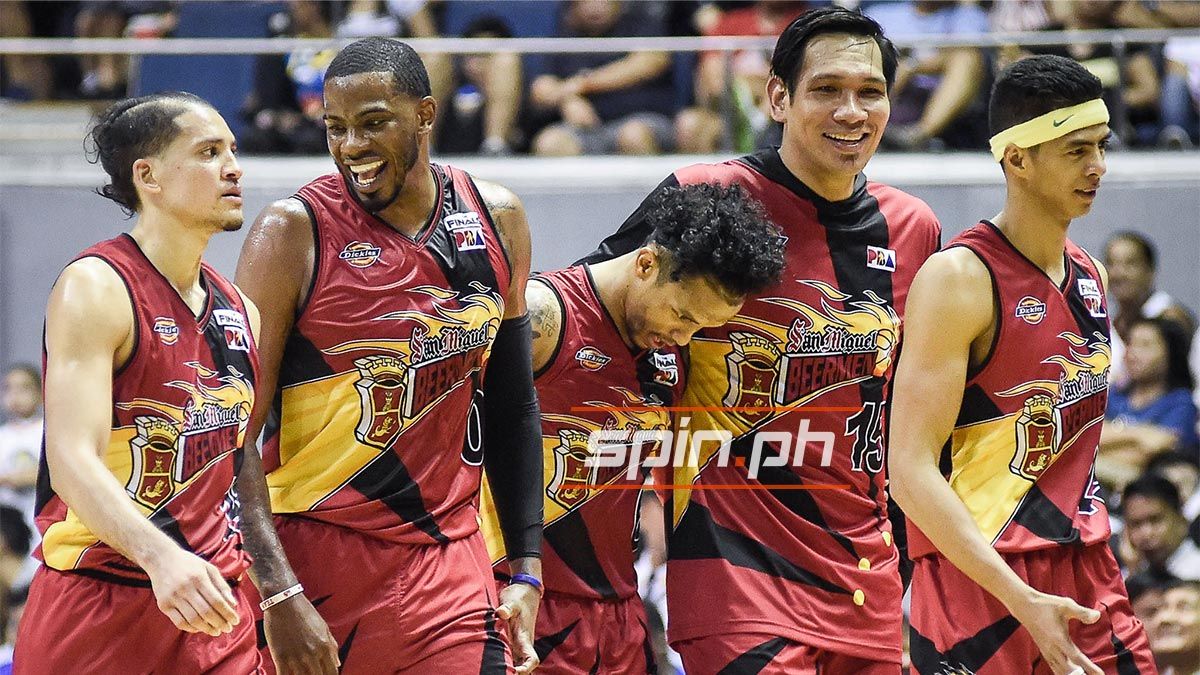 A frontcourt trio of Fajardo, Santos, and Tautuaa is a dream rotation for any team, but that Game 7 against TNT showed that an injury to any one of them effectively wipes out their depth. SMB tried to make up for it by letting Fajardo play 40 minutes for only the second time in the conference during that closeout game, but you can't exactly count on the six-time Most Valuable Player to do that on a nightly basis at the risk of reaggravating the shin injury he suffered over a year ago. (The Beermen could have always gone small by playing CJ Perez or Marcio Lassiter at the four or even giving James Sena and Alfonso Gotladera — who both combined for 10 minutes a game — more playing time, but the team didn't really show any inclination to go in that direction.)
That is why an offseason deal for a big man (or an uber-versatile wing that could play the three or the four) made sense, even though it didn't initially feel like it after the conference. Dangling one of the guards — SMB has six high-level rotation pieces in the backcourt, which is nuts — would have made more sense, but trading away Santos wouldn't have been a bad move as long as the Beermen got someone good in return.
Arwind Santos would have fetched a higher price in the open market
Here lies the problem: Manuel, at this point, doesn't feel like an equivalent get for Santos.
Santos would have fetched a higher price in the open market. His best days are behind him, sure, but the 2013 MVP can space the floor well (on some nights, at least; he shot 31.5 percent from long range last conference, which is just 12th among 21 players who attempted more than five threes a game, but opposing teams still respect his shot), is still a great weakside defender (he recorded 1.3 blocks last conference, tied for seventh), and is still one of the league's better rebounders.
On a team with so many mouths to feed, the 40-year-old forward showed he could thrive even without needing too many touches. In DribbleMedia's database that goes back to the 2018 season, Santos' offensive load had always ranked behind four or five other Beermen players, which showed how low maintenance he was on offense. That remained true until last conference, where he posted 12.3 points on a true shooting percentage — or a measure of shooting efficiency accounting for the cumulative value of field goals, three-pointers, and free throws — of 52.4, which is above league average.
Manuel is the opposite: he's a high-usage player. The 34-year-old bruiser was just second behind new teammate Romeo in terms of offensive load and was way more involved on offense than Phoenix mainstays Matthew Wright and Jason Perkins were. He wasn't exactly efficient or productive, though, scoring just 12.8 points on 49.3 TS%, which is below league average. (A groin injury may have played a part in his subpar efficiency, but that mark was actually just a tad better than the 48.9 TS% he posted in 2020.)
Spacing, of course, will be an issue, as Manuel isn't the cutter or floor-spacer that Santos is. A threat like in the post will certainly open up some shots for 'The Muscleman' down low, but he still subsists mostly on post-up touches and hasn't really shown he could stretch the floor consistently. Don't let his 33.3 percent shooting from deep last conference fool you, because he took less than one three per game.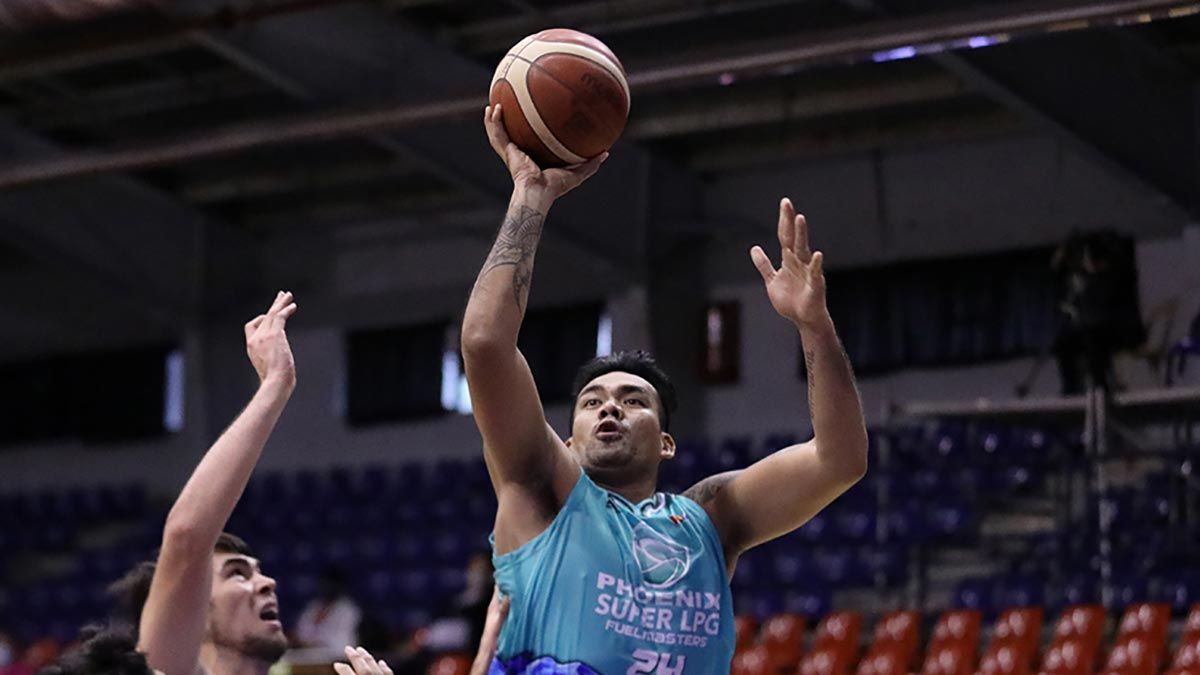 Then there's the matter of defense. While TNT exposed his deficiencies in the latter part of the series, Santos, a two-time Defensive Player of the Year, was still one of only two SMB players (the other being Chris Ross) to be a net positive on defense last conference; Manuel, on the other hand, rated as a negative defender in terms of defensive box plus-minus — a box-score based metric that attempts to measure a player's contribution on defense while on the floor — and has yet to show he can duplicate or mimic Santos' capability as an anchor and help defender, both inside and in the perimeter.
With Santos on board, San Miguel still posted the fourth-worst defensive rating in the recent Philippine Cup. One spot ahead of them: Manuel's Phoenix.
Manuel still has great value offensively in a league that still leans heavily on post options, but there's a chance that a partnership with SMB might not yield the benefits that the team brass envisioned in trade negotiations. Still, we could always be proven wrong, and the pros may outweigh the cons.
The nine-year veteran, to his credit, is more adept at creating his own offense around the basket and in the midrange than Santos is at this stage in their careers. Manuel is also six years younger, and there's always a chance he can adjust immediately due to the existing offensive hierarchy within San Miguel; by conceding touches, he could possibly conserve his energy to be more active and more thorough on the defensive end.
Right now, though, these are all maybes. San Miguel might have been compelled to make a trade after that stinging semifinals exit — and they would have been right in doing so — but as proven many times in the past, stacking one big name on top of another isn't always the solution. The Beermen might find answers, but right now, it doesn't feel like they're in a better spot than they were just two days ago.
We are now on Quento! Download the app to enjoy more articles and videos from SPIN.ph and other Summit Media websites.
PBA Updates