THE man with the golden hands is celebrating the silver anniversary of his most memorable game.
On this day exactly 25 years ago, Allan Caidic, widely regarded as the finest shooter the country has produced, scored 79 points built around 17 three-pointers to lead Tivoli (Presto) to a 162-149 victory over Ginebra in a semifinal game in the PBA.
That game stands out in memory to this day, not so much for the result (the match had no bearing on the title race) but more for the slew of scoring records that came tumbling down and defined the greatness of one of the most prolific scorers in the history of Philippine basketball.
"Nakakatuwa nga, eh. Ang dami pa ring nakakaalala hanggang ngayon," Caidic told SPIN.ph on Monday as he marked the 25th anniversary of the game where he broke Bong Alvarez's then record of 71 for most points scored by local player.
On a personal note, he also celebrated the 25th birthday of his eldest daughter Mariel, who was born while the game was in progress at the ULTRA (now PhilSports Arena).
[See The long, long wait for the 'next Allan Caidic']
Caidic's record for most career three-pointers (1,742) was surpassed by Jimmy Alapag just last season, but records 'The Triggerman' set in that iconic 1991 game have withstood the test of time.
So impressive were those records that these get mentions on social media every now and then - not in PBA terms but in comparison to feats achieved in the NBA.
Take note:
Just last November 8, two-time MVP Stephen Curry set the NBA record for most three-pointers in one game with 13 in the Warriors' win over the Pelicans. That's still four short of Caidic's record.
Last year, his Warriors teammate Klay Thompson put together the most explosive quarter in NBA history when he scored 37 points built around nine three-pointers in a win over the Sacramento Kings. Both marks merely matched Caidic's PBA records from that 1991 game.
Last April 28, Kobe Bryant scored 60 points in his farewell game with the Los Angeles Lakers. That was 19 off Caidic's record. Kobe's career high of 81 - the second most points scored in an NBA game - is just two points higher than Caidic's high-water mark.
Still, Caidic doesn't discount those records being broken in the future.
"Hindi natin masasabi. After all, records are meant to be broken," said the former league MVP. "Malay mo, may isang player na uminit tapos bigyan ng bigyan ng bola, pwedeng mangyari."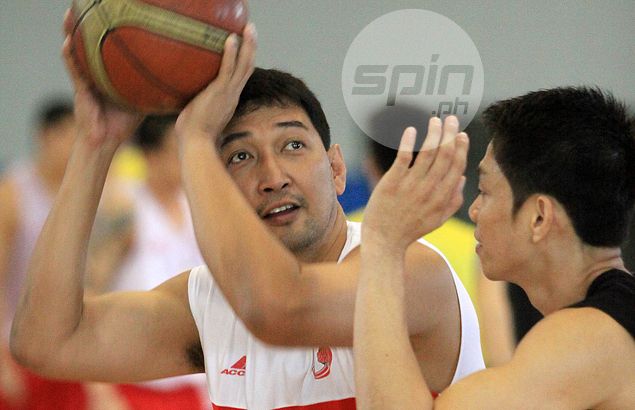 Caidic said it's even easier for shooters like him to get good looks at the basket these days with the zone defense back in vogue in the PBA, unlike during his time when the 'illegal defense' rule left teams not much choice but to play straight-up man to man.
"I guess it's bound to happen, na may isang player na iinit at mabe-break ang records," he said.
[See There's no better player to break my record than Alapag, says Caidic]
But we doubt it.
Over the last 25 years since Caidic scored 79 points, only one player - Asi Taulava - has breached the 50-point mark, in a game for Talk 'N Text back in 2004. But his 51 points in that game were even two short of the 53 Caidic scored in one half in 1991 - another long-standing PBA record.
Today's big stars have had their share of high-scoring games, but no one has come close to the half-century mark. See the list of players and their career highs below:
Mark Caguioa - 45 points, 2006 Philippine Cup, June 4, 2006
Jayson Castro - 44 points, 2015 Commissioner's Cup, April 17, 2015
Danny Seigle - 43 points, 2005 Fiesta Conference, March 17, 2005
Gary David - 42 points, 2011 Governors Cup, October 30, 2011
PJ Simon - 42 points, 2010-2011 Philippine Cup November 10, 2010
Mac Cardona - 42 points, 2008-2009 Philippine Cup, November 16, 2008
James Yap - 41 points, 2007 Fiesta Conference, June 2, 2007
Terrence Romeo - 41 points, 2015-2016 Philippine Cup, January 4, 2016
KG Canaleta - 41 points, 2012-2013 Philippine Cup, December 5, 2012
By Caidic's estimate, it will be easier for players to break his record for most three-pointers made in one game of 17 (he also holds the second best with 15) than to surpass his 79-point game.
But easy is a deceiving word in the above sentence, considering only two players other than Caidic have hit double figures in treys made in one game over the last 25 years.
They are Kenneth Duremdes, who hit 10 in a 2003 game for Sta. Lucia, and San Miguel gunner Marcio Lassiter, who likewise hit 10 in a 2015 Governors Cup game.
So again we ask: Will these records ever be broken?
You be the judge.
PBA Updates