MERALCO star Sol Mercado scored the most points (269) and dished off the most assists (91), Petron Blaze's Arwind Santos hauled down the most rebounds (169) and swatted away the most shots (21), Globalport's Willie Miller played the most minutes (521), Alaska's JVee Casio sank the most triples (36) and Rain or Shine's Jeffrei Chan scored the most from the 15-foot line (86) in the just-concluded elimination round of the PBA Philippine Cup.
But do you know which player or which team was whistled for the most number of technicals and flagrant fouls?
If you guessed Rain or Shine, as most of you must have done, then you're spot on. True to form, one of the pro league's most physical teams once again topped that dubious department at the end of the elims.
To top it off, Painters enforcer Beau Belga and their fiery coach, Yeng Guiao, also topped their respective categories.
ADVERTISEMENT - CONTINUE READING BELOW ↓
As a team, Rain or Shine had a combined total of 21 technical fouls and flagrant fouls, six more than Meralco's total. That's a lot when you consider than Ginebra just had three - a number unimaginable for the Robert Jaworski-led Ginebra teams in the eighties and nineties, if we may say so.
Guiao had the most number of technicals among coaches with six, which is twice that of second-running Alaska coach Luigi Trillo's three.
Three head coaches didn't even receive a single technical in the elims – Air21's Franz Pumaren, Barako Bull's Bong Ramos, and Barangay Ginebra's Siot Tanquingcen.
To no one's surprise, the elims valedictorian in this category among players was Belga with his total of five: two technicals and three flagrant foul ones. His 'Extra Rice Inc.' partner JR Quinahan was a close second with four.
And the scary part is, it's not even the playoffs where emotions are expected to go up another level.
ADVERTISEMENT - CONTINUE READING BELOW ↓
Here are the complete lists: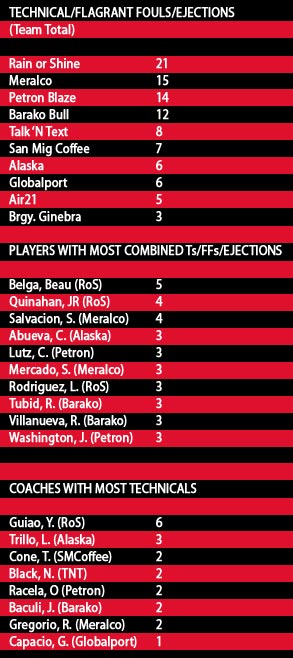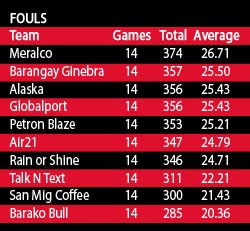 ADVERTISEMENT - CONTINUE READING BELOW ↓
PBA Updates