DESPITE all his achievements in a young and fast-rising basketball career, Troy Rosario's most impressive feat is the way he keeps his feet firmly planted on the ground.
Rosario, the TNT KaTropa rookie and former UAAP champion and Finals MVP for National University, had a nostalgic post on his Instagram account Tuesday, where he fondly looked back in disbelief at his basketball journey.
In his post, the former Gilas Pilipinas forward from Cagayan Valley thanked the men behind Titan Basketball Concept Shop — Alaska assistant coach Jeff Cariaso, Dennis Tan, and Raoul Reinoso — for making him part of their exclusive 'Deer Valley Titans' family, with the photo showing some of the new sneakers he received.
The most touching part of it all is when the former NU walk-in recalled the hardship he went through early in his career, when he had no means to purchase his own pair of shoes.
"I can still remember how hard it is for me to have a pair of basketball shoes when I started playing. I experienced having one pair for one whole season," Rosario wrote in the caption.
"Minsan umaasa sa bigay ng school at pag minalas pa na masira wala na magagamit. I even borrowed shoes from my teammates," he added.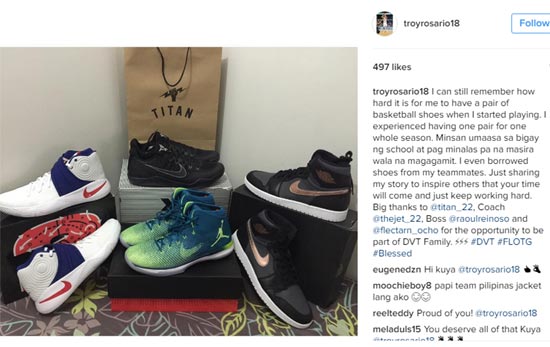 Rosario ended his post with a message of encouragement to his followers, saying that all the blessings he has now is the product of his work ethic and attitude.
"Just sharing my story to inspire others that your time will come and just keep working hard," he ended.
With his head and his heart in the right place, Rosario is sure to have many more blessings coming his way.
PBA Updates