MIKEY Williams led the way with 28 points, nine rebounds, and six assists as TNT dealt Magnolia another beating, 105-93, for a 2-0 lead in the 2021 PBA Philippine Cup Finals at the Don Honorio Ventura State University gym in Bacolor, Pampanga.
Williams once again went on a shooting spree early in the game to break the game wide open on Friday before preserving his efforts with critical baskets that cooled down Magnolia's comeback from a deficit that reached a high of 21 points.
TNT simply refused to wilt to in the face of Magnolia's rally as the Tropang GIGA moved two victories away from ending a six-year title drought.
Game Three of the best-of-seven series is on Sunday.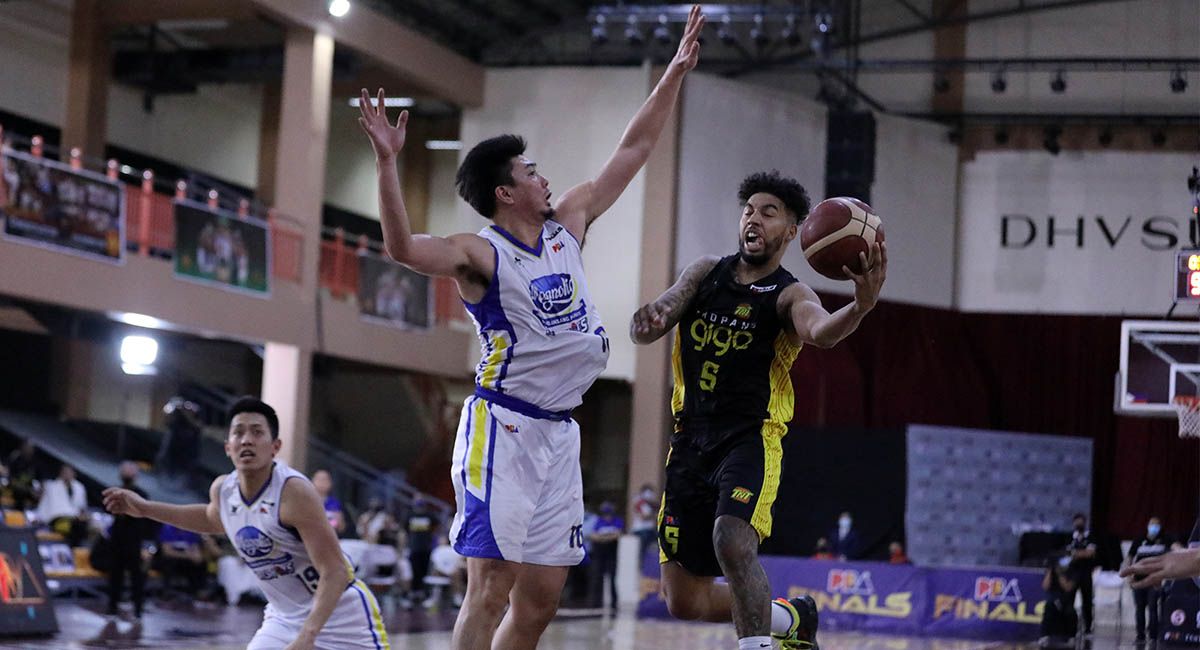 Picking up where he left off after a 21-point night in Game One, Williams went 5-of-9 from three-point distance - three coming in the first half. TNT registered the biggest lead at 57-36 in the second period on a three-point play by Williams.
ADVERTISEMENT - CONTINUE READING BELOW ↓
The Tropang GIGA's lead was cut to four, 90-86, as the Hotshots showed signs of life in the fourth, but Williams responded by sparking a 7-0 with a three-pointer before converting another trey at the 4:29 mark to make it a 100-89 lead.
TNT's victory spoiled the efforts of Magnolia big man Ian Sangalang, who finished with 25 points to atone for a Game 1 performance that saw him being limited to only five points in 10 minutes of play due to back spasms.
TnT catches fire from afar again
The Tropang GIGA made 17 threes in the game, the second most in a PBA Finals game in history, according to league statistics chief Fidel Mangonon.
But coach Chot Reyes said it the defense which pulled them through in the second half.
"We always say in our offense, the ball has energy. If they are willing to share it and move, then we just find the open men. That led to the hot shooting in the first half," said the former Gilas Pilipinas coach.
"But we talked about it at halftime, we knew it's not going to last. In the end, we need to defend and rely on our defense and that's what happened," Reyes added.
Jayson Castro scored 16 points and grabbed five rebounds in what was easily his best game in this playoffs while Troy Rosario chalked up 12 points. Brian Heruela was a big boost as well with 11 points on 3-of-5 shooting from threes.
Poy Erram grabbed a game-high 12 rebounds, while Kelly Williams produced quality minutes despite playing through with a back injury, contributing three points and five rebounds in 22 minutes of play.
TNT led 40-27 at the end of the first quarter, with Williams already scoring 11 points after converting 3-of-4 from the field.
Magnolia made a game of it in the final quarter, but Calvin Abueva fouled out with 5:21 left in the game, hurting the Hotshots' chances of completing a comeback.
Paul Lee had 12 points, while Abueva had 11 points and 11 rebounds.
The scores:
TNT 105 – M. Williams 28, Castro 16, Rosario 12, Heruela 11, Reyes 10, Pogoy 9, Erram 6, Khobuntin 5, Montalbo 5, K. Williams 3, Exciminiano 0.
Magnolia 93 – Sangalang 25, Lee 12, Abueva 11, Barroca 11, Dionisio 9, Ahanmisi 6, Dela Rosa 6, Jalalon 5, Corpuz 4, Reavis 4.
Quarters: 40-27; 66-50; 86-79; 105-93.