TNT standby imports Mike Myers and Michael Craig denied pushing the Smart Araneta Coliseum railing that hit San Miguel team governor Robert Non, among others, on Sunday night.
"Nothing really happened. Somebody swung the gate open and it happened to hit one of the fans. I don't know. I didn't swing the gate. I don't know what happened," said Craig, the KaTropa reinforcement for the season-ending Governor's Cup.
"I didn't get into a verbal nothing. Like I said, I was trying go to the locker room and somebody swung the gate open. I put my hands up," he added.
Myers, TNT's back-up option for the hobbling Joshua Smith, likewise moved to clear his name from any wrongdoing.
"I don't know what happened with that. I didn't push no gate. I was just walking over and the gate was just pushed, I had nothing to do with that," said Myers.
[See Intense PBA Finals action spills off the court with halftime commotion]
San Miguel assistant coach Boycie Zamar, who was in the middle of the confrontation, declined to comment further and said he was just merely acting as a "peacemaker."
The pair were also involved in an earlier commotion with Chris Ross, as they were seen jawing with the San Miguel point guard at the 2:49 mark of the second quarter.
The two imports, sitting in the VIP section of the San Miguel area, were then asked to transfer to the TNT side of the stands to avoid further confrontation.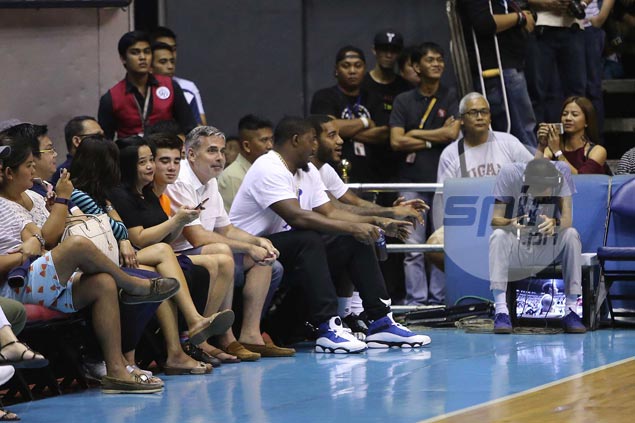 Myers said he was just supporting his team.
"I just want my team to win. I'm just cheering on my team, that's all. It was nothing serious," Myers continued. "It's just a competitive game. We're just talking back and forth. It was nothing serious."
That incident only pumped up Myers who said he can't wait to strut his wares in the finals where the Texters currently trail the Beermen, 1-2, after a 97-109 loss on Sunday night.
"I'm real excited right now. I wanna play so bad. I'm very excited. I'm just waiting for my time to come. When my time comes, I'm ready."