ROOKIE big man Mo Tautuaa is a self-confessed gadget-lover.
No wonder his attention was easily drawn the moment he saw the crew of Sports5 setting up its equipment just outside the TNT Katropa dugout shortly after the team's PBA Governors Cup game against Star on Sunday night at the Mall of Asia Arena.
Without hesitation, the Fil-Tongan approached the two-man team and politely asked if he could try his hand on their camera. He quickly tinkered with the thing when given the permission to do so.
"Is this not gonna babagsak," he asked, careful not to drop the camera perched atop a tripod.
"Paano ito?" said Tautuaa as he looked for the switch to turn on the camera light.
"Bakit hindi na ma-focus yun?" he asked again as the lens became blurred when Tautuaa tried to focus on Star point guard Marc Barroca from the far end of the Texters' dugout.
He also tried taking live shots of teammate Ranidel De Ocampo the moment 'Hodor' emerged from the team dugout and ABS-CBN Sports reporter Paul Lintag, who was busy texting while waiting to interview TNT and Star players at the MoA hallway.
"Opo kuya," was his curt reply when asked later if he's fascinated with gadgets. ""I like technology, I like gadgets and stuff."
Continue reading below ↓
Recommended Videos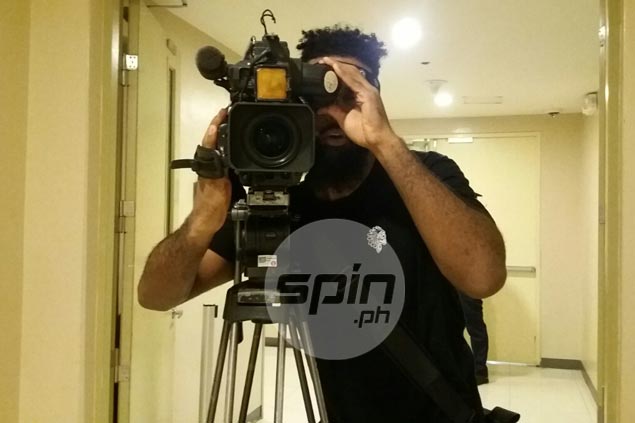 Mo said it was the first time he handled a TV camera unlike the DSLR types of which he had several, including the camera he borrowed from SPIN.ph photographer Jaime Campos to take game photos of Asi Taulava and the rest of the NLEX Road Warriors.
[See Mo Tautuaa borrows our photog's camera, clicks away]
"Did you see the pictures? Did it look good?" he fired questions one after the other.
"Wow, maraming salamat," was Tautuaa's reply when informed the pictures looked good enough especially for a first timer like him.
So will he finally have a fallback career once his playing days are over? A career as cameraman, perhaps?
"Probably not," he said in a serious tone. "It's fun just to have it (TV camera), kasi malaki na yan. Marami ng kayang i-videos pag gamit yan."