TnT Katropa was quick to deny accusations by former import Denzel Bowles that the franchise cut him because it didn't want to pay his salary in the short time he was with the team prior to the start of the PBA Commissioner's Cup.
Team manager Virgil Villavicencio made it clear Bowles was paid his salary for the full two weeks he practiced with the Texters, contrary to the claims made by the 27-year-old native of Virginia in his posts on his Twitter account @Denzel_Bowles.
"Talk n text cut me cause they poor right now n didn't wanna pay me," part of Bowles' tweet read.
"That's not true. He was fully paid before he left," Villavicencio said on Sunday in a talk with SPIN.ph.
"Usually imports are offered a one-month contract, the two weeks of which are guaranteed," he explained. "Eksakto na two weeks siya sa amin, so binayaran namin yun. Talk 'N Text has no record whatsoever of not properly compensating its players."
Villavicencio also denied the accusations made by Bowles that the team 'almost stole my game shoes KD9' after a practice game against sister team NLEX.
[See RDO explains 'mental baggage' led to Bowles exit from TNT]
Bowles, a former Best Import who steered Star (formerly B-Meg) to the 2012 Commissioner's Cup championship, had a falling out with TnT management and was sent home a day before the mid-season tournament kicked off.
Initially, team officials said Bowles came over not really in top shape, although it turned out the American already developed an attitude and couldn't get along with his teammates, according to insiders.
ADVERTISEMENT - CONTINUE READING BELOW ↓
Bowles seemed to be aware of it based on a separate post.
"Talk n text said they cut me cause I have a bad attitude but I don't like talk much n we were winning," he said.
Villavicencio said Bowles only aggravated his situation the way he's been acting up on social media.
"With everything he's doing, I think we're justified with our move to look for another import instead," he added.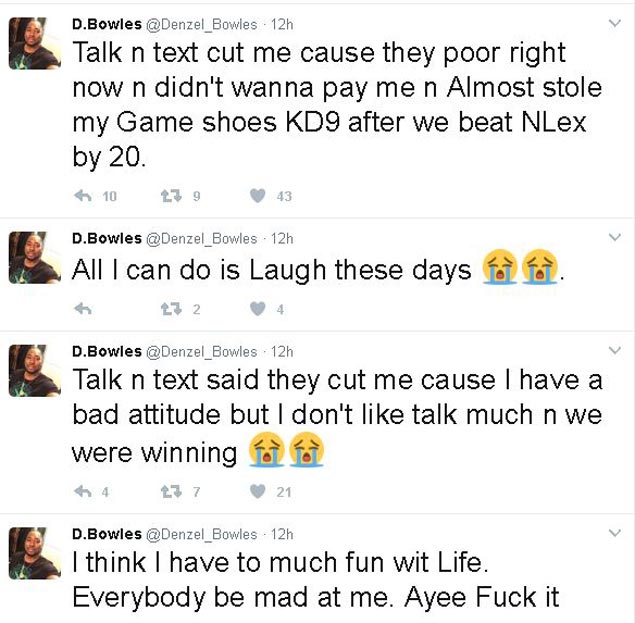 Villavicencio also took the time to explain the brouhaha over the KD9 shoes.
"The players have lockers sa Moro (Lorenzo gym) and some of them, including Denzel, iniiwan na yung sapatos sa locker para magagamit na sa practice the next day, " the longtime team official.
"During our tune-up against Star yun ang time na hindi na namin siya pinag-practice, and may bilin na sa guard na huwag siyang papasukin (sa gym). Ang worry namin baka manggulo dahil pilit na gustong makapasok," said Villavicencio.
"Nung sinabi na gusto lang niya kuhanin yung sapatos niya, ako mismo kumuha, pinuntahan ko siya sa labas, at tsaka ko ibinigay. We never had any intention of not giving his shoes or, as what he claimed, nakawin yun."
Bowles had since been replaced by NBA veteran Lou Amoundson, who's actually just a back-up to original choice Donte Greene.
Amoundson was only signed for two weeks before Greene takes over his place as expected.