CHRIS Tiu will finally turn pro, announcing the decision by posting "Hello PBA :)" on his Twitter account on Friday morning.
After playing for Ateneo Blue Eagles in the UAAP, the 27-year-old Tiu spent his playing career with the national team through the Smart Gilas program. His last stint with the Nationals was in the recent Seaba qualifying to the Stankovic Cup last June.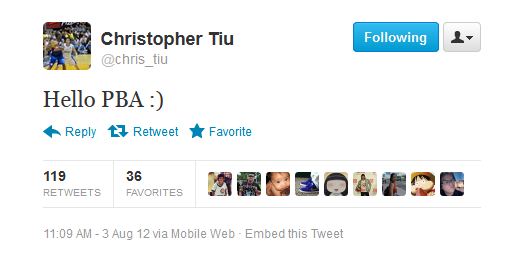 Asked by Spin.ph's sister website, Pep.ph, why he finally decided to make the jump, the cager said in an SMS message: "My passion and love for the game. Duty and responsiblity for the Philippine basketball fans, my fans, and the youth."
Tiu made the announcement on the final day for amateur players to apply for the PBA Draft. His application form reached the league office at around noon, officials confirmed.
On July 25, the former Ateneo star had told Spin.ph that he was giving himself a week to decide whether to turn pro or go full-time into business, adding it was a "now or never" situation for him.
He had taken longer to make the decision, indicating in tweets on Thursday that he was "confused" because people close to him are apparently against him moving to the pro league.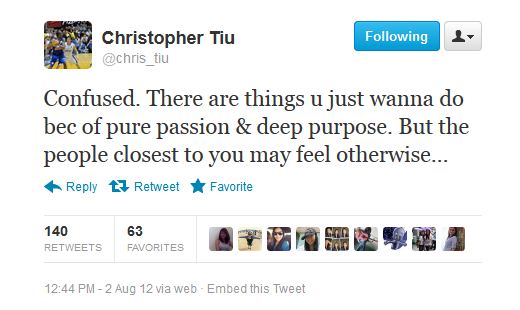 Told later by a friend that he needs to continue playing to "inspire more people," Tiu responded: "That's a very compelling reason."
During the launch of his Tiu-torials instructional segments on AKTV, Tiu acknowledged to Spin.ph that he needs a presence at the top level of basketball to lend credibility to his advocacy to develop the sport from the grassroots.
"When people see you play basketball on the court, and if they like the way you play, they enjoy your style of playing, what you can contribute as a player, doon sila hahanga sa iyo e. Doon sila bibilib sa iyo and it will give you more credibility," said Tiu.
"If they (kids) don't see you playing, they will think, 'Sino ba iyan, ano ba ang kaya niyang gawin, bakit namin pakikinggan ang tinuturo niya?' I think it will be most effective if I'm able to play sa high level and people see that.
"For me I feel the two go hand in hand, if you're able to have a very well-produced, well-conceptualized sports segment and you supplement it with being keen on sports."