THEY are known simply by one name, like Magic and Michael and Jawo before them. To the people within their ever-expanding basketball organizations and in league circles, they go by an even shorter, one-syllable name that commands both awe and respect: Boss.
MVP and RSA have faced off over everything from airlines to airports, power distribution companies to power plants, mines to hospitals, and train systems to highways, so it was of little surprise that this tycoon-nic rivalry would soon spill over onto the sports battlefield.
Before them, there was Crispa versus Toyota and, to a lesser extent, Purefoods versus San Miguel (back in the days when Purefoods was still owned by the Ayalas, and Don Jaime was a fixture at ringside), Ginebra versus Shell, Crispa versus Great Taste and Bobby Jaworski versus Mon Fernandez.
But make no mistake about it. In this day and age when multiple ownership is allowed in the pro league and synergies among sister teams are supposedly forbidden yet nonetheless tolerated, there is no rivalry in the PBA bigger than the one between Manny V. Pangilinan and Ramon S. Ang.
This rivalry, however, is unique to itself, fought not by teams or players or coaches but by two grandmasters of business who make all the moves in a veritable chess game played out on the 94-by-50-foot wooden floor of the Big Dome.
Continue reading below ↓
Recommended Videos
"Believe it or not, he's on top of everything," San Miguel Corp. director for sports Noli Eala said of Ang. "Nothing in the [basketball] organization doesn't have his blessings."
It is more or less the same with Pangilinan and the two teams under the PLDT group, giving us an idea on the management style of the two most influential people in Philippine basketball who also happen to be among the biggest movers in business today.
"He's very much involved," said Chot Reyes, coach of the Smart Gilas national team and Pangilinan's point man when it comes to basketball matters.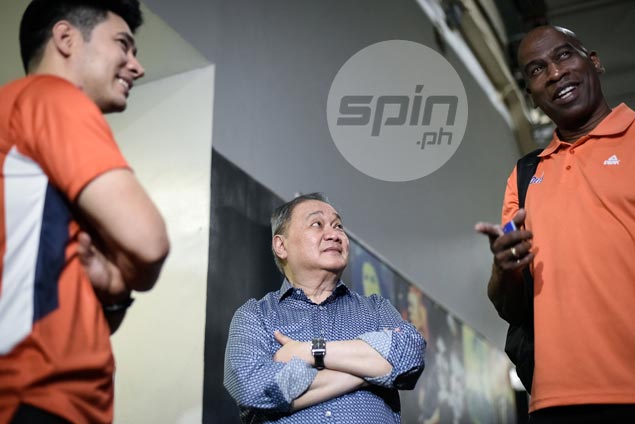 Pangilinan owns the Talk 'N Text and Meralco teams, is the biggest supporter of the successful Ateneo and San Beda basketball programs, heads the country's basketball body and backs several other sports, unwavering in his belief that sports should be an integral part of nation-building.
Given his crazy schedule, MVP watches as many games as he can and, according to Reyes, is just as active behind the scene, devoting as much time and effort as he involves himself in the decision-making when it comes to plans and player movements of Talk 'N Text and Meralco.
"He wants to be informed about everything, from plans to personnel movements. He sits in during meetings and planning sessions and will give you all the resources that you need," Reyes added. "But the beauty of it is, after that he steps back and lets you do your thing.
Ang is less visible than MVP during games, but that doesn't mean he is less involved. According to Eala, RSA catches as many games as he can of his three teams – or five, if you believe the chatter in league circles – on television and watches on video the games that he can't.
"He takes time to really… iisa-isahin n'ya 'yan," Eala told Spin.ph.
Asked why RSA rarely shows up for games, Eala said: "Kasi ang lagi niyang sinasabi e baka daw mag-coach siya pag nandun siya sa game."
It is also not uncommon for Ang to personally meet with coaches and players. In fact RSA meets with them on a weekly basis and from time to time dips his hands into the Xs and Os of the game, dropping what Eala subtly calls "suggestions" to the coaches.
"His involvement is not only on a professional level, or merely because he owns the team, but also on a personal level," said the former PBA commissioner of his boss. "He knows each of the players and we have interaction with the players on a regular basis."
If SMC and PLDT teams have the best teams and the finest players in the league, it may not be entirely because of the resources they have. These teams also have the biggest deal-makers in business to put the final stamp on all of their trade transactions.
"Of course, he has people to help him," Eala said. "But at the end of the day he makes the decisions."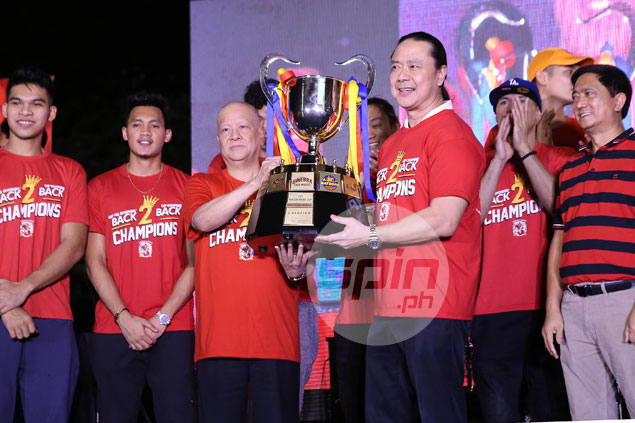 In fact, if you believe inside information from the Alaska camp, then RSA's fingerprints were all over the shock deal earlier in the year that saw Tim Cone leave the Aces – supposedly to take a break from basketball – only to show up days later as the new head coach at SMC-owned B-Meg.
Ang's growing involvement has also caused a tectonic shift in power within the San Miguel camp, the influence and control of the SMC teams veering away from the so-called Cojuangco boys and into the hands of a couple of men led by Eala who enjoy the new boss' trust and confidence.
As Ang took a more direct hand in the running of the team, men who had been with Danding and Ron Jacobs since the Northern Consolidated days have either faded into the background or left altogether, none more prominently than multi-titled coach Jong Uichico.
It was no surprise that Uichico has since moved to the MVP camp.
But for all the talk about the pro league turning into both a business and a tool for big business, Eala swears Ang's involvement in the running of Petron, San Mig Coffee (formerly B-Meg) and Ginebra is driven only by a deep passion and love for the game.
"He loves basketball. At the same time his family loves basketball. In fact, his family watches the games," said Eala. "In a sense I guess [RSA and MVP's] passion for the game is very similar. The difference lang siguro is more visible si MVP kasi he goes to the games."
And just like in business, failure is not an option for these two giants.
Of course, there are the occasional tournaments when an Alaska or a Rain or Shine pulled the rug from under the heavyweights. But that has become no more than an aberration when, more than any other point in league history, the balance of power has tilted dramatically in the moneyed teams' favor, no matter what league propagandists say.
Over the last five years, there has been no conference finals played without a San Miguel-owned or PLDT team in it. The score is Ang 5 and MVP 4 when it comes to titles won over those 12 conferences, with their head-to-head finals record all square at 2-all.
"To him the PBA is a competition," Eala said of Ang. "And just like any business, you have to meet your objectives."
And does one derive special pleasure from beating the other?
"From what I see, it's not a personal thing for [MVP]. But I know it's special for him (when we beat San Miguel-owned teams), but only because they're the best. They have five-and-a-half teams in the league," a chuckling Reyes said without elaborating.
Eala said: "The objective is to win, whether it is against the MVP teams or not. Pero siyempre meron ding kumbaga bragging rights because they see each other sometimes and they sit together in the Meralco board. So kahit papano nagkikita sila.
"Who knows what they talk about then."