IT appears the long PBA break Barangay Ginebra had for the holiday season is exactly what the Kings needed in thePhilippine Cup.
Coach Tim Cone didn't mind it at all. He even welcomes it.
The champion coach said the two-week break allowed the Kings to get even better as a team and while giving injured players Joe Devance and Sol Mercado more time to heal.
"I figure every break we have brings us closer to bringing back Joe and Sol, who is still injured during the last finals (Governors Cup)," said Cone, who turned 60 last December.
Devance went through his long-delayed foot surgery during the offseason while Mercado has yet to fully heal from the severe ankle sprain he suffered in Game Four of the last Governors Cup Finals against Meralco, when he gallantly chased down and blocked what would had been a gimme transition basket by Jared Dillinger.
Mercado no longer walks around in crutches while Devance is still wearing a protective boot on his left leg.
Cone said the break should give Devance enough time to recuperate and hopefully, get back on board by next month.
"Joe probably won't be back, if we're lucky, until maybe mid-February," said the Ginebra mentor. "I'm thinking he'll probably miss the conference, but I think it's maybe 30-70 that he plays this conference."
Continue reading below ↓
Recommended Videos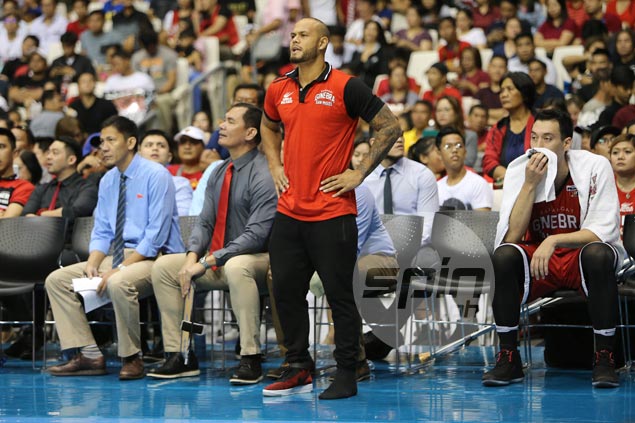 The Kings played their first game in the all-Filipino last Christmas Day when they turned back rival Magnolia Hotshots, 89-78, at the Philippine Arena.
And they won't be back on the court until this Sunday – or 12 days later – against Globalport when the league resumes action at the Smart Araneta Coliseum.
Again, Cone doesn't mind.
"We started off late and got back into practice later than all the rest of the teams, so the next two weeks that we're off we'll have more chance of practicing," said Cone of the Kings, who only took a rest from practice on New Year's Day.
"We keep on practicing. This isn't certainly a break time for us, because we got to get better."