HE may be absent for the press launch of the PBA Philippine Cup Finals, yet June Mar Fajardo was still the center of attention on Wednesday noon, with coaches of Ginebra and San Miguel Beer expressing how the three-time reigning MVP is a boon for the Beermen and a bane for the Gin Kings.
Gin Kings coach Tim Cone admitted he is still pressed for ways to figure out the puzzle that is the 6-foot-10 Fajardo - two days before Ginebra faces SMB in Game One of the best-of-seven title series on Friday night at the Mall of Asia Arena.
Asked how he plans to neutralize Fajardo, who was absent at the lunch at Sambokojin in Eastwood due to fever, Cone could joke about it at first, before conceding he has yet to make a plan.
"If I tell I you, I'd have to kill you," Cone said, drawing chuckles from the press.
"It's a secret. Actually, we don't know," he was quick to add, saying he hasn't even watched San Miguel play in three weeks, letting deputies Richard del Rosario and Olsen Racela scout the Beermen in case they meet in the finals.
"I don't like to watch the other series when we're focused on the one you have. Now, I have to make habol to catch up with San Miguel." Cone continued.
Continue reading below ↓
Recommended Videos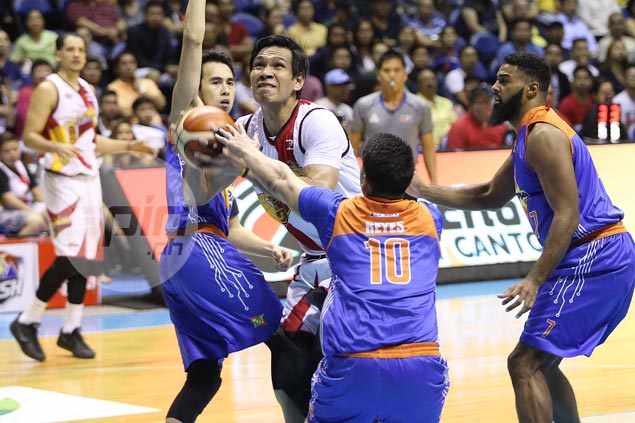 Cone, however, knows the task of stopping the three-time MVP in the finals is no joke, especially for a Ginebra team that is suddenly left wanting in terms of size because of Greg Slaughter's long-term knee injury.
The Gin Kings' depleted frontline couldn't even find an answer to Marc Pingris in the last two games of their Final Four series where the 35-year-old stalwart averaged 15.5 points on 53.8-percent shooting, nine rebounds, 4.5 assists, and 2.5 blocks in 37 minutes.
So what more against Fajardo, who normed 19.3 points, 49-of-80 shooting (61.3 percent), 37-of-59 free throws (62.7 percent), 14 boards, 3.6 blocks, and 1.3 assists against 2.6 turnovers in 36.3 minutes in their entire series against TNT KaTropa.
As good as he was, the Cebuano slotman was even better in the last two games against TNT - both of them must-wins for the Beermen.
The 27-year-old Fajardo posted the 11th 20-20 game of his career with 23 points and 21 boards in Game Six against TNT, then missed his 12th 20-20 output by just one rebound in the deciding game where he tallied 22 and 19.
Giant problem for Cone?
"That's going to be my job…to formulate some ideas," the champion coach said. "I don't even have a plan yet to stop June Mar. I'm not even sure if there is a plan to stop him. I don't think even Phil Jackson will figure out how to stop June Mar."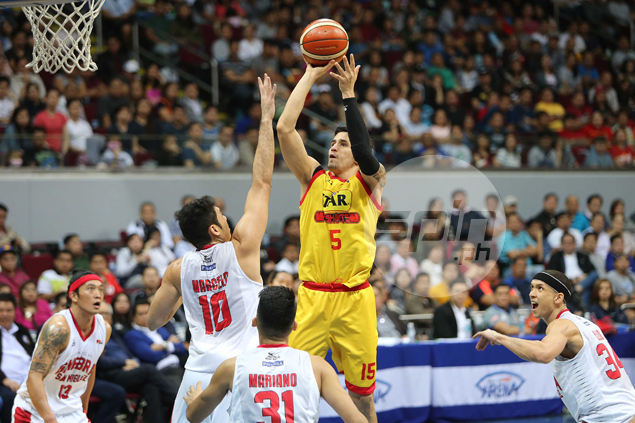 With Slaughter out, the task of guarding Fajardo will fall on the lap of Japeth Aguilar, who is just a shade shorter than the SMB giant at 6-9 but lacks the strength to body up on him, and Dave Marcelo, a physical slotman who is nonetheless slower than Fajardo.
Eventually, Cone conceded Ginebra's frontline will need a lot of help if it hopes to limit Fajardo, the Best Player of the Conference race frontrunner.
"We're just going to have to try to limit him as much as you can," Cone said. "You can't stop him."
But regardless of what ploy Cone comes up with, SMB coach Leo Austria feels the Beermen have learned to adjust regardless of what opponents throw at Fajardo, as evidenced by the semifinal series against TNT Katropa.
"Yung nangyari sa amin sa semifinals, it's a good help for our team," Austria said. "I know the other coaches, every time na makakalaban ang San Miguel, they're thinking of how to stop June Mar. Maybe in the finals, we can use that (what we learned in TNT series) also. We learned a lot."
"But June Mar is not the only one (who's the reason for our success)," he was quick to add. "We keep on winning not only because of June Mar, but also his teammates."