TIM Cone can't help but feel anxious following the untimely injury Japeth Aguilar suffered entering the homestretch of the PBA Philippine Cup.
While he may not lose sleep over it, the Barangay Ginebra mentor admitted feeling concerned about the possibility of losing another big man this conference following an earlier injury to Greg Slaughter.
"Probably, I won't lose sleep but yeah, I'm gonna worry, that's darn sure," said Cone shortly after the Kings' 99-90 win over the Blackwater Elite on Friday night at the Astrodome.
"We've done a great job of being able to withstand Greg's injury and have it to turn around and have to do that without Japeth would be very difficult, have both those guys out at the same time."
[See Ginebra staff fears Aguilar strained a muscle after bad fall]
Aguilar hurt his elbow after a bad fall following a two-handed slam with 3:50 to go in the second period.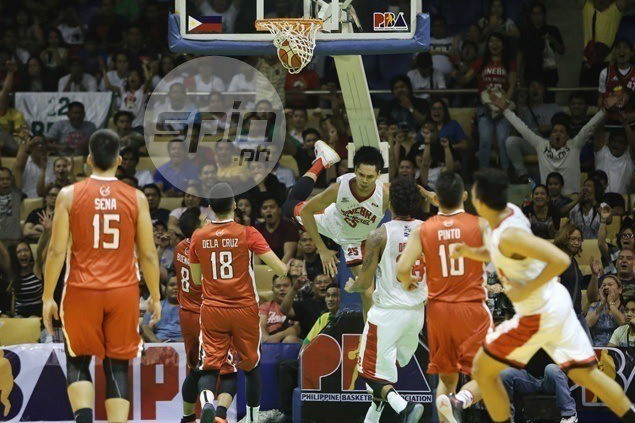 Continue reading below ↓
Recommended Videos
While he rejoined the Kings in the second half, the 6-foot-9 power-forward was never fielded back by Cone. He finished with 14 points, five rebounds, and two assists.
The injury came two days before the Kings return to the court on Sunday to face the Phoenix Fuel Masters.
Cone said Aguilar hyper-extended the elbow. He went to a hospital later for X-rays and his status for the game against the Fuel Masters remains uncertain.
Aguilar later tweeted a photo of him and his girlfriend in the hospital, assuring that he'll be fine and getting an X-ray on his hand 'just to be sure.'
His agent, Matthew Manotoc, also assured in a tweet that Aguilar's X-rays showed no fractures.
[See Ginebra holds off Blackwater as Thompson takes over after Aguilar injury]
Obviously, losing the big man out of Ateneo will be a big loss for Ginebra, according to Cone.
"He's a big part of what we do. Its gonna be tough if we lose him, and also have Greg in sick bay," said the most accomplished coach in league history.
At the most, Cone added the Kings just have to dig deeper into their bench just like what they did against Blackwater when Jervy Cruz and Dave Marcelo filled in the shoes left by Aguilar in the second half.
"It's always about the next man up, and that's what it was tonight," said Cone as he lauded the effort of both Cruz and Marcelo, who finished with a combined 29 points and 11 rebounds.