TIM Cone lamented the failure of Barangay Ginebra players to call a timeout in the waning moments of its 83-85 loss to Meralco in Game Four of the PBA Governors Cup Finals on Friday night.
The Ginebra coach was seen frantically signalling for a timeout as the Kings went for a tying basket, shortly after Allen Durham put Meralco infront by two with a short stab.
Problem was, no one among the five Ginebra players on the floor heard or saw him in the din of the wild and wooly endgame witnessed by over 16,000 fans at the Smart Araneta Coliseum.
"Yeah we were calling a timeout but our players didn't see it," said Cone of the Kings' final offensive play that saw them miss one shot after the other including a point-blank putback by import Justine Brownlee that could have sent the game into overtime.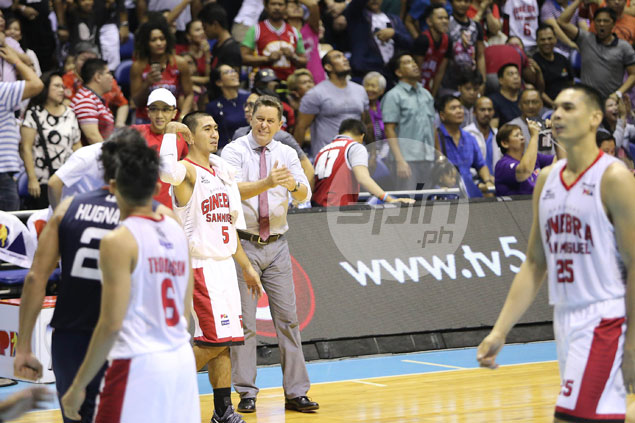 Continue reading below ↓
Recommended Videos
Cone nonetheless said a timeout could've worked in Ginebra's favor - or not.
"Perhaps we could have set up a better play, but they could have set up a better defense, too. So you'll never know what will happen in that situation, what's the better alternative there."
Cone said under the circumstances, only the player with the ball can call a timeout. Unfortunately, no one did.
"That's the problem with the league rule because coaches can't call a timeout. The crowd goes crazy, they can't hear you, you're yelling but only the guy with the ball can call a timeout," said the 59-year-old two-time grand slam coach.
"The whole bench was calling for a timeout but sayang, I could have gotten a timeout there."
A game-tying basket could have preserved the great chasedown Sol Mercado did to block a fastbreak layup by Jared Dillinger.
The Ginebra guard, however, had an awkward landing and sprained his ankle.
"Sayang, that was a game-saving play by Sol. And he got injured doing it. Sayang we didn't take advantage of it," stressed the Ginebra mentor. "But that was a heck of an effort."
But timeout or no timeout, Cone said the Kings had a chance to send the game into overtime.
"As it turned out, we got a pretty good shot at it. Justine had a nice floater there, it could have gone in but it didn't," he said.
"And that's the ballgame."
Game Five of the finals series goes to Philippine Arena in Bulacan this Sunday.