THEY'VE played together for a long time as backcourt partners at Gilas Pilipinas, developing a bond that would later encompass basketball.
In the words of Jimmy Alapag, LA Tenorio is 'like family to me.'
"We've seen the world together. We've played against the best players in the world. He's my roommate in a lot of our trips abroad," added the 38-year-old Fil-Am of Tenorio, his chief reliever at the point during their three-plus years together with Gilas.
"It developed our relationship not just as teammates and competitors, but really as brothers."
But now everything is in the past. This is the PBA Governors Cup finals, where Jimmy and LA are both aware that brotherhood will have to take a backseat to the quest for a championship for their respective ballclubs.
The title series has been labeled from the start as a battle of coaching wits between multi-titled mentors Tim Cone and Norman Black, brute versus finesse between imports Allen Durham and Justin Brownlee, and in a way, a showcase of the talent of rising young guns Chris Newsome and Scottie Thompson.
But looming as a bigger focal point is the match-up pitting Alapag and Tenorio, acknowledged as two of the best point guards in the pro league representing the present and the not-so-distant past.
Continue reading below ↓
Recommended Videos
[See Tenorio sees more records falling before Gilas teammate Alapag is through]
Definitely, both have brought the warrior mentality to the best-of-seven finals of the season-ending conference, in the process reviving their careers that looked to be going downhill after leading Gilas to a historic return to the Fiba World Cup in 2014 in Spain.
Alapag retired at the end of the 2014 season, only to return, looking a step slower and prone to injuries, with Meralco last year; Tenorio struggled to regain top form upon his return to Ginebra and in fact missed the cut in the Gilas side for the Olympic qualifiers in Manila last July.
Has-beens, you say? Well, they're back to run the show in the PBA Finals.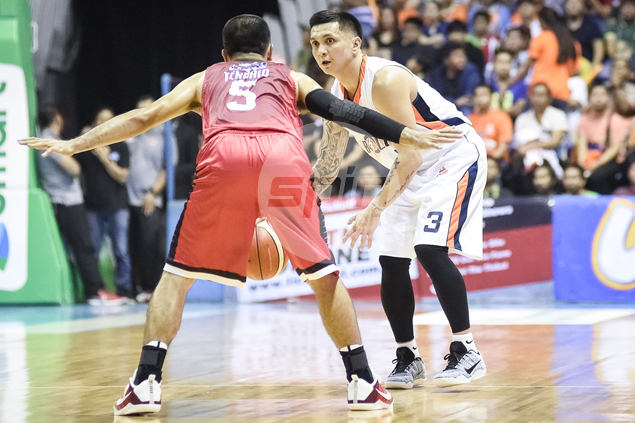 Three games into the title showdown, and the two already had their respective moments.
Tenorio exploded for a career-high 36 points in the series opener which Ginebra lost in overtime, 114-109, while Alapag nailed a historic trey in Game Two that formally made him the league's all-time leader in three points made – surpassing the record of the legendary Allan Caidic – in an 82-79 Meralco loss.
The two went at each other again in Game Three Wednesday night, with Alapag outscoring Tenorio, 18-14, in the Bolts' thrilling 107-103 win before a crowd of more than 14,000 fans at the Smart Araneta Coliseum.
That Alapag came through in the clutch – two triples in the fourth quarter – didn't come as a surprise for his former protégé.
"I've been through a lot of battles with Jimmy. He'll find ways to take charge in the game," said Tenorio, 32. "He will lead the team not only on offense, but 'yung general leadership inside the court."
Alapag converted the last of his four triples in the game during the stretch when Tenorio gambled for a steal that forced the Meralco guard to momentarily lose possession. But the Ginebra playmaker failed to get back fast enough on defense, allowing Alapag to square up and hit one from the corner to give the Bolts a 92-87 lead.
"We've competed our entire careers, and getting an opportunity to be at this stage of my career and get a chance to compete against him one more time means a lot," said Alapag, carrying in both arms his year-old daughter Keona Skye.
"It's just an honor to compete against him especially since he's been playing great the entire conference."
[See Singing FB sensation meets Ginebra idols in practice, gets chance to watch Game 4]
Tenorio said he owes Alapag for the way he has developed into the court general that he has become for the Kings.
"Personally lagi niyang sinasabi sa akin to always go hard and play your heart out every game," he said, recalling the usual pep talk Alapag would give him during their Gilas days. "He sees me as a leader, kaya every time na I'm on the floor, he gives way. He's our team captain, but when I'm on the floor, hinahayaan niya ako to lead the team."
Although happy about the kind words Tenorio said about him, the Meralco veteran has always believed in LA's talent. Ranged against each other, Alapag was quick to acknowledge he can't take on his Ginebra counterpart by his lonesome.
"I couldn't do it by myself. I need lots of help from guys like Baser (Amer), Anjo (Caram), Chris (Newsome), and Jonathan (Uyloan) and try to limit him as much as we can. But I definitely can't do it by myself," he stressed.
Meralco is truly making the most of its first ever finals appearance in franchise history. And that the Bolts have managed to keep pace with a veteran-laden and a team as popular as Ginebra is a testament to Alapag's leadership, according to Tenorio.
"When we were in Gilas, he listens. Tuwing magsasalita ako ,may isa-suggest ako sa kanya, he will listen to me. And I think that's a true leader, yung nakikinig.
"Somehow I patterned my leadership sa ginagawa ni jimmy," Tenorio added. "That's why Meralco is in this situation, it's because of him."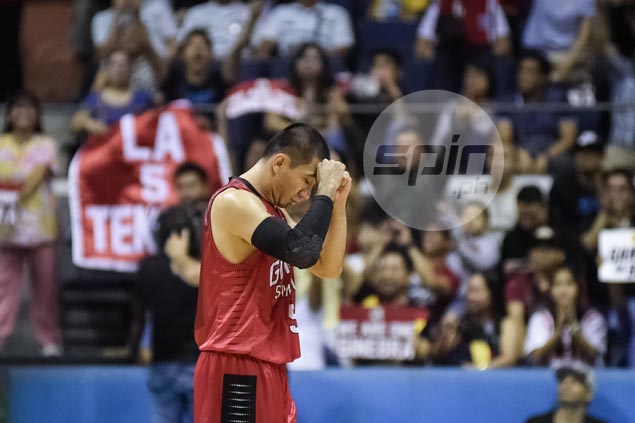 The respect is mutual.
"I'm giving my best to lead my team and he's doing all he can to help Ginebra. If there's someone out there who had my utmost respect, that's LA," said Alapag.
"When you're competing against someone who you consider as family, you wanna go out there and wanna give your best. And I know he wanna do the same thing."