SAN Miguel Beer, the only remaining pioneer franchise in the PBA, is the most successful team in the league. To date, its collection has reached 26 championships after winning a fifth straight Philippine Cup title this season.
Every true-blue SMB fan should know that the bulk of these 26 championships were produced by three (3) major eras in the franchise's storied history - the eighties-era Beermen led by Hector Calma, Samboy Lim and Mon Fernandez, the team of the nineties led by the two Dannys, and the present-day Beermen anchored by June Mar Fajardo.
Which of the three stands out? Let's look at the numbers.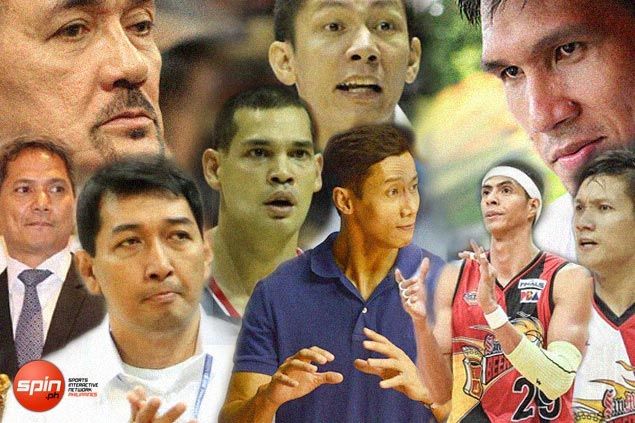 Continue reading below ↓
Recommended Videos
The roots of the Beermen's first dynasty started in the 1986 Reinforced (Third) Conference when the franchise returned from a two-conference leave of absence and brought with it the core of the Northern Consolidate national team bannered by Samboy Lim, Hector Calma, Elmer Reyes, Yves Dignadice, Alvin Teng, Pido Jarencio, Alfie Almario and Jeffrey Graves. This group was joined by two-time MVP Abet Guidaben in 1987 and later on by eventual four-time MVP Ramon Fernandez when Swap II happened.
By 1989, the Beermen became even more formidable following the arrival of 1985 MVP Ricardo Brown. And the year before Fernandez retired in 1994, 1990 MVP Allan Caidic also joined the team - his arrival coinciding with 1992 MVP Ato Agustin's star turn.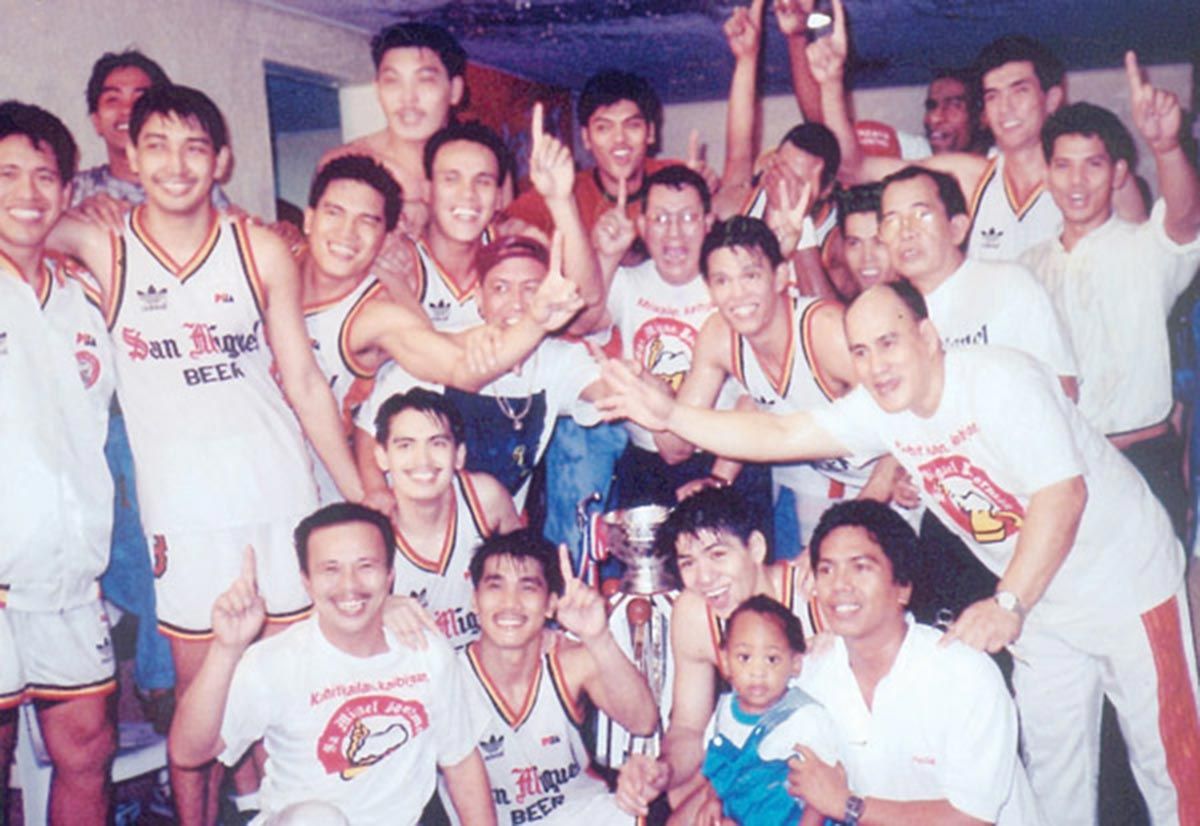 How good was that team?
That era came up with nine championships in an eight-year span with the grand slam in 1989 under coach Norman Black serving as its crowning glory - something which no other San Miguel Beer team has accomplished to date.
At the peak of its powers, this SMB team won six championships over a span of seven conferences starting in the 1987 Reinforced (Third) Conference and capped by the 1989 grand slam. In terms of sheer dominance, only Crispa's six straight championships from the 1975 Third Conference was better.
San Miguel's second dynasty officially began when it acquired 1998 top draft pick Danny Ildefonso in a trade with Shell (in exchange for No. 2 pick Noy Castillo), followed by the direct-hire recruitment of Fil-Am Danny Seigle a year later.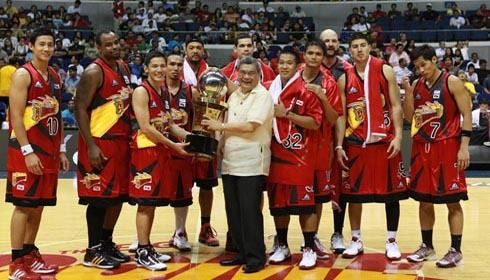 Already with the much-improved Olsen Racela that time and the addition of Dondon Hontiveros a few years later, not to mention the guidance of consultant Ron Jacobs and head coach Jong Uichico, the Beermen would go on to win seven championships. That run didn't fade until Racela retired after the 2011 Philippine Cup when they were beaten by Talk 'N Text in the finals and management traded Seigle and Hontiveros to Air21 a game into the Commissioner's Cup.
After the departure of Seigle and Hontiveros and the retirement of Racela, San Miguel Beer, then carrying the Petron Blaze name, won one last title with Ildefonso in the 2011 Governors Cup getting back at Talk 'N Text in the finals. That SMD team already had Arwind Santos and Alex Cabagnot as well as do-it-all import in Anthony Grundy.
Six months prior to the 2012 PBA Rookie Draft, SMB planted the seeds for another dynasty when it succeeded in pulling off a swap of first-round picks with Air21 Express. That No. 1 pick turned out to be June Mar Fajardo, the cornerstone of a Beermen dynasty that is still in the process of rewriting history as we speak.
So how do we compare these three SMB dynasties? I will just let fans decide on that judging from these numbers I researched.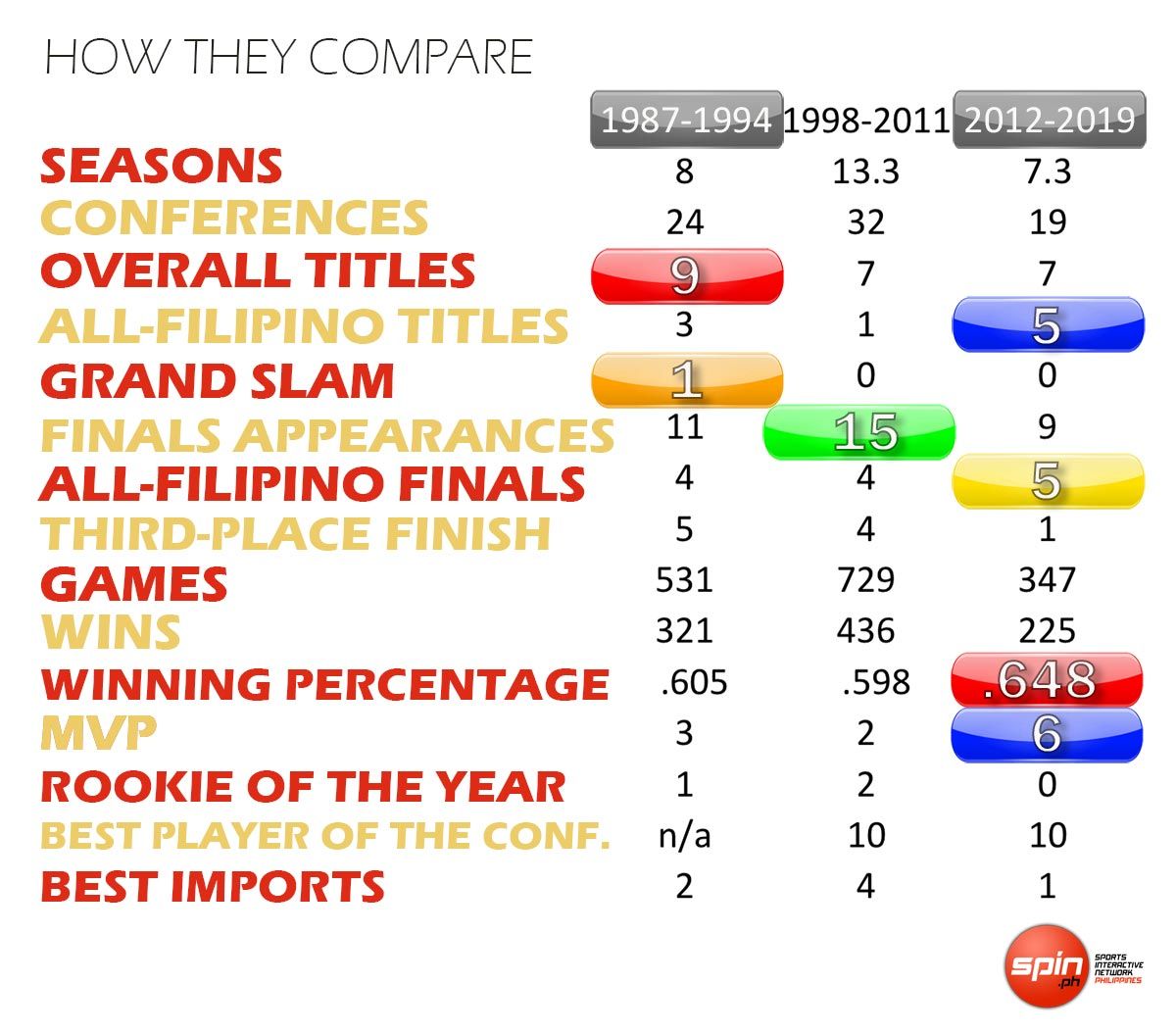 Do SMB's numbers during the era of the two Danny's pale in comparison to the two other dynasties? Are the NCC boys with Fernandez and Brown better because of their grand slam? Or is the current Beermen streak of five straight Philippine Cup championships harder to accomplish?
One thing sure, the present-day Beermen led by five-time MVP Fajardo are proving to be worthy successors to their great predecessors. And they're far from done making history. Fajardo, after all, is only approaching his peak at age 29. Christian Standhardinger is 30 and Terrence Romeo is only 27.
Only time will tell how much more this special group can accomplish.