SMART Gilas Pilipinas 2.0 is in danger of losing top big man Sonny Thoss for next month's Fiba Asia Cup in Tokyo with Alaska Milk bent on keeping all its players home for its buildup for the coming PBA season.
Three Aces in LA Tenorio, Mac Baracael and Thoss suited up for the Gilas team that won the country's first Jones Cup championship in 14 years, with the 6-7 Thoss playing the crucial role of back-up to naturalized player Marcus Douthit.
Tenorio, named MVP of the tournament, has been packaged by Alaska in a three-team trade also involving Ginebra and newcomer Global Port that is left hanging by prolonged negotiations between the Kings and the Batang Pier over the other integral player in the deal, JV Casio.
On the other hand, Baracael played minimal minutes in Taipei and will most likely give way to another player in the national pool for the September 14-22 tournament.
That leaves Reyes with Thoss, who according to team insiders is determined to suit up for Gilas in the Tokyo tournament and has in fact made his feelings known to Aces management.
However, sources said it was team owner Wilfred Uytengsu himself who has put his foot down and insisted that all of the Aces -- the national players included -- focus on the team's twice-a-day practices after finishing last season with a woeful 10-22 win-loss record.
Alaska has given the national team its complete backing from the time former Aces coach Tim Cone coached the Centennial Team to the 1998 Asian Games and Uytengsu, according to insiders, feels it is now time for other pro clubs "to step up" while the franchise sorts out its own problems.
Thoss, team sources said, is set to meet with management on Friday morning to discuss his continued participation in the Gilas program.
Thoss' expected loss will be a big blow for Gilas and Reyes, who has been having problems completing his 14-man lineup (with two reserves) ahead of the Friday deadline set by organizers.
On Thursday, Reyes tweeted: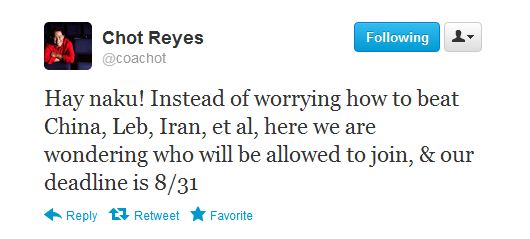 Reyes also seemed resigned to losing Tenorio as well. Even if the three-team deal is completed ahead of the Friday deadline, Tenorio will still end up with Ginebra who, like sister teams Petron and San Mig Coffee (formerly B-Meg), has declined to lend its players to Gilas.
Reyes can at least tap Jimmy Alapag to take Tenorio's place in the lineup. But he will have a hard time finding a replacement for Thoss, with his next best option -- Japeth Aguilar -- still in the United States reportedly for a tryout with a D-League team.