SLOWLY but surely, Terrence Romeo is starting to feel at home at San Miguel.
And a big reason for that?
Believe it or not, it's a post-practice shootout with a toy belt up for grabs.
Since the start of the 2019 PBA season, the Beermen quartet of Alex Cabagnot, Von Pessumal, and new acquisitions Romeo and Paul Zamar have waged war in a shooting contest where a toy WWE Championship is at stake.
"Magandang bonding yun para sa amin," said Romeo when asked about their post-practice activity.
Take a look:
The idea, first floated by Cabagnot, was adapted from Pessumal's old shooting game at Ateneo against former teammates Nico Elorde and Anton Asisitio.
"I take full credit for it. The shooting concept was mine. All that external stuff was Von. He said he'll buy a toy belt for us," Cabagnot playfully bragged.
The rules are simple.
The reigning champion will pick a spot, most of the time steps away from the arc, and all four take turns in outshooting the others. Once the first player makes a shot, the succeeding player must make a basket plus-one or else the number of shots designated to them will be subtracted from their fixed 10 points. The last man standing will claim the spot and will get to decide where on the court the next spot will be.
Continue reading below ↓
Recommended Videos
Win two spots and you snare the title.
There's one caveat. The defending champion has an automatic rematch clause for the day's winner, with the two engaging in a duel before the day's champion is formally crowned, taking the belt home until the next practice.
"Yun ang bonding naming apat. Those guys are new, so it's just an added competition for us," said Cabagnot.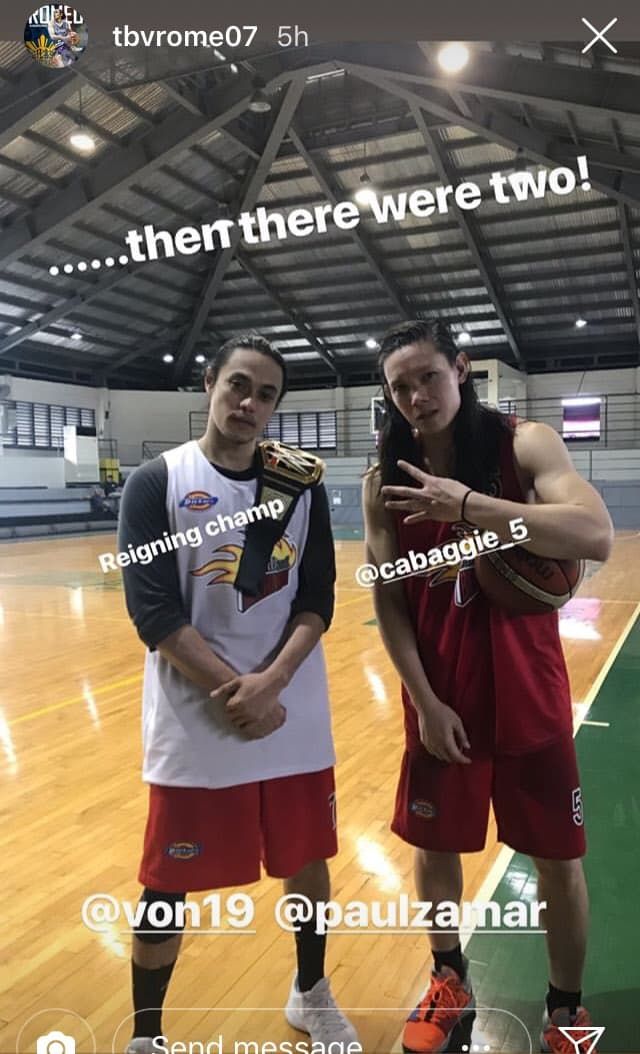 So far, it's the newbies who have gotten the lion's share of the triumphs.
Romeo, acquired from TNT at the start of the season, has taken home the belt 11 times. Zamar, who came in via trade with Blackwater, has won nine times, the latest being their shootout a day before Game One of San Miguel's quarterfinal clash against TNT.
"Nadaya pa nga ako eh," Zamar complained in jest. "Nanalo na ako ng apat na sunod, tapos ang ginawa nila lagi ako yung una. Nung di na ako nananalo, tsaka na lang ulit ako nakabawi."
Cabagnot has won the cup eight times, though he put it on record that of the four, he was the first to reach that mark.
"I'm the one doing that. They're winning but Im doing certain things to make them win. Calculated ko talaga," the veteran shared with a laugh. "I was the first to make it to eight. Binibigyan ko sila ng kumpyansa."
Pessumal, meanwhile, is dead last as he has taken the belt home only six times.
"Kung tutuusin, ako yung familiar sa game pero ako pa yung pinakamababa," Pessumal chuckled. "Ang dami rin kasing magaling na shooter dito."
Not only has the shootouts fuelled the competitive fire among the four, but it also made the players realize that they better make every opportunity count in a team as deep and loaded as the Beermen.
"There's a lot of shooters out here, so you want to put your best foot forward talaga," said Cabagnot.
Zamar added: "Hindi ka naman makakatira ng 10 shots in a game, so dito nakikita mo yung halaga ng bawat tirang binabato mo."
Even though it is only a game for the four, the results speak for themselves.
San Miguel ranks at the top of the league when it comes to three-point shooting, making 38 percent of its three-point shots through the eliminations.
For Cabagnot, he's happy that this activity isn't only helping the players be better marksmen, but also have been pivotal in making newcomers like Romeo and Zamar feel at home in the Beermen camp.
"Being in the PBA for almost 15 years, I have to make them comfortable. Whenever they feel comfortable with their environment, they tend to play better, and sana ma-expedite yung process na malabas ang full potential nila," he said.
Romeo can only agree.
"Pinakamadali sa lahat dito sa San Miguel is yung teammates ko, napakadali nila lahat na pakisamahan. Napaka-professional nila at walang inggitan," he said.
So if you want to see top-class shooters hone their craft, drop by SMB's practice. It's a great way to bond for the players, too.
"We're gonna shoot anyway, so we might as well compete against each other. These are the guys that stay and shoot after practice. We just bond and try to make things fun, especially going to the playoffs."
PBA Updates