THERE was no hint of bitterness whatsoever in Allan Caidic's voice as he talked over the phone, a day after Jimmy Alapag moved inexorably closer to breaking his record for most three-pointers made in a PBA career.
"Records are really meant to be broken," Caidic said in between laughs as he asked for the latest lowdown on the numbers in the most publicized record chase this season - one which sees Alapag standing at 1,237 three-pointers and just five short of the 'Triggerman's' hallowed mark.
No one has come close to surpassing that Caidic record in the years after the former league MVP ended his career in 1999, until Alapag unretired this season and, in the process, resumed his pursuit of Caidic's all-time feat.
Alapag, now 38, entered the league in 2003 or four years after the 'Triggerman' retired, but Caidic said he has known him before that since it was his mentor, the late Ron Jacobs, who brought in Alapag from the US, specifically to put the young guard in his national team to the 2002 Asian Games in Busan, South Korea.
[See The long, long wait for the 'next Allan Caidic']
And in all those times that he has known the Fil-Am guard, Caidic said Alapag struck him as a nice, down-to-earth fellow dedicated to his craft - and all-out in his service to the Philippine national team.
Continue reading below ↓
Recommended Videos
"Matagal ko na rin kilala si Jimmy, mabait at napaka-down to earth. At nakita naman namin kung paano s'ya naglaro para sa national team, lalo na dun sa panalo natin sa Senegal (sa 2014 World Cup)," said Cadic, himself a longtime member of the Philippine team.
"So I'll be happy for Jimmy. I guess pwede natin sabihin na there's no better player and nicer fellow to break my record than Jimmy," added the PBA legend.
As the countdown continues to Alapag's pursuit of his record, Caidic, 53, at least can count some more all-time PBA records that he still owns and may never be broken, among them the most points in a game (79) which he set back in 1991 while playing for Great Taste.
That 79-point game saw Caidic score nine three-pointers and 37 points in one quarter - records that recently came back to the consciousness of basketball fans after Klay Thompson hit exactly nine treys and scored 37 points in setting an NBA record in Golden State's game against Sacramento last January.
[See It's an honor to be mentioned in same sentence as Caidic, says Alapag]
But from those slew of records, the former University of the East star said the one he cherishes the most was the 79-point performance, only because it happened while wife Millote was in a hospital delivering their first child.
"Memorable sa atin 'yan," said the player widely regarded as the country's best shooter of all time.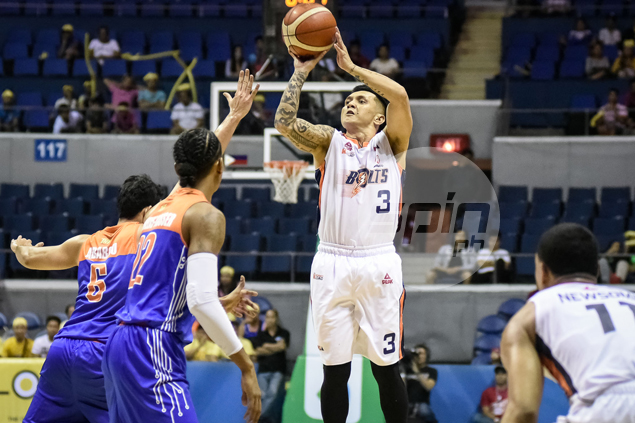 As for the three-point record which is now bound to be broken, Caidic said he is no longer surprised that it was Alapag that is set to reach that number since he considers the one-time PBA MVP to be among the best shooters to come after him, alongside Renren Ritualo and Dondon Hontiveros.
But the competitor that he is, Allan joked that he may yet decide to unretire once Alapag is done so he can regain the three-point crown. And coming from someone who at age 47 hit 14 treys and scored 54 points against a team of NBA legends led by Glenn Rice, you better not laugh.