HE hailed Philip Cezar as the best local player he had ever played with or against, referred to San Miguel's 1989 Grand Slam team as "phenomenal," acknowledged the greatness of Robert Jaworski and expressed his debt of gratitude to `The Boss,' Eduardo `Danding' Cojuangco.
But more than anything else, Ricardo Brown remembers the Filipino fans.
"The thing I remember most about the PBA was the connection, passion and loyalty of the Filipino basketball fans, there's nothing like it," Brown, now 55, told mediamen at the PSA Forum, barely 12 hours after disembarking from the plane for his first visit in the country in 22 years.
A lot of things have changed in the basketball landscape since Brown, the deadly Fil-American point guard who terrorized opposing teams in the PBA with his outside snipings and court wizardry, reluctantly ended his playing career in 1990 due to health reasons.
But the wonderful recollections of his decade-long stint in the Philippines – including eight as a pro – remained forever etched in his mind.
Brown arrived in the country on Monday night for a whirlwind visit to be highlighted on Sunday when he is honored by the PBA as a member of the Hall of Fame Class of 2009, and as one of the 25 Greatest Players in league history.
Continue reading below ↓
Recommended Videos
Health problems kept the former Pepperdine University shooting guard from coming over to receive the twin awards, but now he's happy to personally receive the honors.
"For the league to do this to me is overwhelming. But that's not really what I'm here for. My goal is to embrace and reconnect with the fans," said Brown, who now works as a middle school principal in Artesia, California. "I just want to shake hands with the people and give them a hug."
Brown's mother is the former Connie Vidal from Sta. Cruz, Manila. The player is married to Lorna Sahagun, with whom he has two kids, Justin and Kevan.
In his week-long stay here, the first ever Fil-Am player in PBA history will also try to reconnect with people he played for and against in the past, among them legendary coach Virgilio `Baby' Dalupan, former ambassador Cojuangco, ex-national team mentor Ron Jacobs, former Great Taste and San Miguel teammates, and of course, Jaworski.
"Jaworski is very special to me. Any player who ever had the chance to play with him or against him, should be thankful of the opportunity," he said of the Big J, whose iconic No. 7 Ginebra jersey was formally retired on Sunday.
Brown, who won MVP honors in 1985 and Rookie of the Year two years before, said he would have loved to witness the retirement ceremony, which "would have meant a lot to me."
"Sonny was a solid player. They talk about him as a dirty player, but I never recognize that. He just brings out the best in me. He's absolutely my favorite opponent," Brown said.
In his stint with Great Taste (1983-87) and San Miguel (1988-90), Brown remembered playing against the league's best, rattling off the names of Jaworski, the great Ramon Fernandez, top gun William `Bogs' Adornado, Atoy Co, and Abet Guidaben.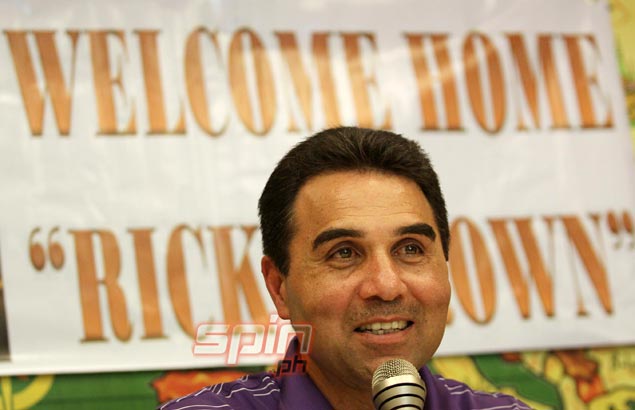 But he was definitely most impressed with the 6-foot-4 Cezar, the long-limbed Crispa power-forward known for his defensive prowess and brainy plays.
"I'll say this about one player, Philip Cezar. If he had a coach who would have taught him the basketball fundamentals when he was young, he would have been off the charts in the PBA because he can do it all, and I've never said that before," the Quick Brown Fox said.
"There are great players in their prime, but Cezar is a tremendous basketball player. He could do it all," he said of the 1981 MVP awardee, who later became his teammate with Great Taste.
Brown, a five-time member of the Mythical Five, won five championships with the Coffee Makers, including four in a row bridging seasons 84 and 85. In between was the opportunity to beat the fabled Crispa ballclub in the finals prior to the disbandment of the Redmanizers.
Although Brown later played a key role in San Miguel's historic Grand Slam campaign (1989), he called the Great Taste team of the mid-eighties "very, very special."
"That 1989 Grand Slam team was phenomenal, with Hector Calma, Ramon Fernandez, Samboy Lim. But my 1985 Great Taste team was a very, very strong team," said Brown, recalling Joel Banal, Joy Carpio, Manny Victorino, Abe King, Chito Loyzaga, Willie Pearson and Frankie Lim among his teammates.
Brown also couldn't forget his longtime coach Dalupan. The 1979 third-round draft pick of the Houston Rockets said he's already scheduled to see Dalupan during his visit.
"In the life of a player, there's always one or two coaches you always want to play for and win, and coach Baby D is one of them," he said. "I like seeing the joy in his eyes (with each victory). I do love him like a father."
But all of Brown's achievements in Philippine basketball would not have been possible without Cojuangco – then the basketball ambassador under President Marcos – who recruited him for the 1981 national team coached by Ron Jacobs, whom he called "a great and excellent coach."
"I'm always indebted to him for bringing me here," said Brown of Cojuangco. "If I would have thanked one person for my career in Philippine basketball, it's Mr. Cojuangco without a doubt."
PBA Updates