IT took a pesky move by LA Tenorio to get the ire of Terrence Romeo.
The Globalport superstar got entangled with the veteran Barangay Ginebra guard down the stretch of their PBA Commissioner's Cup quarterfinal showdown in an incident that led to the former's ejection.
The two had been going hard at each other while trying to establish rebounding position at the 3:28 mark of the fourth period with the game already out of reach, 89-73, when things got out of hand.
Tenorio obviously got under the skin of Romeo when they locked arms while battling for position, that the GlobalPort guard retaliated by swinging an arm that hit Tenorio in the chest area.
The Ginebra guard, who belatedly fell to the floor writhing in pain, went after Romeo as soon as he got back up, triggering an angry exchange between the former Gilas players.
Romeo was later slapped with a flagrant foul technical two, leading to an outright ejection, while Tenorio was slapped with a technical along with Ginebra coach Tim Cone and Franz Pumaren, who both entered the court to try and pacify the combatants.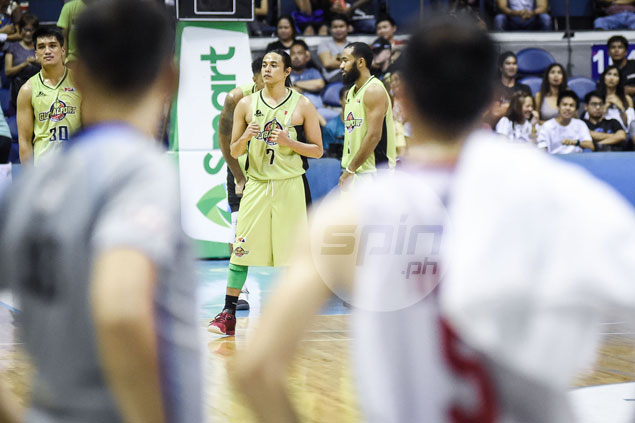 Continue reading below ↓
Recommended Videos
Barangay Ginebra fans at the Smart Araneta Coliseum later showered Romeo with jeers just as he left the court.
The Kings went on to win the game, 96-85, to advance in the semifinals of the mid-season tournament.
Cone later played down the incident as nothing but 'two tough guys going at it.'
"LA is a feisty player and he won't back down against anybody, and I thought he was defending Romeo especially well down the stretch," said Cone.
"And Romeo doesn't back down against anybody either . So you get two tough personalities, they're gonna clash and things gonna happen sometimes."
Tenorio finished with 12 points, three rebounds, and eight assists.
But Tuesday night was a tough one for Romeo. Despite pacing the Globalport locals with 22 points, he shot 7 of 21 from the field, including 4 of 13 from three-point range.