TERRENCE Jones refused to dwell on the officiating which many felt led to TNT's downfall in Game Two of the 2019 PBA Commissioner's Cup Finals.
"I mean you saw the game. I don't have to speak on it," said the Best Import frontrunner, who collected 28 points, 13 rebounds, seven assists, five steals, and three blocks.
Jones, however, wasn't able to finish the game after being whistled for a technical foul with 21.0 seconds remaining in the first overtime period after his wayward right arm hit Chris Ross in the face and was ruled as a second motion.
That was his second of the game after earlier getting it with Christian Standhardinger in the first half, leading him to hit the showers early.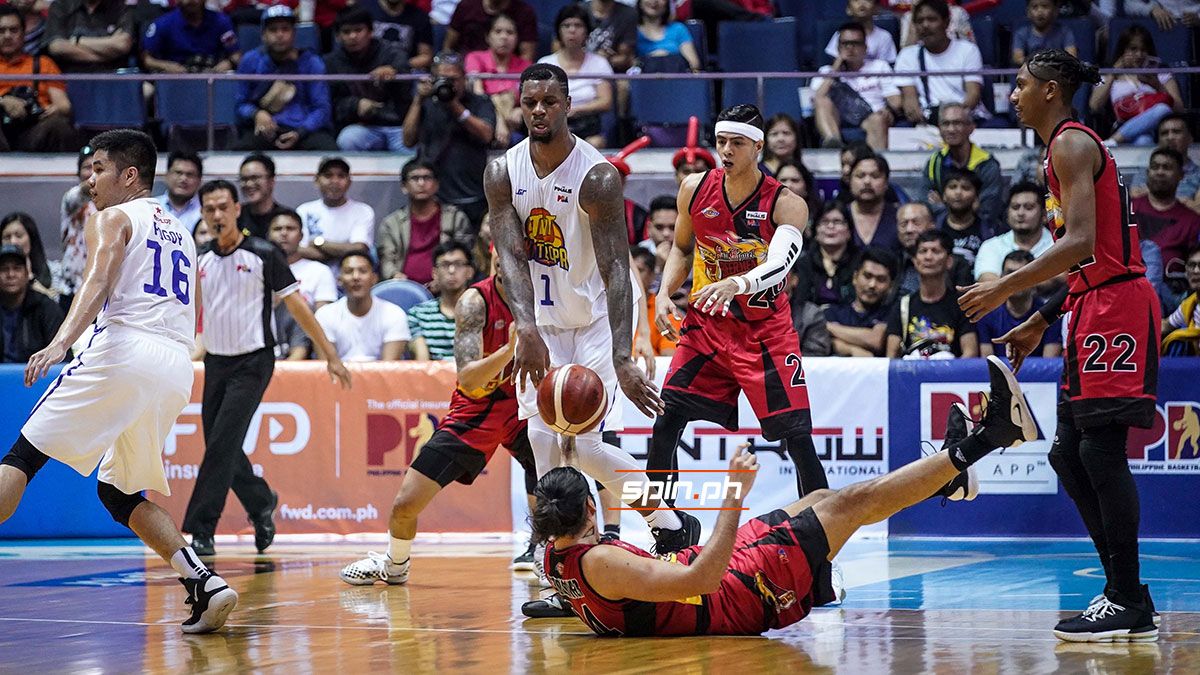 Continue reading below ↓
Recommended Videos
But it wasn't the only head-scratching call that plagued the KaTropa in the game.
A red-hot Troy Rosario also picked his sixth foul with 1:15 remaining on a rebound play against June Mar Fajardo.
That sequence cost TNT the presence of Rosario, who at that point was smoking hot as he led his side's fightback with a career-best 34 points on an 8-of-12 clip from deep, to go with six rebounds.
Without Jones and Rosario late, TNT suffered a 127-125 double overtime loss to San Miguel to knot the championship series up, one game apiece.
For the ex-Houston Rocket, however, as frustrating as this defeat was, he sees it as an eye-opener as the KaTropa pivot their attention for Friday's Game Three.
"I always want to be there for my team, you know, to fight with my guys. That wasn't possible so that's very frustrating," he said. "But we just got to make sure we can try to control the game so it's not as close down the wire and I'm still right there to, you know, help us have a chance to win the game."
But that doesn't dim his confidence that even though TNT fired blanks in the first half and even stared at a 17-point deficit, 56-39, in the second quarter, his crew was still able to battle back and even make a game out of it after the halftime break.
"We just got to make sure we take care of the three-point line and execute our game plan," said Jones as TNT rebounded from an atrocious 1-of-11 three-point shooting in the first half to go 15-of-35 in the second half and in the overtime periods.
It's just that the KaTropa could close the game out when it mattered the most, missing four free throws in the first overtime which would have locked up the game for good.
"We still had opportunities down the stretch but we missed free throws. We still are right there," he rued as TNT lost hold of a 114-111 lead with 1:20 remaining in the first OT.
"But again, we can't control anything else besides how we approach our game plan and how much we succeed in it. They won it, so we gotta get ready for Friday."