AJ Edu attacked Belgium's defense with giant strides to the lane, stopping just short of the basket to let one defender fly by before gently rolling the ball off his fingers and into the hoop.
Such grace, determination and composure from someone so young in a historic game for the Philippines in the Fiba Under-18 3x3 World Cup was just the latest proof that this kid, born to a Filipina mother and Nigerian father, is the real deal.
"May kinabukasan 'yung bata," said Samahang Basketbol ng Pilipinas (SBP) executive director Sonny Barrios, a day after the Philippine Under-18 team dropped a 14-18 loss to the Belgian side in the quarterfinals of the 3x3 World Cup in Chengdu, China.
"AJ Edu is not only athletic, but he also works hard. You can really see the improvement in his game from the time we first saw him to how he played in the World Cup. Malayo na," Barrios added.
Barrios' words were echoed by Andrew Teh, team manager of Batang Gilas which has taken a number of promising prospects - both homegrown and raised overseas - under its wing in what the SBP designed as a feeder program for the national team.
"May galaw," said Teh, brimming with pride over the performance of the team that finished seventh in Chengdu - the highest for the Philippines in the annual showpiece.
[See AJ Edu keen to follow in Kobe Paras' footsteps and take act to US]
As good as the 6-foot-9 Edu is at 17, he's only one of several promising youngsters either undergoing training under the Batang Gilas program or supported by the basketball federation.
There's Kai Sotto, who at 15 years old already stands 6-11. There's also 6-10 Fil-Aussie Ethan Kirkness, 6-7 Dela Salle-Zobel standout Raven Cortez (14), and 6-foot-8 Geo Chiu (15) of Ateneo.
Don't forget Kobe Paras, the high-flying 6-foot-6 son of former PBA rookie-MVP Benjie who has become some sort of a role model for the youngsters.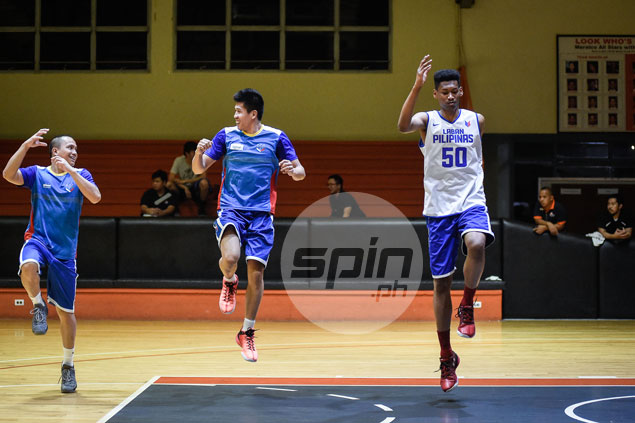 Paras is just 19 and is already set to play for the PH men's team in the coming Southeast Asian Games in August while undergoing residency at Cal State Northridge in the US NCAA.
Teh said Edu, Kirkness, Sotto and Cortez are set to form a stratospheric frontline for the Philippine Under-18 team next year, beginning with the Seaba championships to the Fiba Asia wars.
But more than that, Teh envisions the prodigious teens flying the flag for the country in the men's tournaments in the future, pointing out that all are eligible under Fiba's stringent rules on dual citizens.
"Imagine having a team that tall," Teh said. "So these are really exciting times for Philippine basketball and for the youth program."
"Huwag lang magka-eight footers ang China by that time, meron tayong chance," he laughed.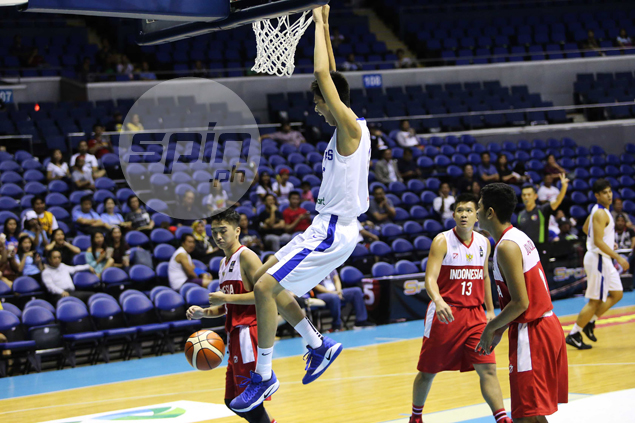 For now, the goal is to keep developing the youngsters. Edu is based in England but receives financial support from the SBP for individual training during breaks from school.
Kirkness, Teh added, is also in constant touch with the SBP even if the 15-year-old is already enrolled in a US school after his family migrated.
[See Chot Reyes full of praise for 'focused, coachable' AJ Edu]
Of course, there are no guarantees with these kids. But even national coach Chot Reyes has seen enough from Edu to sing his praises after he joined the SEA Games-bound team in practice.
"He's very focused. Serious and very coachable," Reyes said. "It's hard to find the level of seriousness and maturity on a 17-year-old. We're very excited. We're very very happy to have him."
Reyes and Barrios said they were so impressed with Edu that they tinkered with the idea of including the Fil-Nigerian prospect in the team bound for the coming Jones Cup in Taipei.
Still, Edu is still a work in progress.
During the 3x3 World Cup, his shortcomings showed when he fell on all fours after he got crossed by a Belgian player. Late in that game, Edu, perhaps out of sheer exhaustion and partly because of inexperience, started going for steals instead of defending with his feet.
But with Edu's humility and willingness to put in the work, Barrios has no doubt that the sky's the limit for the kid.
"Mabait na bata," said Barrios, comparing the kid to Gilas mainstay June Mar Fajardo in terms of attitude and to Hakeem Olajuwon in the way he has blossomed despite being a latecomer in the sport.
"Even his family, mababait. 'Yung mother n'ya, who is Filipina, entrusted AJ to us without any demands. So you can see he was really brought up well."
Recommended Videos