TALK 'N Text needed a huge fourth quarter push behind its bevy of gunners to roll past sister team Meralco, 109-98, and book the first quarterfinals seat in the PBA Philippine Cup at the Ynares Center in Antipolo City Friday night.
Behind a high 56.3 percent shooting from the floor, the Tropang Texters unveiled their high-octane offense in the second half featuring Jayson Castro, Kelly Williams, Ranidel de Ocampo and Ryan Reyes, who all scored in bunches.
"This was a big win for us. We knew we were coming into the game against the top offensive team. But our defense was good today. And we were able to create shots for those driving and shots from the outside also," Norman Black, the Talk 'N Text coach.
Black won his 500th game in the PBA, joining a short, elite group of coaches that included legendary Virgilio `Baby' Dalupan, San Mig Coffee's Tim Cone, and Rain or Shine's Yeng Guiao.
The victory also served as a strong bounce-back performance for the Tropang Texters, who are coming off a heartbreaking 101-104 defeat at the hands of Barangay Ginebra Gin Kings  last Sunday.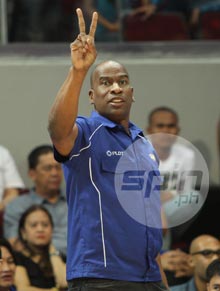 Black added the victory gives his team the psychological boost it needed as it prepares for its highly-anticipated duel with San Mig Coffee on Wednesday.
"It's a big win for us because we next face San Mig. We're going against the second placed team. They won five in a row. So we're facing a hot team," added Black.
Talk 'N Text hiked its league-best record to 8-2, just a half-game ahead of San Mig Coffee, which earlier smashed Barako Bull, 93-73.
Meralco fell to 5-4 overall and sorely missed the offense of Mac-mac Cardona, who struggled offensively against Talk 'NT Text's outstanding defense.
The 6-foot-1 guard out of La Salle finished the game with just four points, way below his conference-average of 14.5 points.
As Cardona faltered, Solomon Mercado carried the offensive load for the Bolts and finished with 28 points on eight-of-12 shooting from the field, to go along with six assists.
Reynel Hugnatan had a double-double of 17 points and 10 rebounds to support Mercado.
Talk 'N Text though had six players scoring in double-figures led by Castro's 23 points.
Williams added 19 and six rebounds, while De Ocampo and Reyes chipped in 16 and 12, respectively.
                        The scores
            Talk 'N Text (109) -- Castro 23, Williams 19, De Ocampo 16, Reyes 12, Dillinger 11, Fonacier 10, Carey 9, Peek 8, Alapag 1, Raymundo 0, Aban 0, Alvarez 0.
            Meralco (98) -- Mercado 28, Hugnatan 17, Hodge 14, Reyes 14, Salvacion 9, Borboran 6, Cardona 4, Ross 3, Buenafe 3, Nabong 0, Bulawan 0.
            Quarterscores: 27-25, 50-46, 79-76, 109-98.