RAIN or Shine coach Yeng Guiao is proud to see the youth get set to turn into lifesavers as the Samboy Lim Bill on CPR training lapsed into a law on Thursday.
The former Pampanga first district representative authored House Bill 5891 which requires students to undergo CPR (cardio pulmonary resuscitation) training before they graduate.
The bill was passed by the House of Representatives last September and by the Senate last May, before it lapsed into a law.
"Tayo hindi na natin inabutan, pero at least yung mga anak niyo, mga apo niyo, when they graduate from K-12 at kung matanda na kayo at sinumpong ka o inatake ka, your apo or your children around you would know how to react and try to save your life," Guiao said.
"That is the ultimate purpose na we have people anywhere and everywhere who can perform that emergency procedure whenever it happens."
The former congressman was motivated to sponsor the bill after Lim suffered a heart attack during a legends game a few years ago, leaving him in a coma.
"Yun nga nangyari kay Samboy, ang dami nila dun, ang la-laki ng mga katawan nila Alvin (Patrimonio) tsaka Jerry (Codinera), pero hindi marunong mag-CPR eh," Guiao said. "Kung na-CPR si Samboy, we don't know, baka hindi siya gulay o ano, because he survived eh, so that means kung na-CPR siya, baka he would be a lot better."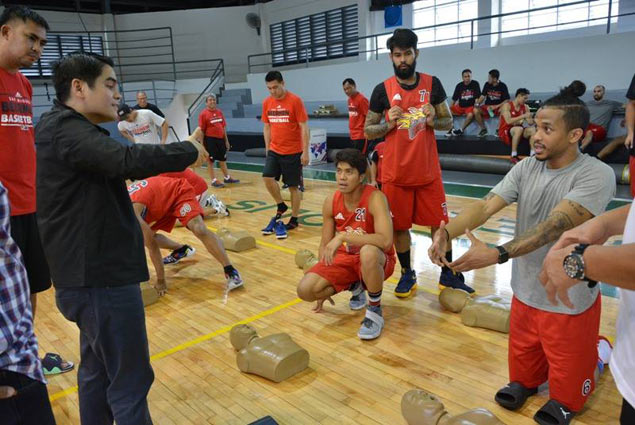 The same procedure was done on Gilbert Bulawan, the 29-year-old Blackwater big man who recently passed away after collapsing in practice.
"It can happen to anybody, even the guys who are in the pink of health, who are basketball players, who are fit. Eh tayo pa na hindi naman ganun ka-fit?" Guiao said.
"O kaya mayroon tayong parents o lola o lolo o you are eating in a restaurant and somebody faints or gets a heart attack, or you're in a movie house or in the streets, ang hirap naman na papanoorin mo lang mamatay yung tao," he added. "At least may alam kang gawin."
Even before the law was passed, San Miguel Corp. teams have already undergone CPR training in practices in the offseason under a program initiated by the Philippine Heart Association.
The CPR training was scheduled long before Bulawan's death.
"If we have more people around the country coming out of our educational system who would know how to do the procedure, more lives would be saved," Guiao said.
"If we only save one life because of that bill, it would've been worth it. But we will save thousands of lives through generations because of that legislation," he added.