ASIDE from Justin Brownlee and Scottie Thompson, Christian Standhardinger has been a consistent performer for Barangay Ginebra in the PBA Governors' Cup Finals.
Standhardinger is averaging 14.6 points and 8.8 rebounds in the finals for the Gin Kings, who took a 3-2 lead over Meralco after a 115-100 win in Game Five and can wrap up the best-of-seven finals with another win on Wednesday.
Through five games in the finals, Standhardinger's struggles to mesh with Japeth Aguilar and Justin Brownlee in Ginebra's new-look frontline after arriving from NorthPort in a trade for Greg Slaughter seemed like a distant memory.
"We need better production from our big lineup. They're not coming together as we hope. They need to come together better," said Ginebra coach Tim Cone after a February 13 game, incidentally against Meralco, in the middle of their four-game losing skid in the eliminations.
"They have to mix well so we can get them all on the court. If they can't mix well together, then we have to bring them out one by one which is not taking advantage of the personnel that we have in the team," Cone added.
ADVERTISEMENT - CONTINUE READING BELOW ↓
Brownlee admits struggles
Brownlee also acknowledged in an interview last month that he is adjusting to the presence of Standhardinger.
"Since I came back, it's a real struggle," said Brownlee. "We try to figure each other out. It's a bigger line-up. We play a little different with that line-up. We have to keep working on it, try to get a rhythm, and a feel for each other. Going to the playoffs, hopefully, we will be good."
Standhardinger admitted reassurance from Cone and San Miguel sports director Alfrancis Chua was all it took to settle him down.
"It's much better now. What really helped me a lot is Boss Al. Boss Al told me 'Hey, we don't need you to do anything too special. We don't need you to score 30 points or 25 points. We just need you to help the team to win.'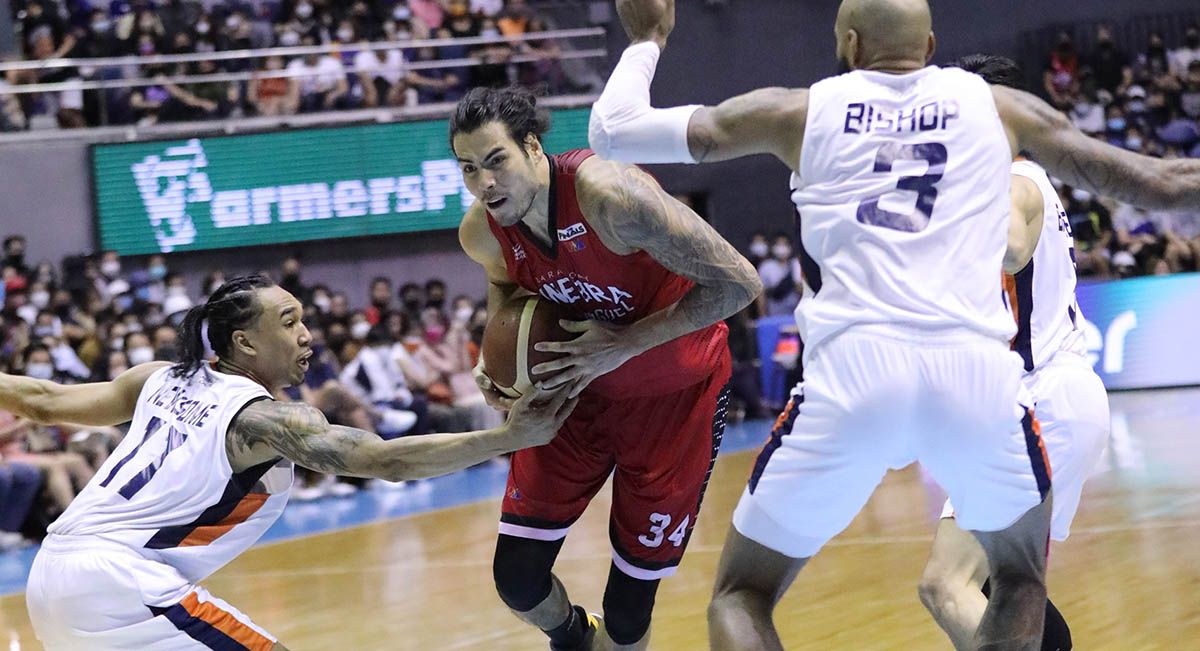 ADVERTISEMENT - CONTINUE READING BELOW ↓
"Coach Tim told me the same thing. That gives a lot of security for a player if I know that I don't have to force anything and I can just be the best team player I can be," said Standhardinger.
In previous stops, Standhardinger was the go-to guy particularly with Hong Kong Eastern in the Asean Basketball League (ABL) as well as with NorthPort, where he won the Best Player of the Conference in the 2019 Governors' Cup.
He didn't need to be that at Ginebra.
"People underestimate that of the management like Boss Al, Boss RSA [Ramon Ang], coach Tim, they underestimate how much it helps when you tell a player that. In other teams I played, I played in Europe, I played in Germany, I played in Hong Kong, if you don't score, but you do all the other work that is not there in the stat sheet, they will be mad at you or they will tell you that you are not playing good.
ADVERTISEMENT - CONTINUE READING BELOW ↓
"I'm very happy that Boss Al, coach Tim, they see the other things that I bring to the court. There is no pressure and I can truly just focus on winning it. It helps me a lot that's why I had a much easier time to adjust," said the 32-year-old Fil-German.
We are now on Quento! Download the app to enjoy more articles and videos from SPIN.ph and other Summit Media websites.
PBA Updates