This day is certainly the best of time for Alapag. His parents Crispin and Aurora are spending the holidays with him in the Philippines for the first time since his rookie year, his son was running around the living room being chased by the yaya, his newborn daughter Keona Skye was sleeping soundly in the arms of mother LJ Moreno, while family members and friends are coming in and out of the house, each one greeting him 'Happy Birthday' as they pass by.
"Yeah, great time," Alapag tells a sportswriter, admiring the frenzy from the living room sofa.
Alapag is so rooted in family that the only time he remembered ever losing focus on the court was when there were issues involving family. Like when his dad was diagnosed with cancer three years ago, which was around the time Talk 'N Text was playing B-Meg in the 2012 Commissioner's Cup Finals. "I was awful in the finals, I wasn't myself at all. And I think that as much as I tried to not think about it, it's my dad," he says.
Teams to him are the same way. Teammates are family, coaches are second fathers. So much so that, when asked about the highlights of his career, Alapag remembers not the championships or MVP or Best Player of the Conference or Finals MVP awards or Mythical selections won but the 'special group of guys' he was happy to have been a part of as well as the bond they shared – teams which to him felt like the family he had back home.
That was the case with Gilas, he says, and it was the same with the Talk 'N Text team that went on an amazing run beginning in 2011, winning four championships over a three-year stretch including an unprecedented hat-trick of all-Filipino titles.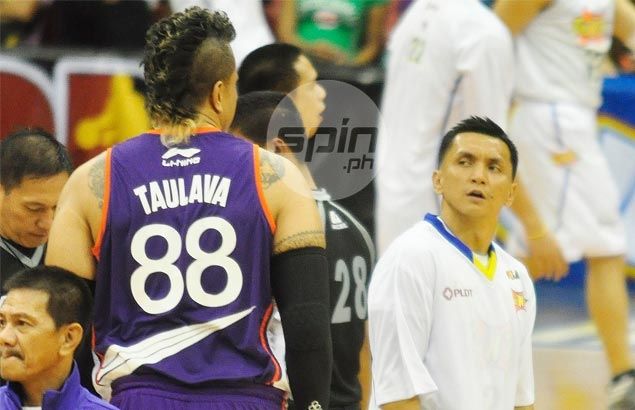 "A very, very special group of guys," Alapag says. "The bond and the chemistry, I think it's rare to find what we had in sports. It just wasn't only the talent but the chemistry, the sacrifice, and the focus, it all just came together, guys just committing to sacrificing for each other."
Alapag treasured the bond so much that parting felt like a death in the family. His wife LJ remembers that one of the times she saw Alapag really devastated was in the mid-2000s after Talk 'N Text decided to trade Taulava, breaking up their longstanding partnership."Talagang hurt na hurt s'ya noon. Affected talaga s'ya," she says.
Taulava says, "When you become close to Jimmy, it is like family. I think that was the way he was raised, with his family and his brothers. He's a great teammate, a great friend, but more than that he's my little brother because he also treats you as a brother."
The cat-quick point guard says he had his share of run-ins with Reyes, but these never became personal because his longtime coach is family. That was also the reason why he didn't hesitate to confront Gilas naturalized player Marcus Douthit during halftime of the game against Qatar in the Asian Games in South Korea; Marcus, to him, is a brother.
"He knew (I was mad)," Alapag chuckles, confirming Reyes' claim that he was the one who called out Douthit amid the chaos of that crucial Asiad loss. "I think the people, the staff at the game who were at the hallway (leading to the dugout) knew that I wasn't happy.
"At that time, I was very, very unhappy about what happened. But by no means did I blame Marcus. Marcus is family and sometimes with family, you can disagree and sometimes you argue and it can get emotional and that was just one of those instances.
"When we got back to the Athletes' Village after the game, Marcus and I spoke for over an hour and at that time before we spoke, I was still unhappy - unhappy about the result, and unhappy about the whole thing. We spoke and Marcus is a brother to me. We sat down and talked and we moved on."
Chot Reyes says Alapag was more than just another piece in that group; he was the glue that kept it together.
"He's a player any coach is lucky to have in his team," said the former Gilas coach. "But ours is more than just a coach-player relationship. We're more than that. 'Pag nagkakalat s'ya, he knew that he will hear from me. But that's because my expectations from him, napakataas."