IF there was ever any yardstick for Alapag, it should be Johnny Abarrientos who was the first Filipino player he came to know when he first tinkered with the possibility of a basketball career in his parents' homeland. As soon as he started reading up about Philippine basketball sometime during his third year in college, all the MVP awards and championships and grand slam this brainy, fleet-footed point guard from Manila had won were simply hard to miss.
So the irony wasn't lost on Alapag that, the first time he reached the PBA Finals with Talk 'N Text in his rookie year in 2003, he found himself pitted against Abarrientos.
"I'll never forget, I'm usually not very nervous before a game, but that Game One of the Finals, I remember we played at Cuneta (Astrodome), I was so nervous and so excited I think I was cramping already during warm-ups," Alapag laughs. "And Coke blew us out by 20, 25 points I think. We fell behind 0-2 in the series, you know."
Alapag and Talk 'N Text went on to turn that series around and win a maiden championship. He won Rookie of the Year honors that season while teammate Taulava was named MVP. "That got the ball rolling," Alapag says, sounding more relieved than anything else as he looks back on a rocky start to his career in the Philippines.
But as impressive as his PBA career was, Filipino fans didn't really embrace Alapag until much later in his career. Home fans certainly identified with his small stature, but there was a palpable disconnect between player and fan. Maybe it was the tattoos, the slang or the perpetual scowl on his face during games. Or maybe it was because he came in at a time when the 'Fil-Sham' controversy was still fresh in fans' minds, and every kid coming in from the US to play in the PBA was viewed with a tinge of doubt.
Whatever it was, the unseen walls came crashing down as soon as Alapag started wearing the national colors. The fans' outlook toward him changed; it changed Jimmy, too.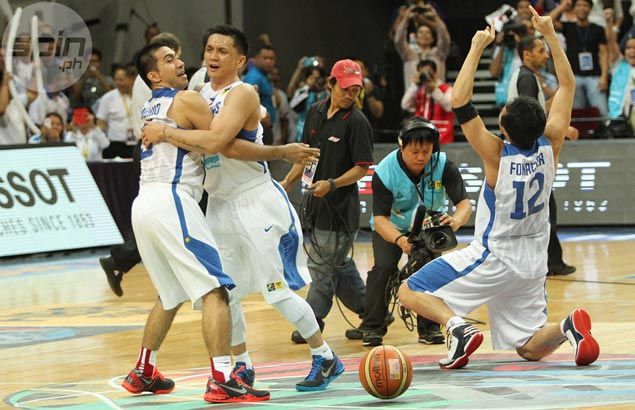 He said something happens inside a player once you wear that jersey with that little tri-colored flag on the chest. "It's so special, once you put that jersey on," the longtime Talk 'N Text star says, pausing to stress his point. "It's just different playing for the national team."
No wonder then that as accomplished as his PBA career was, Alapag's biggest career moments came with the national team. It started with the 2007 Asian championships in Tokushima, Japan, where a team coached by Chot Reyes finished no higher than seventh but Alapag made quite an impression that Lebanese great Fati El Khatib labeled him the "best point guard in Asia."
As much as he savored the successes, Alapag appreciated the process of putting together a group of players from different teams and diverse backgrounds and seeing it all come together, as it did with the Gilas Pilipinas team that finished runner-up to Iran in the 2013 Fiba Asia championships in Manila, and the rejigged national team with Andray Blatche and Paul Lee that turned heads in a historic appearance in the Fiba World Cup in Seville, Spain.
"I really felt from Day One that we had a chance to bring Philippine basketball to what it was," Alapag says. "I mean, those are guys I've competed against for so long. To be on the same side and know that in so many ways, we're built the same – the same spirit, the same heart, the same desire, the same competitiveness. Only now, it's not for our PBA team but for our country.
"In most circumstances, it takes time. But I think from Day One, there was such a high level of mutual respect. When you play against somebody, you compete and you fight, whether you like them or not, the respect level goes higher. And that's how I felt about Ping (Marc Pingris) and LA (Tenorio) and Gary (David).
"I told guys the first day of training: 'I know we won't be the biggest team. And I don't know if we're the strongest team, the fastest team or the most athletic. But you know what? I've competed against every single one of you, that I know the one thing we have that would give us a chance: there is a lot of heart in this circle.'
"You look at guys like Ping and LA and Gary, hey when that ball gets thrown up, those guys are gonna fight, and they're gonna claw every step of the way. And I said that's what is gonna give us a chance."
You can sense Alapag drew so much pride to see a team of which he is a part of bond like family, and it made him feel a lot better knowing he was going to war with a brother by his side, like in the epic semifinal game against South Korea in the 2013 Fiba Asia tournament at a jampacked Mall of Asia Arena.
"I remember LA and I walked out for warm-ups and everyone was in white, the crowd was screaming and the music was blasting," Alapag says. "I turned to LA and I said, 'Things are gonna change starting tonight.' And we just kinda nodded. I really like felt there was no way – NO WAY - Korea was going to win that game."