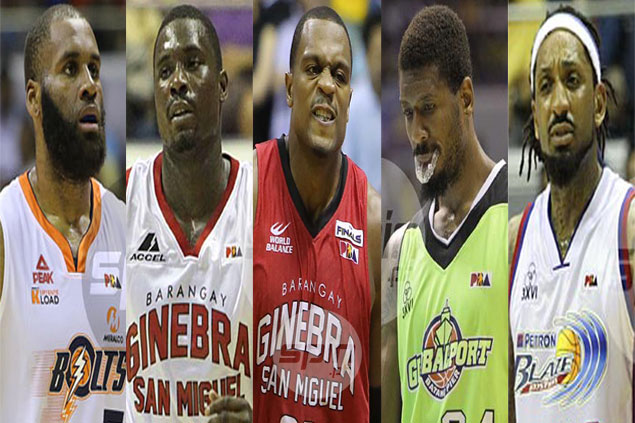 AFTER the locals took center stage in the PBA Philippine Cup, it's time for the imports to rule the two import-spiced conferences this season, starting with the Commissioner's Cup.
There are some new faces, but the others are battle-tested veterans that teams are set to pin their hopes on once again in their respective roads to relevance.
It remains to be seen if the new faces can adapt to the Philippine brand of basketball, but expect the returning imports to dominate right away and prove why their teams brought them back.
Here are the five best reinforcements in our book.
Jarrid Famous
The former Meralco, Petron and GlobalPort import is in his fourth tour of duty in the league, this time with Blackwater, which he tries to help make the jump from darkhorse to legitimate playoff contender.
Famous averaged 31.1 points on 52.5-percent shooting, 24.4 boards, 2.1 blocks, and 1.9 assists in 44.1 minutes for the Batang Pier in the 2015 Governors' Cup, where he led them to a fourth-seed finish and a twice-to-beat edge in the quarterfinals, before losing to Star in two games.
The veteran PBA import highlighted his dominant play with a 30-30 game that conference, putting up 30 points and a whopping 37 rebounds – eight shy of the all-time record set by Michael Hackett in 1985 – in a 102-94 win over Kia.
Vernon Macklin
The former Ginebra import is making a return to another SMC club in Magnolia and is out to complete unfinished business after falling just short of leading the Gin Kings to a championship in the 2013 edition of the midseason tournament.
V-Mack flashed his strengths as he averaged 24.2 points on 56-percent shooting, 15.4 boards, 3.7 assists, 1.1 blocks, and 1 steal in 43.7 minutes, numbers that made up for his 46.9-percent clip from the foul line, and his lack of outside shooting as he didn't take a single three-pointer in 11 games in the eliminations.
Still, the former NBA player led the seventh-seeded Gin Kings in a Cinderella run to the finals where the dream came to an end after Alaska swept them in three games.  
Justin Brownlee
The resident Ginebra import thrives in the Governors' Cup where he has led the Gin Kings to back-to-back titles, but the do-it-all 6-foot-5 reinforcement has also proven he can punch above his weight and stand toe to toe against taller imports.
Brownlee averaged 28.3 points, 2.7 triples, 11.1 boards, 5.1 assists, 2.2 blocks, and 1.9 steals in the eliminations of the last midseason tournament, leading the Gin Kings to the top seed at 9-2, before losing to TNT in four games in the semifinals.
ADVERTISEMENT - CONTINUE READING BELOW
Ginebra is waiting for him to finish his duty with Alab Pilipinas in the Asean Basketball League as Shane Edwards is standing in his place for the meantime.
Arinze Onuaku
The Meralco bruiser is arguably the best import among the currently listed imports at the start of the conference.
A formidable force down low, Onuaku filled the hole in the middle for the Bolts and normed 20.5 points on 66.9-percent shooting, 18.6 boards, 2.5 assists, and 1.3 blocks in 41.5 minutes in 11 games in the eliminations on the way to winning Best Import honors in the 2016 Commissioner's Cup, leading the Bolts to the semifinals.
That dominant performance earned him an NBA call-up via Orlando where he played in eight games, then became sought after in China, leaving the Bolts unable to sign him up in the last edition of the midseason tournament, before regaining his services again this time.
Renaldo Balkman
The best import overall, though, is one who has yet to be signed up by his club. Not yet, anyway.
Balkman has become eligible to play for San Miguel Beer once again after his life ban from the pro league was lifted. And we expect to see him in a Beermen uniform sooner than later (why go through the trouble of appealing the ban if he won't play, right?)
The former NBA player averaged 25 points, 13.4 boards, 2.7 blocks, 2.4 assists, and 2 steals in 39.9 minutes in seven games for Petron Blaze in the 2013 Commissioner's Cup, before he was banned for choking teammate Arwind Santos during a spat.
Five years later, he still stands out among the best, judging from his play with SMB-backed Alab in the ABL where he has averaged 23.7 points, 11.5 rebounds, and 3.4 assists to conspire with Brownlee in leading the Philippine team to the finals.
Practically on cruise mode for most of the ABL regular season, the Puerto Rican national player showed the stuff he's made of when he scored a playoff-record 46 points in Alab's 98-94 win over defending champion Hong Kong Eastern at the start of their semifinal playoff.
That only shows that at 33, this import in waiting is an NBA-caliber, world-class player who's simply a cut above the rest.
But that's not all. Like Balkman, here are two other former imports who have yet to be signed, but are expected to dominate if and when they do.
Charles Rhodes
The former SMB reinforcement is the reigning Best Import of this conference, proving he can fit into an already stacked local roster as he averaged 28.4 points on 67.6-percent shooting, 10.5 boards, 1.7 assists, and 1.6 blocks in 33.8 minutes to lead them to the title.
ADVERTISEMENT - CONTINUE READING BELOW
Rhodes was SMB's first choice, but was forced to sign Troy Gillenwater owing to the former's duty in the Korean league.
Josh Smith
TNT already has an import in Jeremy Tyler, but it's no secret who they will turn to if he fails to fulfuill expectations.
The wide-bodied Smith showed how almost unstoppable he was for the Texters in the last Commissioner's Cup, averaging 23 points, 11 boards, and 2.5 assists in just 22 minutes in two games in the eliminations, before leading them to the finals.