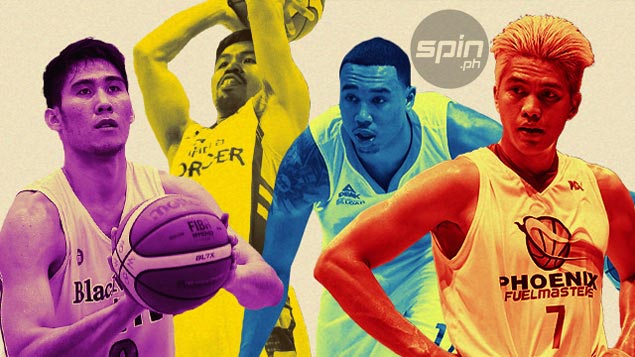 [Editor's note: First of three parts]
IT has only been less than a month since the last season came to a close, yet the new PBA season is already upon us, with the league ushering in its 42nd year on Sunday at the Smart-Araneta Coliseum.
The short time span has also been enough for teams to make a handful of moves, both through the rookie draft as well as the trade and free agent markets.
Most clubs have done those changes for the better, but some inexplicably for the worse.
We'll talk about the squads that are expected to set the pace in the Philippine Cup and those that will stack the middle of the pack. But that's for later.
For now, here's the first of our three-part preview/rankings, dedicated to the squads that we feel, despite their offseason moves, will be running behind the rest in the all-Filipino conference.  
12. MAHINDRA
Key losses: Aldrech Ramos, Niño Canaleta, Paolo Taha, Bradwyn Guinto, Keith Agovida
New additions: Russel Escoto, Joseph Eriobu, Ryan Araña, Alex Mallari, Reden Celda, Josan Nimes, Jeckster Apinan, Nico Salva, Lee Villamor, Jason Deutchman (returning)
Best Five:
C - Russel Escoto
PF - Mark Yee
SF - Alex Mallari
SG - Ryan Araña
PG - LA Revilla
Weaknesses:
Mahindra made its breakthrough appearance in the playoffs in the last Governors' Cup, but any form of momentum died after management, in head-scratching moves, traded away five of its best players. Now, more than half of the team is new and it will take some time for the players to jell – that is, if they spend a lot of time together in the team for long.
The Floodbuster are also left without a legitimate inside presence. Having a starting frontcourt of a reed-thin rookie in Escoto and an aging undersized power forward in Yee makes them vulnerable underneath. They also have Joseph Eriobu, but he still has to prove he can be the energy guy the team expects him to be.
ADVERTISEMENT - CONTINUE READING BELOW
Strengths:
What they lack in experience, the Floodbuster will make up for with, well, their youth.  Having the youngest team in the league with only three players (Yee, Araña, and Jason Ballesteros) over 30, they will try to outrun their opponents with Revilla at the forefront and gang rebound on the defensive end.
The fans will also get treated to the spectacle of alley-oop connections between Revilla and Escoto.
Outlook:
Coach Chris Gavina has quickly earned a reputation as someone who knows how to maximize the talent in his team, so the incoming sophomore coach is bound to figure something out and form what he says is a "semblance of a team that will still compete."
Still, expect the Floodbuster to be in for a long season, mostly spent at the the bottom of the pile.
11. PHOENIX
Key losses: Josh Urbiztondo, Ronjay Buenafe, Mark Cruz, Mick Pennisi
New additions: Doug Kramer, Matthew Wright, Gelo Alolino, Jeoffrey Javillonar
Best Five:
C – Doug Kramer
PF – Willy Wilson
SF – JC Intal
SG – Cyrus Baguio
PG – Simon Enciso
Weaknesses:
The Fuel Masters are still lacking in closers outside Baguio. Intal has shown flashes of brilliance when a game is on the line, but has yet to do it consistently.
The stability at the point guard spot remains questionable with Enciso, a backup if transferred to most teams, as their starter. The sophomore playmaker, though, at times, has proven he deserves to be in this position, but the rookie Alolino is right behind him in the rotation, ready to take his starting gig.
Strengths:
Phoenix will stick to what it does best: run and outscore opponents. They have the pieces to run a fast-paced offense.
Wilson, coming off a breakout season, will continue to thrive down low in the absence of imports, while Intal should locate mismatches and pounce on shorter defenders.
ADVERTISEMENT - CONTINUE READING BELOW
The addition of Kramer also gives them a legitimate inside presence with most of their big men thriving in the perimeter.
Outlook:
The Fuel Masters made their first postseason stint in the Davao-based franchise's young history in the last Governors' Cup, where Eugene Phelps carried them on his back.
Without the super import, the young team gets its real test with an all-Filipino crew.
If Wright, brimming with international credentials, lives up to expectations, then that can bring the Fuel Masters to the next level.
10. BLACKWATER
Key losses: Carlo Lastimosa, Frank Golla
New additions: Mac Belo, Ael Banal, Dylan Ababou, Ronjay Buenafe, James Forrester, Tristan Perez
Best Five:
C – Kyle Pascual
PF – Art dela Cruz
SF – Mac Belo
SG – Ael Banal
PG – Denok Miranda
Weaknesses:
With injured Poy Erram still out for the entire all-Filipino conference, the Elite have no legitimate rim protector who can defend the likes of June Mar Fajardo.
The departure of Lastimosa also left them lacking a proven scorer who can put up points in bunches and in a hurry.
Strengths:
Lastimosa's exit, however, has more good than bad as it unburdens them of a spitfire cager who is sometimes out of control, taking matters into his own hands often.
It also gives the rest of the squad more scoring opportunities and balance out the offense. And besides, Belo and Banal are expected to more than make up for the lost points from Lastimosa and play with maturity beyond their years.
Outlook:
Despite their struggles in the last two import-loaded conferences, the Elite managed to taste success in the last all-Filipino conference by making their postseason debut, claiming the last ticket to the quarterfinals.
The third-year squad looks to sustain its success this season as Art dela Cruz continues to blossom into a bona-fide star while Reil Cervantes is expected to thrive in a sixth-man role.
ADVERTISEMENT - CONTINUE READING BELOW
9. MERALCO
Key loss: Jimmy Alapag
Key additions: Ed Daquioag, Jonathan Grey, Joseph Yeo
Best Five:
C – Kelly Nabong
PF – Reynel Hugnatan
SF – Cliff Hodge
SG – Jared Dillinger
PG – Chris Newsome
Weaknesses:
The Bolts still haven't shored up their frontline. They were blessed with prolific, paint-thriving reinforcements in the import-spiced conferences last season that masked their biggest problem the past few years, but Meralco finds itself starting at the same problem of finding a legitimate defender against the league's top big men.
But more than that, it's the absence of Alapag that certainly left a gaping hole in their backcourt, leaving Hugnatan with more of the leadership role and Newsome more of the playmaking duties. The acquisition of the veteran Yeo should help, though.
Strengths:
Growing deeper in the wing positions with the addition of rookies Daquioag and Grey, the Bolts can now worry less when Dillinger goes to the bench.
Newsome now has the keys to the offense to himself, allowing the former Ateneo Blue Eagle to spread his wings further in his second year, while Hodge and Hugnatan continue to provide significant support on both ends.
Outlook:
It was a tough decision to put the last Governors' Cup runner-up as among our bottom teams, but it was one we had to make owing to history; remember, before their rise in the last two conferences, the finished dead last in the last all-Filipino tournament.
But the Bolts' finals experience will definitely go a long way in their bid to sustain their status as postseason contenders.