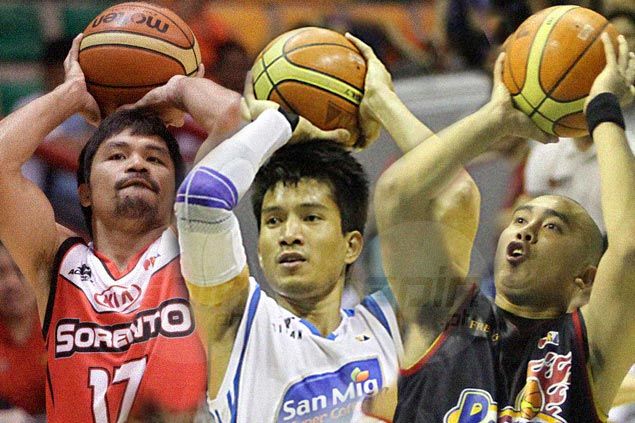 BLACKWATER ELITE
Rookies: Juami Tiongson, Brian Heruela
Strengths: Blackwater, under comebacking PBA coach Leo Isaac, has assembled a bunch of former free agents, who are out to prove they belong to the 'big league.' There can't be any bigger motivation that that.
Admittedly, Isaac said he has been reminding his veterans led by Eddie Laure, Bryan Faundo, Paul Artadi, Sunday Salvacion and Chris Timberlake that they should take advantage of the lengthy playing time they will get with Blackwater after riding on the bench in their previous teams the past seasons.
Weaknesses: While Laure and Co. are no stranger to PBA pressure, the main crack in the Elite's armor is their lack of solid supporting cast that could sustain the energy they can dish off when they start resting on the bench.
Sophomore wingmen Alex Nuyles and JR Cawaling are coming off stints with Rain or Shine and grand slam champion San Mig Super Coffee (now Purefoods), respectively last season, but they still don't have enough PBA "mileage" to provide a more consistent spark for Blackwater.
Even younger forwards Gilbert Bulawan, Bambam Gamalinda and Ogie Menor only had minimal exposure with their past teams last season.
Nonetheless, Blackwater can build its future on Nuyles and Cawaling, both potential superstars, given their work ethic, ability to shoot from the outside and having played under multi-titled coaches Yeng Guiao of Rain or Shine and Tim Cone of Purefoods, respectively.
 Forecast: Although Sy and Isaac have set a goal of reaching the playoffs, the Elite could be lucky to win at least three games in the season-opening PBA Philippine Cup.
KIA MOTORS
Rookies: Manny Pacquiao (playing-coach), Kenneth Ighalo
Strengths: In KIA's maiden season, the only strength it has is its big, fighting heart according to Pacquiao and his top assistant coach Glen Capacio.
Capacio has practically called the shots for KIA's practice sessions this offseason due to the numerous non-basketball commitments and ongoing training of Pacquiao for the fight against Chris Algieri next month.
The 50-year-old Capacio, who learned the PBA coaching ropes during his two-year assistant coaching stint with GlobalPort, said the Sorentos' roster is built not on talent, but on hardwork, noting that the bulk of their players are known for their blue-collar attitude.
Reil Cervantes, a former Ginebra and Barako Bull reserve forward, has been leading the team in scoring and rebounding in the team's preseason games.
ADVERTISEMENT - CONTINUE READING BELOW
Although KIA has been practicing for the last two months, Capacio already made it known that winning a game or two would be an achievement for the Pacquiao-led franchise. However, at this point, Capacio guarantees they won't go down without a fight.
Weaknesses: KIA may not be lacking in heart, but because the expansion team has no solid go-to-guy come crunch time, nor does it have a solid supporting cast, the Sorentos are expected to figure at the bottom of the standings.
The 6-foot-4 Cervantes has developed a decent touch from the perimeter and is willing to bang bodies inside, but unless he gets his teammates involved every game, opposing team's defense is expected to collapse on him every time he touches the basketball.
Forecast:
 Pacquiao is no doubt, the Sorentos' biggest attraction, but since the 35-year-old fighting congressman from Saranggani is not known for his basketball skills, KIA's trek to respectability in the pro league may take a while. And that's an understatement, for sure.
MERALCO BOLTS
2013-14 record: 14-22
Rookies: Phillip Morrison (R)
New acquisitions: Simon Atkins, Sean Anthony, Ryan Buenafe, Mark Macapagal
Strengths: Norman Black's assumption to the head coaching post is a breathe of fresh air for the Meralco camp. The Bolts' best-ever finish during their first four years in the pro league under then coach Ryan Gregorio was third in the 2013 Governors Cup.
Under Black, Meralco immediately made some key player movements, acquiring former Alaska forward Ryan Buenafe and Mark Macapagal from the free agent market, playmaker Simon Atkins and Sean Anthony in a three-team trade involving Blackwater and sister team NLEX (formerly Air21), as well as adding rookie Fil-Am guard Phillip Morrison.
Although the Bolts' local roster may not have the star power compared to other teams, Black believes they have a number of energetic players, who could easily serve as spark for his retooled team this season, citing Fil-Am forward Cliff Hodge, Anthony, John Wilson and even Atkins as "energy boosters."
"The first thing I noticed about Meralco is, one, they are a very energetic team because of Cliff Hodge, John Wilson, then we picked up Atkins, whose also makulit, and we added Sean Anthony, who is also makulit, players who are very very intense and show a lot of energy  on the court," explained the 56-year-old American coach.
From these "energy players" will come the defensive hustle that Black's past teams are always known for.
ADVERTISEMENT - CONTINUE READING BELOW
Black intends to harness the energies of his players, who, if channeled well on the defensive end, can hopefully, translate into victories.
Weaknesses: Meralco's a "doughnut" team at the frontline.  It's a fact Black has learned to accept, but he intends to maximize veteran forwards Reynel Hugnatan, Danny Ildefonso and John Ferriols as well as James Sena at the frontline, while keeping his fingers crossed that no one among these three "bigs" will run into foul trouble when matched up against Ginebra's Greg Slaughter and San Miguel's June Mar Fajardo.
 Forecast: Black's coaching "magic" has produced 11 PBA championships since the mid-80s when he started as playing coach for Magnolia (now San Miguel Beer). He even steered the Beermen to the grand slam title in 1989, becoming just the third coach in league history at that time to do the trick.
With Black, Meralco can expect better days ahead, and who knows, a first-ever Finals appearance could come along the way, especially when the Bolts' new and old faces start meshing together.