IN the eyes of Sol Mercado, Jio Jalalon is a promising player who has a very bright future in the PBA.
And so there was really no need for the Star rookie to engage in a psy-war against him by being too physical on the Barangay Ginebra combo guard.
Mercado gave the Star rookie a piece of his mind during a heated moment in the third quarter of Game Four between the Kings and the Hotshots in the PBA Philippine Cup semifinals Wednesday night.
The Fil-Am guard disclosed Jalalon did some kind of a second motion on him, which he said was not really necessary.
"I told him I'm not that type of a player so I expect the same respect," Mercado said on the exchange of words with the former Arellano star at the end of the Kings' 93-86 win at the Smart Araneta Coliseum.
[See Maliksi insists 'cooking' gesture meant for teammates - not for refs]
Jalalon, who also tried to fish a foul from Mercado during another play, was quick to say sorry to him, according to Mercado.
"I said it's fine, no hard feelings and it's just part of the game," added the Ginebra player.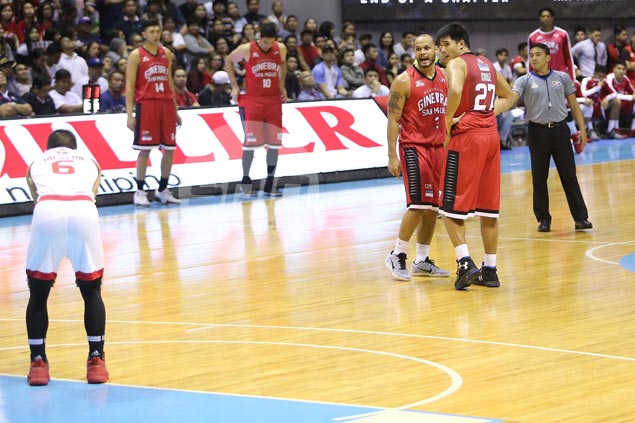 Continue reading below ↓
Recommended Videos
Mercado didn't have the same offensive game he had in Game Three when he led the Kings in scoring in a 73-62 win as he was saddled with the task of taking on Paul Lee at the defensive end.
But he did finish with nine points, a rebound, and three assists as Ginebra levelled the series at 2-2.
Jalalon, meanwhile, continued to impress in his debut conference in the league. He was the Hotshots' second leading scorer with 16 points on 8-of-16 shooting while adding five rebounds, an assists, and two steals.
The numbers were good enough for Mercado to say Jalalon doesn't need to resort to such tricks.
"I don't think he needs to do those little antics because his game speaks for itself. He doesn't need to do that," stressed Mercado. "Let his game speak for it and stay away from being labeled like that."
But he did have some nice words for the Gilas rookie.
"He's great. He's a very special player, and I think he'll be special in this league for a long time," said Mercado of Jalalon.