SAN Miguel has now pushed the panic button.
With their playoffs chances in the PBA Commissioner's Cup getting dimmer by the game, the Beermen decided to let go of Charles Rhodes in favor of former NBA player Chris McCullough.
SMB team manager Gee Abanilla confirmed the crucial move made by the franchise on Tuesday heading to the homestretch of the mid-season conference.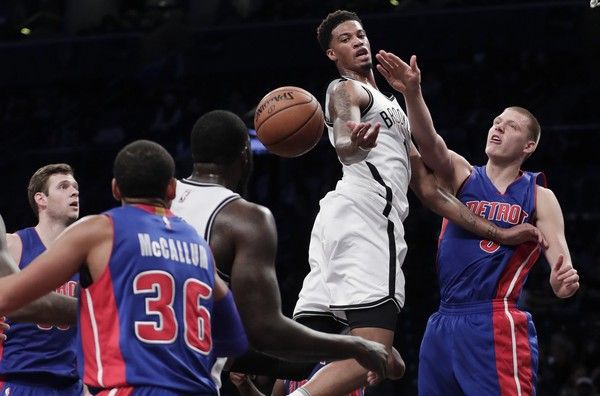 ADVERTISEMENT - CONTINUE READING BELOW ↓
A product of Syracuse, McCullough was a first-round pick of the Brooklyn Nets (29th overall) in the 2015 NBA rookie draft even if he was still recovering from an ACL injury suffered during his freshman season in college.
He played a little less than two seasons with the Nets before he found himself moving to the Washington Wizards in a trade that involved Marcus Thornton, among others.
That would be his last NBA stint as the 24-year-old New York native spent time playing in the G-League, the Chinese Basketball Association (CBA), and the Puerto Rican pro league.
He certainly has his hands full coming over a team that is on a two-game slide and on the verge of missing the playoffs for the first time in a long while.
The Beermen, coming off a historic fifth straight Philippine Cup championship, currently hold a 2-5 record for 10th place, outside of the magic circle of eight that will make the playoffs.
Rhodes, the former Best Import when the franchise won this same conference two years ago, appeared to have it coming after struggling in the team's 134-132 overtime loss against Columbian Dyip on Sunday.
While Rhodes had a team-high 26 points, 16 rebounds, and five assists, he was only 8-of-18 from the field and committed nine of the Beermen's 23 turnovers.
In contrast, Columbian Dyip's Lester Prosper erupted for 40 points including 6-fo-13 from three-point range. He also finished with 13 points and three assists.
The stunning loss to Columbian came just four days after Magnolia dealt San Miguel a 118-82 drubbing in the first meeting between the two teams since Game 7 of the Philippine Cup finals won by the Beermen, 72-71.